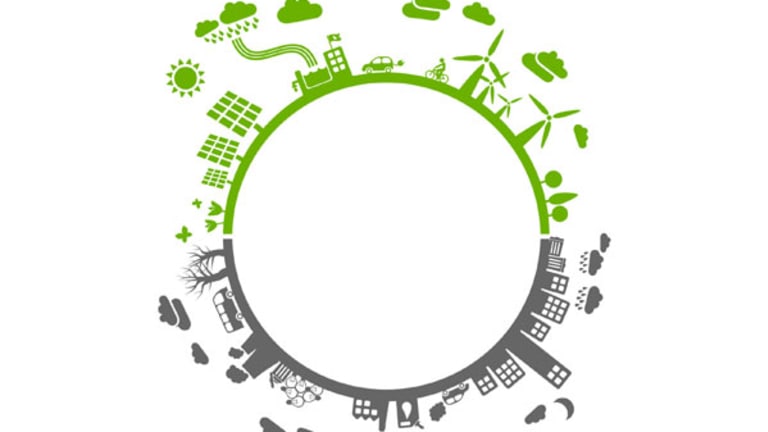 Solar Stocks: The Optimists Are Running the Asylum
Optimism has never been stronger in the solar sector -- and that's cause for concern.
NEW YORK (
) -- There is nothing but positive news in the solar sector -- and given the ups and down to which the sector is prone, the lack of any negative news points is, in and of itself, cause for concern.
A recent Bloomberg survey of 5 bullish solar analysts -- and we all know that a survey of five analysts makes for indisputable hard scientific scholarship -- predicted that average sales prices in solar will not fall as much as previously predicted next year.
DuPont predicted this week that the photovoltaic market will reach $1 billion sales in 2010. In the name of shilling its own products that support solar equipment, a range of chemicals and iconic products like Kevlar and Tyvek, DuPont spokesman Dan Turner boldly proclaimed, "No one can doubt the continued explosive growth in the industry."
Maybe Turner wasn't around for Spain circa 2008.
David Miller, president of DuPont's electronics and communications division, added, "Materials for photovoltaic applications are a critical success factor for sustainable growth."
That's more like it, because sustainable growth is the 64,000 kilowatt question for solar, and has been since at least 2007.
Paul Leming, an analyst at Soleil Securities, says that he has a report he penned in 2007 about the risk of Germany, solar's vital market, pulling in the reins on growth of solar power that could be republished today without changing a word.
Yet read the recent press reports -- and not just the big words from Dupont or the scientific surveys of 5 bullish solar analysts -- and Germany's incredible appetite for solar in 2010 is the greatest thing that has ever happened.
A report this week on
Bloomberg
noted that solar power in Germany will come close to doubling this year, and is helping to drive energy prices down along with low natural gas prices. "What's new and special in Germany this year is the devilish growth in solar," Sigurd Lie, a senior analyst at Imarex ASA's Nena unit, an Oslo-based energy markets research company, told
Bloomberg
.
Devilish was an apt word, as the devil is in the details when it comes to the latest shift to unbridled optimism about solar growth and solar companies. Yet the analyst shouldn't have been surprised by the growth.
Every time Germany has set out to reduce its feed-in tariffs to reach a more normalized and sustainable growth rate for solar, it hasn't worked. It's worked as far as setting off a short-term demand frenzy, but it hasn't answered the question as to whether reductions in feed-in tariffs alone will be enough to be the be all and end all of German efforts to limit solar's growth.
Solar may be doubling in Germany this year and energy prices down, but German consumer groups are again arguing that German rate payers may see the solar power portion of prices-per-kilowatt-hour come close to doubling next year. That doesn't make traditional manufacturers in Germany happy, and it hasn't made them happy for some time already.
None of the discussion takes into account the ongoing problems of solar being an intermittent energy source, and as it grows, stressing the grid. In the Czech Republic, where state-run monopolies launched a campaign against solar earlier this year due to concerns about the grid, the explosive solar growth has slowed.
In fact, relatively bullish solar analyst Satya Kumar of Credit Suisse -- one of the first analysts to issue a report this year predicting that solar installation levels would blow away earlier predictions (and he was right) -- reportedly issued a note this week saying that the Czech Republic -- expected to be one of the biggest growth markets for solar in coming years -- is going to zero next year based on the political situation. With Czech citizens involved in violent protests in the streets in the past few weeks over the government's austerity measures, this isn't surprising.
France, another market expected to be a huge new growth market for solar has now introduced an act to slash tax credits for solar installations by 50%, according to a report this week from
Photon
.
JA Solar
(JASO)
announced 500 megawatts of orders already booked for 2010, but without any pricing information, the news of continued demand is hard for an analyst or investor to properly weigh.
In Germany, it's not European austerity that's the issue, but too much of a good thing. The more things stay the same in solar, with Germany being the demand sink, the higher the political risk becomes of Germany placing a hard cap on solar. Of course, solar bulls will say this is the same old argument, and it hasn't proven true yet, and so, why should anyone listen to the solar bear crying wolf again?
It is fair to argue that Germany's politicians have been reluctant to take a hard line against solar, and even lessened the level of feed-in tariff cuts originally proposed for 2010. Additionally, Bavaria is now getting 25% of its power from solar, and its political weight was a force in the battle earlier this year over the level of feed-in tariff reductions. The former East Germany is also becoming an important job market for green energy, and that makes for political prowess when talk of a hard cap on solar percolates.
Solar is more entrenched than ever in Germany, but is it enough to put to rest the counter-argument that every attempt by Germany to slow the growth rate of solar by lowering feed-in tariff rates hasn't worked -- and that sooner or later, a more definitive action will need to be taken?
"The question on the table for nine months now is how long Germany will be willing to keep raising the bar on the total size of the solar market. Germany will be 7 gigawatts to 8 GW this year and anyone in the solar sector has to wrestle with the question of how long they can sustain that level of installations," Paul Leming of Soleil Securities said. "With every FIT reduction in Germany, the solar industry has been successful in bringing down the installation costs faster than the subsidy cuts. We've seen multiple rounds of FIT cuts in Germany and the IRRs never deteriorate," Leming said.
Notably, at the recent solar conference in Valencia, Spain, analysts said it was more difficult than ever to read between the lines of what solar installers were telling them, versus what solar module players were saying. The solar module companies were talking about minimal price drops next year, while the installers were presenting a much grimmer scenario.
Several analysts said that in talking to solar module companies among the big public players like
Candian Solar
(CSIQ) - Get Canadian Solar Inc. Report
or
Yingli Solar
(YGE)
-- though you could insert the name of any solar module company here -- all systems are go for next year, while the glum installers are predicting that FIT cuts will hit everyone and the U.S. and China wouldn't be able to make up for it. Is it just negotiating tactics ahead of the next round of price negotiations? Several analysts said there is always the poker game going on between installers and module companies, but the disconnect seemed more pronounced at the Valencia conference.
Soleil's Leming contends that the level of installations that Germany is reaching this year should rationally result in a hard cap on solar at 2 GW annually. But he added, "I also believe in a constitutional amendment to ban Astroturf in the U.S." Leming conceded that in 2007 he wrote that Germany would have to put a hard cap in by 2010, but added, "When does Germany move away from an open-ended solar program? I don't know any other question that matters."
Keep in mind that ever since fears of German feed-in tariff cuts as a stress on the solar industry came into focus last year, the solar module companies have talked non-stop about geographic diversification and the other markets ready to step up and take Germany's place. This was supposed to happen this year, yet when you look at the numbers, Germany's solar market share hasn't changed a bit, and will likely be 55% to 60% of all solar again.
Here's the good news. Every year that Germany does not lower the boom on solar, the solar industry gets further down the road of other markets being able to support it. Yet investors can't lose sight of the fact that as much as bulls want to argue that the rest of world is coming on strong, Germany is as big a percentage of market this year as last year, and other markets are not coming on fast enough, and are beset by their own unstable political regimes. The has been no reduction in the industry reliance on Germany.
Sure, all solar installers were rushing to finish projects in Germany before feed-in tariffs hit, but where's the growth that was already expected to occur in 2010 in other countries? Remember that national feed-in tariff in China that was predicted to be enacted several times earlier in 2010? There is still nothing happening. The big Chinese desert project from
First Solar
(FSLR) - Get First Solar, Inc. Report
scheduled to have already begun? Delayed and held up in a wrestle with China over how to build when the government pricing mechanisms still haven't been enacted.
Mark Bachman, an analyst at Auriga Securities, says that he doesn't think Germany will put in a hard cap on solar any time soon, and that whenever it looks like demand may be slowing in solar, some new market surfaces to save the day anyway. He remains confident -- though he is also struggling with getting a read on pricing for 2011 -- but in expressing confidence about a solar demand white knight, he can't put his finger on where the demand outside of Germany will come from.
The current demand in Germany is great news for the solar industry, right now that is.
Trina Solar
(TSL)
and First Solar have returned to price levels that they haven't seen since the first half of the year. JA Solar has reached successive 52-week highs in recent trading sessions.
Solarfun Power
( SOLF) is up 53% this year. That's far from the case for all solar stocks though, with Yingli still down 26% this year, even after the recent rally, and
Suntech Power
(STP)
down 44% in 2010.
So the most favored solar stocks are back, or above where they were trading, before the last sentiment shift hit the sector. At the larger level of the sustainability of the solar sector, and not just the sustainability of solar stock prices, "Nothing has really changed," says solar analyst Christine Hersey of Wedbush Securities.
I'm reminded of the old joke about the argument between the pessimist and the optimist.
The pessimist says, "It can't get any worse than this." To which the optimist replies, "Yes it can."
Right now in solar, optimism reigns supreme.
--Written by Eric Rosenbaum in New York.
To contact the writer of this article, click here:
NAME
.
RELATED STORIES:
>>Solar Stock Bonanza: California Aims For 33% Renewable Energy
>>3 Obama Green Programs Mired in the Red
>>Steelworkers Union Attacks Chinese Green Energy
>>Solar Losers in Sharp's Big U.S. Acquisition
>>Geithner Chimes in on China's Green Energy Support
>To follow the writer on Twitter, go to
.
>To submit a news tip, send an email to:
.
Copyright 2009 TheStreet.com Inc. All rights reserved. This material may not be published, broadcast, rewritten, or redistributed.