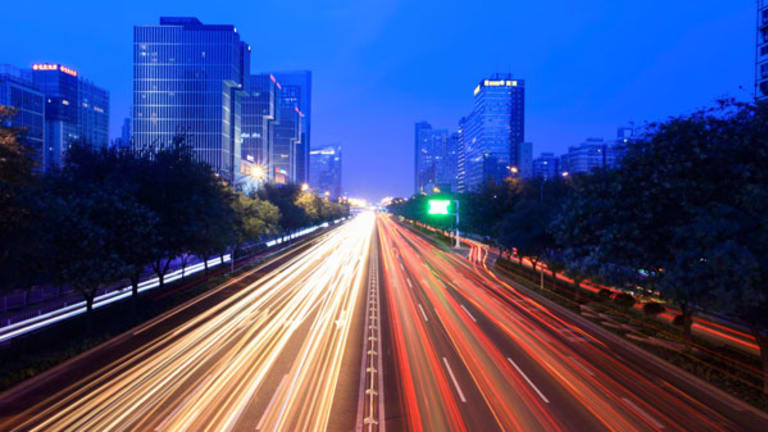 Solar Stock Winners: GT Solar
GT Solar beats and raises, but unlike other solar companies this quarter, it's bright outlook actually leads to a share rally.
NEW YORK (
) -- When the outlook is uncertain in solar, it's better to be an equipment maker. That's one way to read the results from solar equipment maker
GT Solar
(BWEN) - Get Free Report
, which posted a "beat and raise" in its third-quarter earnings and is receiving a bump from investors on Monday.
The GT Solar rally -- with shares of the solar equipment maker up 8% on Monday on heavy volume trading -- was in stark contrast to results last Friday from Chinese wafer maker
ReneSola
(SOL) - Get Free Report
. ReneSola also turned in a "beat and raise" quarter. ReneSola's outlook for 2011 included all the right words about pricing and demand remaining stable -- and still investors sold out of ReneSola shares on Friday and Monday.
In this way, solar takes a page from the semiconductor space, where the cycle for the equipment makers, and any potential downturn, has a longer lag time than that for the companies directly in the supply chain. The company increased its fiscal year 2011 guidance range for revenue to $775 million to $850 million, up from the previously provided range of $700 million to $775 million.
Stifel analyst Osbourne said that GT Solar's outlook for solar was positive, with the vendors in the space moving down the road to greater vertical integration and boosting its sales of equipment. The Chinese solar companies are also flush with cash after the government doled out close to $40 billion in loan packages in 2010. ReneSola is an example of the ongoing vertical integration, ramping up its in-house polysilicon plant even as its core business is solar wafers. "Even if people are concerned about pricing and demand for solar next year, it would be a quarter or two after for GT Solar," the Stifel analyst said.
Yet that's only a small part, and not an unexpected part, of the GT Solar earnings rally.
GT Solar is rallying for a number of reasons that are distinct from the cyclical disparity between equipment and solar supply plays. For one, the company announced an immediate 26.5 million share repurchase program. There has been an overhang on GT Solar shares for years based the continued selling activity by private equity investors that have been gradually reducing their stake in the solar equipment company. Every few months it seems that the private investors sell a block of GT Solar shares and the stock sells off.
With GT Solar using its share-repurchase authority to buy directly from the private investors, it accomplishes a few key goals. First, it reduces the active share count and provides an immediate boost to earnings per share. That's instead of the private investors selling into the open market at a discount and negatively impacting the GT Solar share price. "That's the financial engineering that helps," said Stifel analyst Jeff Osbourne. GT Solar increased its earnings per share guidance for fiscal year 2011 to a range of $1.08 to $1.18, up from the range of $1.00 to $1.10.
Secondly, the GT Solar private investors will now finally be at less than 10% ownership of the solar equipment maker. In the past, every time these investors have wanted to sell, a press release is issued announcing the secondary offering, and GT Solar shares sell off in a knee-jerk reaction. At less than 10% ownership, the rules change about making stock sales and the risk to GT Solar is reduced that it's going to suffer from the headline selling.
"Secondary offerings destroyed this stock and they are getting rid of that overhang in one big lump," said David Arcaro, analyst at Battleroad Research. While the private equity investors will still be selling 10% of the company's shares before they complete their GT Solar exit, it's less of a headline issue, and it theoretically reduces volatility in the shares, the analyst said.
The other big surprise in the GT Solar earnings was its forecast for revenue from its LED equipment market entrance. GT Solar last quarter acquired a maker of sapphire materials for the LED marketplace. It booked partial-quarter revenue of $3.2 million in sapphire materials following the acquisition of Crystal Systems. GT Solar's previous forecast for the LED market business was materials revenue of $40 million to $60 million, and no forecast for sale of LED equipment.
Now GT Solar is forecasting materials revenue of $55 million to $75 million in LEDs, and equipment revenue of $100 million in fiscal year 2012. Gross margin in the LED space was also hiked from 40% to a very general "north of 40%."
In the LED space, the Chinese government has been providing huge subsidies to companies. The Chinese support has led to fears of a glut in the space. But, for the moment, it looks as if equipment sales into the Chinese market are going like gangbusters. U.S. LED market player,
Rubicon Technology
(RBCN) - Get Free Report
, which makes its own equipment to manufacture the sapphire substrate used in the LED space, reported last week a beat-and-raise quarter and record gross margin. Fears remain, however, that the sapphire business is peaking and that Rubicon shares and gross margins are set for a big fall sometime in 2011. GT Solar, unlike Rubicon, though, will also be selling equipment into the merchant market, insulating it from being dependent on pricing of the core sapphire commodity for LEDs, at least in the short-term demand cycle.
>>No LED Slowdown: Rubicon Beats and Raises
GT Solar hasn't even announced one LED market equipment sale yet, but it said an announcement was imminent. In the larger picture, the move into the LED equipment sales is about giving the company other cycles to play when solar cycles go out of favor. Even as GT Solar presented an optimistic view of solar demand, wafer prices are expected to decrease in 2011 from the tight wafer supply and pricing that has buoyed solar wafer companies in 2010.
Polysilicon pricing, on the other hand, has been at a low point, but as more integrated Chinese solar companies bring poly plants in house and ramp up production, GT Solar is betting that a positive churn in the polysilicon supply cycle, coupled with the LED market entrance, will help to offset any slowdown in wafers. The company didn't try to shy away from the fact that the wafer market has to slow down, according to analysts on the GT Solar earnings conference call.
Battleroad Research analyst Arcaro said numbers have to come up for this year and for next year based on the LED market projections, as opposed to based on fundamentals in the solar sector. "The first half of next year will be tougher as wafer pricing fall off and polysilicon isn't yet making up the slack yet though it will help next year," Arcaro said.
Nevertheless, GT Solar backlog grew substantially in the September-end quarter and the company is still maintaining momentum driven by the wafer business. The Battleroad Research analyst described new orders as a "little light," but only because GT Solar booked so much revenue in the September quarter. "There's no issue of not getting new orders right now," Arcaro said.
Yet the Battleroad Research analyst said there was nothing in the GT Solar report that would convince the bears that 2011 wasn't going to be an uncertain year for solar. The LED business is getting up to speed quicker than expected and the stock overhang has been removed for GT Solar, also providing an earnings boost from the lower share count. The wafer business is still strong, and polysilicon pricing still weak, and that might reverse in the next year.
"Wafers offset polysilicon and LED will be another cyclical business, and having three cyclical businesses in different cycles makes sense," the analyst said. "Yet there's nothing convincing in this GT Solar report showing confidence for solar in 2011 has improved. It's a worry, though I'm cautiously optimistic," Arcaro said.
-- Written by Eric Rosenbaum from New York.
RELATED STORIES:
>>No LED Slowdown: Rubicon Beats and Raises
>>Broadwind Energy: Worst Clean Energy Stock 2010
>>Solar Losers: 5 Keys to the Power-One Selloff
>>Solar Winners: Time to Take the Money and Run?
>>Solar Stocks Now a Core Holding, Poll Says
Follow TheStreet.com on
and become a fan on
Copyright 2009 TheStreet.com Inc. All rights reserved. This material may not be published, broadcast, rewritten, or redistributed.