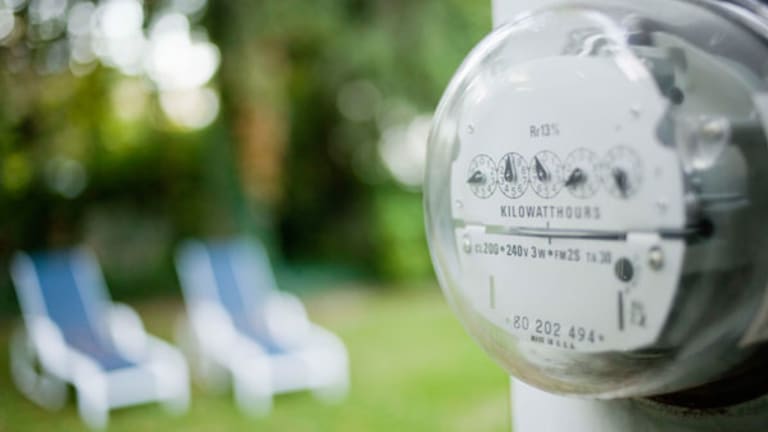 Solar Stock Losers: Trina Solar, CSIQ
It's just another day of volatility for solar stocks, even if solar volatility, for once, seems minor in comparison to the larger market hysteria.
It's just another day of volatility for solar stocks, even if solar volatility, for once, seems minor in comparison to the larger market hysteria.
NEW YORK (
) -- The Dow Jones Industrial Average plunged by more than 900 points at 2:47 p.m., and the solar sector was taken down in the massive market selloff along with the major DJIA component stocks. The solar sector is often the emblem of volatility in the equity markets, but on Thursday, it ended the day a mere microcosm of much larger market fear and confusion.
The immediate cause of the sudden freefall in shares was rumored to be a trading error at a major Wall Street firm -- the early reports pointed the finger at
Citigroup
(C) - Get Report
-- and there were reports that a trader input a "billion" where he meant to type "a million." Citi could not confirm any trading error, but did indicate it was investigating on Thursday afternoon.
At the moment of the massive market drop several Chinese solar shares dropped by more than 20%, including
Trina Solar
(TSL)
.
Stocks including
3M
(MMM) - Get Report
,
Procter & Gamble
(PG) - Get Report
and
Accenture
saw sudden share-price freefalls that suggest some kind of as-yet unexplained trading error in the markets. Accenture dropped to a value of one penny before recovering.
The graphic image of the one-day stock chart diving off the edge of the largest market cliff in the history of the world could be seen in microcosm in the charts of Trina Solar and the rest of the solar stocks at 2:47 P.M. Trina hit an intraday low of $17.94 before recovering to $19.81.
Canadian Solar
(CSIQ) - Get Report
dipped as low as $12.65 before ending Thursday at $14.20.
Yingli Green Energy
(YGE)
dropped to $9.50 -- a 50% decline of its share price from early 2010 -- before closing the day at $10.25.
Yet, the $10.25 closing price for Yingli Green Energy is still the lowest price for Chinese solar stock this year, and that leaves solar investors with a more fundamental issue to confront regardless of trading errors in the market: solar stocks had a really, really bad day on Thursday, as the fears of the impact of the euro slide and European debt contagion finally came to a head in shares of solar companies.
A recent poll of
Street.com
readers indicated bullishness about
Yingli Green Energy's ability to provide an earnings surprise. Does that make the recent selloff more of a reason to look at Yingli's depressed share price? Or do the latest euro fears only compound the problems for Yingli as its earnings are already under pressure from the ramp up costs associated with its polysilicon plant?
Some analysts were arguing earlier this year that when
Yingli's shares fell to $12 the Chinese solar stock was clearly a buy.
Barclays Capital released a report on the euro situation on Thursday arguing that
Suntech Power
(STP)
is the
solar module maker most exposed to a downward earnings revision based on the euro slide. Nevertheless, small losses for leading U.S. solar module makers had turned into the heftiest losses yet this week by Thursday afternoon.
First Solar, which Barclays contends would be the least exposed to the euro slide based on its hedging strategy, was down close to 9% by the end of trading Thursday. At the moment of the major market dip, First Solar shares had declined as low as $118. First Solar shares ended Thursday just above $122, and never made it back to the $124 share price at which they were trading right before the mysterious market crash occurred.
SunPower
( SPWRA), which ended Thursday down just short of 8%, saw its share price plummet by almost a dollar at the moment of the market plummet. SunPower shares hit a new 52-week low of $14, yet ended the day at $14.75. The important point, though, is that even if we wipe out the trading event, SunPower's $14.75 closing price still would be a new 52-week low.
Shares of Suntech also hit a 52-week low of $10, before ending the day a dollar higher at $11.02. And it's the same story with Suntech, with Thursday's closing pricing being saved of a 52-week low only by way of the market crash at 2:47 P.M.
At the end of Thursday's trading session -- even accounting for the confusion over the "2:47 P.M. incident" -- fears about the short-term outlook for solar earnings based on the situation in Europe were responsible for big losses across the board, with Chinese solar stocks, not surprisingly, taking it on the chin.
Trina Solar ended the day with the biggest loss in the solar sector, down 14%.
Canadian Solar -- responsible for the first indications of the foreign currency problem in its earnings pre-report of lower than expected gross margins -- was right behind Trina Solar, down 12.7%.
Six Chinese solar stocks ended Thursday down more than 10%. Solar cell maker JA Solar's 4% loss on Thursday looked positively stellar given the selling in other solar stocks, while solar wafer maker
ReneSola
(SOL) - Get Report
declined by 7% at the end of trading.
With wafer makers and cell makers expected to retain more short-term pricing power even if the euro continues its slide - as they sell much of their product in the same market where they manufacture it, primarily China - it was not a surprise that Thursday's euro-triggered slide in solar would impact these firms to a lesser degree than the Chinese solar module makers.
In the end, the big losing day for solar stocks was far from what it looked like at the moment when Trina's stock chart, among others, showed a loss of more than 20% shortly after 2:47 P.M.
So there was some cause for optimism in solar among the mass market hysteria. Maybe for once, as the entire markets were brought down to a low that seemed unjustifiable -- even given the recent "sell everything" sentiment -- solar bears finally found a reason, if only for 90 seconds, to be positive on some solar stocks.
-- Reported by Eric Rosenbaum in New York.
RELATED STORIES:
>>Solar Stock Villain: the Euro
>>Yingli Green Energy to Outperform Solar Stocks: Poll
>>CSIQ's Credibility: a Weakened Currency?
Follow TheStreet.com on
and become a fan on
Copyright 2009 TheStreet.com Inc. All rights reserved. This material may not be published, broadcast, rewritten, or redistributed.