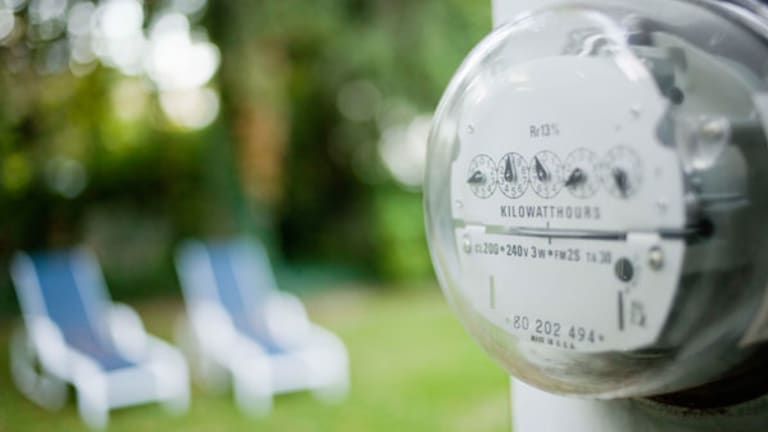 Solar Stock Losers: Jim Chanos Takes Aim at First Solar
First Solar stumbles on a key executive departure and negative comments made by famed short seller Jim Chanos.
(First Solar, Jim Chanos story updated for analyst comment, solar stock earnings outlook)
NEW YORK (
) -- Shares of
First Solar
(FSLR) - Get First Solar, Inc. Report
are continuing a downward trajectory that began at the end of March, with the latest negative catalysts the departure of First Solar president of operations Bruce Sohn, announced by the company after the market close on Wednesday, and followed on Thursday morning by negative comments about First Solar and the solar industry from one of the market's most famous short seller, Jim Chanos.
First Solar shares are down from as high as $161 on March 31 to a close of $140.90 on Thursday. First Solar's Thursday loss was as large as 4% in the morning, before narrowing to 2.6%.
As
TheStreet
noted recently, it was the recent highs in First Solar shares -- not just the $161 more recent peak from which it is falling, but a share price above $170 -- that were the exception to the recent trading pattern for First Solar. The solar stock's 200-day moving average is $144 and for over a year-and-a-half First Solar shares had ranged between $100 and $150. The combination of a big bull call on First Solar by Goldman Sachs and spiking oil prices driving up alternative energy stocks led to a First Solar break out, which received further support from the Japanese nuclear crisis.
>> Five Reasons First Solar Should Not Worry About GE
Wall Street was viewing the Bruce Sohn departure as a negative for First Solar, though bulls weren't pulling back and bears were saying that there are plenty of other reasons to be negative on First Solar without needing to magnify the executive departure issue.
Sohn has been a board member of FSLR since 2003 and was a consultant to the company for many years when it was private. He joined the company as President in March 2007, shortly after its IPO. Sohn's role was transitioned to President of Operations in February 2011 after Rob Gillette took over as CEO, where he oversaw manufacturing, procurement and EPC operations.
Christine Hersey, analyst at Wedbush Securities, who rates First Solar a sell, noted that given the aggressive expansion plans for First Solar through 2012, Bruce Sohn's departure is a loss for the company.
Dan Ries analyst at Collins Stewart, who rates First Solar a buy, also described the departure of Sohn as a loss, but said it wasn't a "canary in a coal mine."
Mark Bachman, analyst at Auriga Securities, said a case can be made that Sohn's contributions at First Solar have placed the company in a position where it is strong enough to move ahead with its aggressive capacity expansion without him. He noted that First Solar said it would not be replacing Sohn.
Taking the bull case on the aggressive capacity expansion plan at First Solar, Bachman explained, "Every time an executive leaves we go through the same song and dance about it not being good for the company. I'm not saying Sohn's role was not a key role, but as people come and go and we try to handicap it in the stock, the bottom line is that the First Solar story is about selling modules, and Sohn installed a repeatable, predictable semiconductor process. First Solar is now building out five new factories where they can use a 'copy exact' formula. The heavy lifting is done."
"Sohn's departure is a loss for FSLR, but not necessarily indicative of a problem at the company. We view it as part of a company's evolution. When
Rob Gillette was named CEO by the board, he was given the reins and has brought in his executives team. Gillette's arrival eliminated the upward path for existing FSLR executives to be CEO, particularly Sohn who was president at the time. We recently met with Mr. Gillette and SVP of Manufacturing Tyman DeJong, and came away believing that Mr. Gillette had hired DeJong in CY10 to be 'his guy' running manufacturing."
The Collins Stewart analyst is keeping his $180 price target and buy rating on First Solar.
The Collins Stewart analyst tied the Sohn departure to the recent news that GE is making a big push into thin film, writing that the speculation will no doubt begin that Sohn, who has a two-year non-compete agreement, will be moving over to GE.
>>Move Over First Solar: GE Ups Ante in Thin Film
"There will be speculation that Sohn will join a competitor, bringing his advanced knowledge of the Cadmium Telluride (CdTe) solar module production process with him.... Given that it takes more than one year to construct a CdTe module production line, it would take more than three years for Sohn's expertise to become a true competitive threat. GE (Not Rated) has an investment in a development stage CdTe module maker and has recently indicated that it plans to build a production facility. While Sohn may ultimately join GE (we have no indication that he will), we do not believe GE would violate a non-compete clause of another company while it is in effect," Collins Stewart analyst Ries wrote.
A canary in the coal mine is exactly what short seller Jim Chanos of Kynikos Associates sees in First Solar. Speaking on
CNBC
on Thursday morning, Chanos said that First Solar exhibits all the patterns that short sellers love, from a history of insider selling -- the chairman of the company in particular selling most of his stock, and executive departures. Chanos added that when "most of the executive suite" leaves it's never a good situation.
There have been several high profile departures at First Solar, but several of them were two years ago in 2009. In addition to the fact that Michael Ahearn stepped aside and Rob Gillette was brought in as CEO, the company has also replaced its CFO and global head of marketing since 2009. The CFO spot, though, came open after former First Solar CFO Jens Meyerhoff took over the company's utility systems business.
John Carrington, former head of global marketing at First Solar, and the former head of First Solar's legal team, John Gaffney, both left the solar company in 2009.
Chanos' comments are always high profile, and his comments were relevant, however, it should be noted that his attack on First Solar was a reiteration of a bearish argument that has been made many times before about First Solar. If everything Chanos said was true, it was the fact that it was Chanos saying it and making the case against First Solar with all the bearish weight he brings to bear.
Wedbush's Hersey said of Sohn's departure and the executive departures more generally, "That's not why I have a sell on the stock."
Chanos pointed to the insider selling pattern at First Solar, which has been reported extensively over the past few years, most notably in the cases of First Solar Chairman Michael Ahearn, as well as the Walton family, heirs of the Wal-Mart fortune, who hold a significant insider stake in First Solar. Several additional First Solar executives have been insider sellers of shares, something that insider sales watchdogs have tracked closely, as well as bearish First Solar analysts including Gordon Johnson of Axiom Capital.
Wedbush's Hersey concluded, "My view of First Solar is based on competitive positioning. First Solar is poorly positioned with subsidies in Europe moving to the rooftop and it's not as competitive there, having built large ground mount systems, and competitors are lowering cost and moving up efficiency."
The negative comments made by Chanos about the solar industry and alternative energy more generally, are also a reiteration of the reasons for the bearish to be bearish on solar stocks. Chanos comments were all relevant, but not a new case to be made based on material information never before discussed among the bearish.
Chanos noted that solar stocks ran up on the Japanese nuclear crisis, but this rally ignores the fact that solar cannot be a replacement for baseload generation as the technology currently stands. Chanos noted that nat gas and coal remain significantly cheaper, and also alluded to the austerity budgets in Europe where the largest solar incentives have existed. If these are all reasons to be skeptical of the recent enthusiasm for solar stocks, Chanos was far from the first bear to sound the alarm bells, though he's certainly the most famous.
Auriga's Bachman said that Chanos was on the money in noting that a comparison between baseload generation and intermittent generation can't be made, and this won't change until there is a technological breakthrough in energy storage for intermittent sources. He also noted, though, that the nuclear crisis has led countries like Germany, where the focus had been on bringing down subsidies for renewables, to be interested in extending subsidies and bringing more renewable energy online even if it can't replace baseload generation. "Even if we know we can't replace baseload, we can reduce dependence on it," the analyst added.
The Auriga analyst said that the post-nuclear crisis rally was never going to be anything other than a short-term rally in solar, and while the First Solar headlines dominated on Thursday, the real issue for solar remains resolution to the subsidy policy discussions in Italy, the second largest solar market in the world.
"Despite the near-term nuclear disaster rally, solar is in a holding pattern here until there is clarity in Italy, and we don't have it yet," Bachman said.
Reuters
released a report on Thursday quoting an Italian industry minister as saying that the soon to be revealed solar subsidy changes will focus on a monetary cap on solar incentives, as opposed to a cap on installations. However, this has been the expectation for weeks, and the key is at what monetary level and based on what formula the Italians cap the money available to support solar projects.
Reuters
did say an announcement could come by April 20.
Stepping away from the Chanos and Sohn First Solar headlines and delving into the fundamentals of solar ahead of earnings, Auriga's Bachman released a note on Thursday taking down estimates for
JA Solar
(JASO)
, citing the rise of a key input cost, silver paste, in the making of solar cells. While all solar companies are impacted by the rising price of silver paste, JA Solar is more acutely hit by the input cost increase since it is still primarily a solar cell, as opposed to solar module dealer with significant internal wafering capabilities. The analyst said silver paste pricing will "overwhelm" JA Solar in the near-term. JA Solar shares declined 2% on Thursday on light volume.
Silver has been one of the main beneficiaries of the commodities boom, with the price of silver at a 31-year high.
Between input costs and the Italy issue, the short-term earnings outlook from solar companies may be less rosy than companies thought at the beginning of the year. Most of the solar companies reported their 2011 outlook before Italy announced its plans, causing a near complete stop to installations in Italy.
"The first and second quarters are definitely going to be tough because solar companies last reported before Italy started making noise," Bachman said.
The Auriga analyst is of the opinion that the short-term weakness will hit the second-tier players, with less geographically diverse businesses, harder than it does the true top tier Chinese players like
Trina Solar
(TSL)
and
Yingli Green Energy
(YGE)
. Second-tier players like
Hanwah Solarone
(HSOL)
,
Jinko Solar
(JKS) - Get JinkoSolar Holding Co. Ltd. Report
and
Canadian Solar
(CSIQ) - Get Canadian Solar Inc. Report
could be among the stocks where earnings outlook could disappoint based on the near-term sector weakness.
Year-to-date, both Trina and Yingli have sustained rallies, with gains of 25%, even if solar stocks are in a holding pattern pending the Italy decision.
These second-tier stocks were among the biggest losers in solar on Thursday, though it was just one day of trading and the sector as a whole was in the red on Thursday. Hanwha Solar was down 3.3% on Thursday, while Jinko and Canadian Solar declined by 2.6% and 2%, respectively. Of the three second-tier stocks, only Jinko is up year-to-date, by 18%.
"The slowdown that has happened is very real, and the input costs rising from silver paste to polysilicon, are also a real near-term headwind," Bachman said. "The first and second quarter, especially the second quarter outlook, will be tough, and the question is how fast the business accelerates after that."
-- Written by Eric Rosenbaum from New York.
RELATED STORIES:
>> Five Reasons First Solar Should Not Worry About GE
>>Move Over First Solar: GE Ups Ante in Thin Film
>To contact the writer of this article, click here:
Eric Rosenbaum
.
>To follow the writer on Twitter, go to
.
>To submit a news tip, send an email to:
.