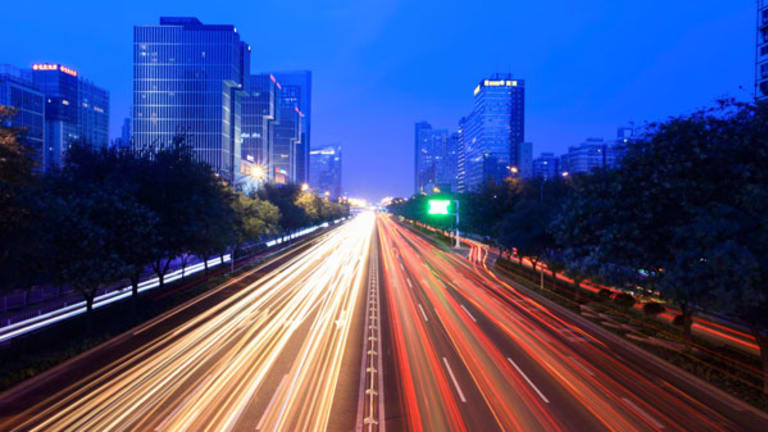 Solar Stock Bonanza? California Aims for 33% Renewable Energy
California regulators approve a 33% renewable energy mandate, but it's just one step in a lengthy battle that could result in a bonanza for solar companies.
(California renewable energy mandate story updated for Congressional vote on Chinese import tariff)
NEW YORK (
) -- California regulators voted last week to up the state's renewable energy target to 33% by 2020, a potential boon for solar stocks that have been buying up the right to sell big green energy projects to utilities.
First Solar
(FSLR) - Get First Solar, Inc. Report
,
SunPower
( SPWRA) and
MEMC Electronic Materials
(WFR)
have all bought big pipelines of U.S. projects, which utilities may need to buy as renewable standards are increased. Asian solar energy leader
Sharp
became the first non-U.S. player to buy a big North American project pipeline this week when it acquired
Recurrent Energy
.
>>Solar Losers in Sharp's Big U.S. Acquisition
The vote by California's Air Resources Board is a positive for all alternative energy plays in California on the surface, but it's far from a safe play to make.
Extending the renewable energy standard in California to 33%, in theory at least, provides these big solar pipelines with a captive customer base. The current California renewable standard of 20% is coming closer to being reached by some utilities. Christine Hersey, an analyst at Wedbush Securities, said that with the 20% target being reached in some cases, what companies would be lining up to buy these solar projects unless the renewable energy mandate is upped again?
Pacific Gas & Electric and Southern California Edison, for example, will each reach 18% renewable energy by the end of this year, according to Wedbush analysis.
Yet the big vote in favor of more green energy from the California Air Resources Board is just one vote of confidence in a very complicated web of California politics that is going to play out in the upcoming elections. Meg Whitman, the former eBay chief who is running for Governor of California, has stated publicly that she will suspend, at least for a year, the law which allows the renewable energy standard of 33% to be enacted.
There is a much-debated ballot initiative in this year's elections echoing Whitman's stance and asking voters to overturn the renewable energy mandate.
Timing is also an issue. During the run-up to 20% renewable energy in California, the developers of these projects have been aided by the financing mechanism in the Recovery Act that provided cash grants for renewable energy. That is set to expire at the end of the year and be replaced by a tax credit from the Internal Revenue Service -- as opposed to a tax grant from the Treasury -- which has thrown into question just how all of these alternative energy projects will be financed.
There was a lengthy lobbying battle over the past year about the cash grant programs, with alternative energy project finance executives arguing that after a few years with the Treasury program, companies were just starting to get comfortable with it -- and now, to change to a tax credit that may not work for individual companies based on their specific tax situation, there could be a slowdown in financing for alternative energy projects.
Players like First Solar have also been buying up and developing projects as large as 200 megawatts to 250 MW. So even if the renewable energy measure moves ahead, the same problems will crop up in terms of the deadline for the 33% renewable power versus the lengthy time-line to develop green energy projects of a large-scale, many located in sensitive environmental areas, which have already been beset by permit delays and environmental challenges. Wedbush analyst Christine Hersey said that the projects that seem to be moving forward on schedule are at a much lower megawatt range than the largest projects that solar companies are looking to sell.
Chinese solar companies are also looking to take advantage of the growth of the U.S. solar project market, and have been making gains this year in the number of project awards for their solar modules in California and New Jersey. The Chinese solar module companies have taken the route of straight solar module sales in the U.S., as opposed to pursuing the mega-purchases of project pipelines.
In a bid to fight off the onslaught of China's green energy companies -- and Chinese manufacturing more generally -- Congress is expected to vote this week on a tariff for imports from countries that have "undervalued currencies." The Congressional vote is one political maneuver in the battle over China's currency controls, and it could have implications in the green energy sector if the Chinese solar companies suddenly see tariffs slapped on their module shipments to the U.S.
>>Will China Tariff Help U.S. Green Stocks?
In any event, it's good news for fans of green energy that California has taken one step closer to a 33% renewable energy mandate. However, gubernatorial candidate Meg Whitman, an anti-green ballot provision, and the expiration of the main financing mechanism for green energy projects, could all lead to this week's step forward being followed by three steps back.
--Written by Eric Rosenbaum in New York.
To contact the writer of this article, click here:
NAME
.
RELATED STORIES:
>>Solar Stocks: the Optimists are Running the Asylum
>>3 Obama Green Programs Mired in the Red
>>Steelworkers Union Attacks Chinese Green Energy
>>Solar Losers in Sharp's Big U.S. Acquisition
>>Will China Tariff Help U.S. Green Stocks?
Copyright 2009 TheStreet.com Inc. All rights reserved. This material may not be published, broadcast, rewritten, or redistributed.