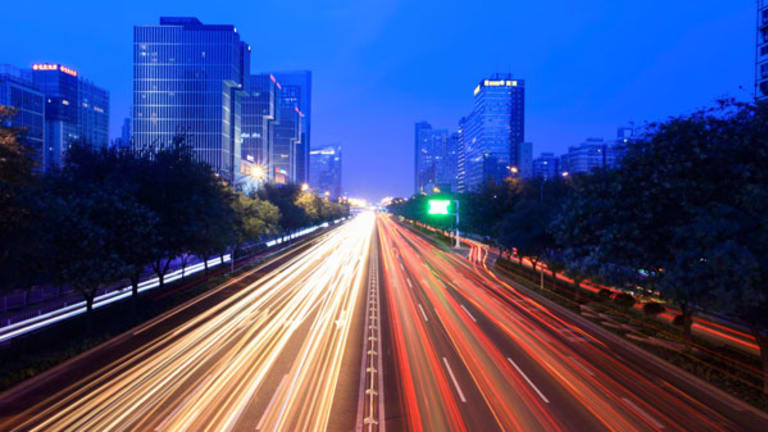 Solar State: Look to Supply Lines
Dozens of companies sell materials to the solar industry for module construction, assembly and installation, etc. Watch this activity.
There is almost a daily a stream of conflicting data points coming out of the solar industry. One way to reconcile such differences is to look at the supply line.
Dozens of companies sell materials to the solar industry for module construction, assembly and installation, including polysilicon, indium tin oxide (transparent conductive electrode), adhesives, sealants, encapsulants, coatings, sputtering targets and gases. A healthy supply chain means a healthy solar panel market.
I noted in my
on
TheStreet.com
that solar panel manufacturers that reported losses a few weeks earlier included
Energy Conversion Devices
( ENER),
JA Solar
(JASO)
,
LDK Solar
(LDK)
,
ReneSola
(SOL) - Get Free Report
,
Solar Power
(SOPW)
and
Yingli Green Energy
undefined
.
On Oct. 19, Macquarie upgraded YGE to outperform and raised the price target to $15 from $12. Piper Jaffray reiterated an overweight rating and $6 price target on JASO.
On Oct. 1, Barclays Capital maintained an equal weight rating and $4.50 price target on SOL, and Societe Generale downgraded LDK from hold to sell, reducing the price target from $8.50 to $4.50.
Also of importance, on Sept. 8, ENER rose 24.98% to $13.01 on speculation that
Applied Materials
(AMAT) - Get Free Report
would acquire ENER for $18 per share. Recently,
SunPower
( SPWRA) and
Akeena Solar
( AKNS) disappointed investors on Oct. 22, even though it topped Wall Street estimates.
on TheStreet.com that a company I started,
SolarPA
, has developed an antireflective coating (ARC) utilizing 3-7 nm proprietary nanomaterials to increase the efficiency of solar cells by as much as 12%. A number of material and equipment companies approached me to discuss the technology and possible joint marketing.
Air Products
(APD) - Get Free Report
sells gases to the solar industry. Five weeks ago, that company laid off a number of R&D employees in its solar department, deciding to focus instead on its core businesses.
Covidien
(COV)
sells materials to solar manufacturers. Five weeks ago, its global marketing manager for PV materials left the company for reasons unknown.
Ferro
(FOE) - Get Free Report
sells thick film pastes to the solar industry. Two weeks ago, the company reorganized and laid off its business development manager who handles new business opportunities such as solar.
An improvement of 10% efficiency corresponds to a reduction of manufacturing costs of about 10%. Clearly, at a time when Chinese solar manufacturers are receiving nearly free money from banks and the Chinese government, then selling product at lower prices than can be made in other parts of the world, a 10% decrease in manufacturing costs can be significant, particularly during this period of slow growth for the industry.
By the way, Applied Materials and
Oerlikon
also initiated talks, as they are selling equipment with an amorphous silicon recipe with efficiencies in the 8% range. They continue trying to develop a micromorph structure with efficiency in the 10% range with no firm production-worthy results, in my opinion. Using SolarPA's ARC coating, I believe, could bump up their product to 9%. Yet both companies discontinued discussions.
In my analysis and judgment, business conditions in the supply chain are not healthy, otherwise we would not be seeing behind closed door activities such as layoffs and organizational changes -- activities that would have otherwise gone unnoticed by an analyst. And if the supply chain is not healthy, the solar panel industry is suffering with the same conditions.
I see a recovery in 2010, but estimate growth at only 26% based in watts. That's little more than half the average growth rate of 40% per year over the past decade excluding 2008.
Robert N. Castellano, Ph.D, is President of The Information Network, a leading consulting and market-research firm for the semiconductor, LCD, HDD and solar industries. Castellano is internationally recognized as one of the leading experts in these areas. He has nearly 25 years of expertise as an industry analyst. Castellano has provided insight on emerging technologies to many business and technical publications, including Business 2.0, BusinessWeek, The Economist, Forbes, Investor's Business Daily, Los Angeles Times Magazine, The New York Times, USA Today and The Wall Street Journal. He is a frequent speaker at conferences and corporate events. He has over 10 years' experience in the field of wafer fabrication at AT&T Bell Laboratories and Stanford University before founding The Information Network in 1985. He has been editor of the peer-reviewed Journal of Active and Passive Electronic Devices since 1985. He is author of the book "Technology Trends in VLSI Manufacturing," published by Gordon and Breach. His book "Solar Cell Processing" was published in 2009 by Old City Publishing. He received his Ph.D. in solid state chemistry from Oxford University.