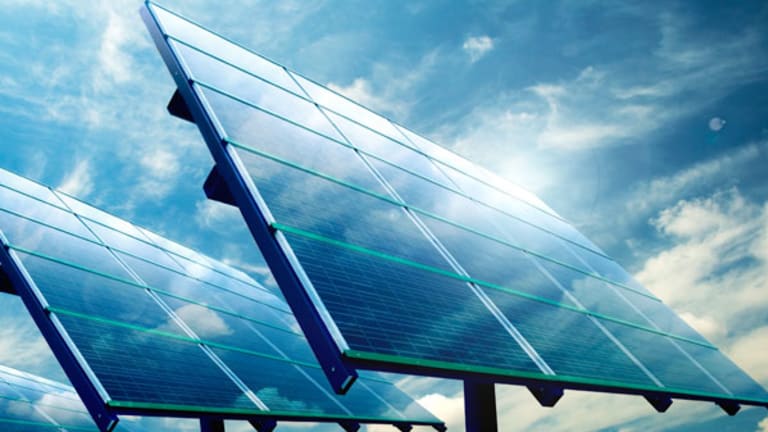 Solar Short Calls: FSLR, CSIQ, SPWRA
Auriga Securities initiates coverage of a slew of solar stocks, and sees some big earnings misses coming in the first half of 2010.
NEW YORK (
) -- The latest Wall Street take on solar stocks comes from
Auriga Securities
analyst Mark Bachman, who initiated coverage on the sector Wednesday for his new firm.
Despite the bearish sentiment that dominated earlier this year, Bachman agrees with many of his peers in predicting a brighter future for the solar industry.
He joins the Wall Street chorus that remains bullish on
Trina Solar
(TSL)
, for example. Trina received a big shot in the arm from China on Wednesday
when the
China Development Bank
agreed to lend the company a whopping $4.3 billion -- in effect, a subsidy.
But Bachman parts ways with many of his peers when it comes to several other solar stocks.
The Auriga analyst says the rest of Wall Street has it all wrong on a number of companies, including
First Solar
(FSLR) - Get First Solar, Inc. Report
and
Canadian Solar
(CSIQ) - Get Canadian Solar Inc. Report
. These mistakes will result in some big earnings misses in the near term, Bachman says, and investors ought to prepare for some significant stock-price declines.
Bachman joined Auriga Securities just this month. He had served as senior clean-tech analyst at Pacific Crest Securities from 2003 to 2009, twice making
Institutional Investor's
All-American Research Team. Previous to Pacific Crest, Bachman was an analyst at Thomas Weisel Partners.
TheStreet
asked the Auriga analyst to explain why investors should be long solar, but short on SunPower, First Solar and Canadian Solar.
TheStreet
: Overall, you're positively biased on solar in 2010. Do you have any worries about the price declines coming harder and faster than the solar industry's ability to cut costs, related to the feed-in tariff reductions in German, the world's largest solar market?
Bachman:
We had the number
reported last week by the German government for solar installations in December of 1.46 gigawatts. It was absolutely huge. Some countries can't do that amount of installations in a year.
We know the subsidies are coming down, and we have to accept that. We know that prices are coming down and there will be margin compression. Even with all that in mind, I still think solar systems can generate acceptable returns, and that's the key.
I estimate that the German FIT cuts in the second half of 2010 will result in return levels of 6% to 8% on solar systems.
I also think people underestimate the growth of markets outside Germany. For example, 400 megawatts went into the Czech Republic last year, but how many people were talking about that before it happened? In the neighboring countries, if better returns are possible, the market will migrate. Other countries have been starved for solar modules, since Germany has served as a solar-demand sink.
By the end of this year, people will be complaining about the potential changes to FITs in the Czech Republic and Italy. For me, the bottom line is that the cost reductions keep up with FIT reductions, and demand levels remain high. Talk to any of the solar companies in Asia and they will probably tell you that they are booked up through the third quarter already, despite the potential for lower returns in Germany.
TheStreet:
At Pacific Crest Securities, you were notable for placing a buy on
SunPower
( SPWRA) shares while the company was still involved in an audit investigation last winter. Now you are out with a sell on SunPower shares. Why the change in your outlook?
Bachman:
I gave SunPower a pass at that time
in December and said they would clean up the accounting mess and wrap good news around it. And from a marketing point of view, they did that. The earnings restatement was not a major event, and they even announced the major acquisition of SunRay right ahead of it.
My complaint now about SunPower has to do with the fact that the company continues to report on a pro forma, non-GAAP basis, and I think SunPower receives an unfair market multiple as a result. Even the Chinese solar companies are reporting in GAAP.
In my note, I compared SunPower to Germany's
Q-Cells
. I wasn't trying to be flippant, but I see similarities: SunPower has very good technology but it has fallen behind on the cost curve and I see the stock going down to book value.
This is my complaint to SunPower: "Stop giving us these non-GAAP numbers that make you look good."
I'm not necessarily telling people to short SunPower, but rather, if you own SunPower shares, sell them because there are better investments in the space. Sell your position or use a SunPower short in conjunction with financing a long-term buy on Trina Solar.
To my mind, SunPower is a $15 stock
Bachman's view of SunPower is in line with the
bearish end of the spectrum on SunPower shares.
TheStreet
: You have a hold rating on First Solar. The biggest First Solar bears have price targets around $100, well below the current level
$132 at the market close on Wednesday. The biggest bulls are as high as $150. Which way do you lean on First Solar?
Bachman:
I think Wall Street has the earnings numbers wrong and that it's setting up First Solar for an earnings headline failure that won't be corrected until the first-quarter earnings conference call.
It's not the right time right now to be buying First Solar shares, because they will go lower when results fall short of Street estimates. I'm at 90 cents earnings per share in the second quarter and the Street is at $1.28. The Street is at $504 million in revenues in the second quarter, while we are at $434 million.
The bottom line is that I have much more of First Solar's revenues tilted to the second half of 2010 -- 90% of utility-scale solar revenues. That said, my price target of $143 on First Solar shares indicates that I am bullish on the longer-term potential.
TheStreet
: Your hold on Canadian Solar stems from a similar argument. Where do you think Wall Street is wrong on the earnings outlook for Canadian Solar.
Bachman:
I think Wall Street has it completely wrong on Canadian Solar's margin profile. Canadian Solar will not only miss Street estimates but will miss substantially when it reports 2010 earnings.
The Street is looking for margins of over 16%, whereas I think Canadian Solar margins will be closer to 14%. Canadian Solar's ability to drive down cost is overstated, and it may also be hit in the first quarter by a larger foreign-exchange loss than is currently modeled into estimates. I think investors are better off shorting Canadian Solar to take advantage of the likely earnings miss.
Overall, whether it's First Solar or Canadian Solar, investors are better off waiting until the earnings consensus mistakes clear after the first quarter. It makes sense to be long these stocks -- though First Solar has considerably more upside than Canadian Solar -- but I argue that the near-term headlines mean the time to be long these stocks is a little farther off.
Editor's note
: Bachman also initiated coverage of
Yingli Green Energy
(YGE)
and
Solarfun Power
( SOLF)at buy; and
Suntech
(STP)
and
JA Solar
(JASO)
at a hold.
-Reported by Eric Rosenbaum in New York.
RELATED STORIES:
>>China Ups Ante in Solar Support
>>Solar Winners: Trina Solar, First Solar
>>Solar: Off the Ropes and Fighting Back
>>Ontario Adds 2.5GW of Renewables
>>See our new stock quote page.
Follow TheStreet.com on
and become a fan on
Copyright 2009 TheStreet.com Inc. All rights reserved. This material may not be published, broadcast, rewritten, or redistributed.