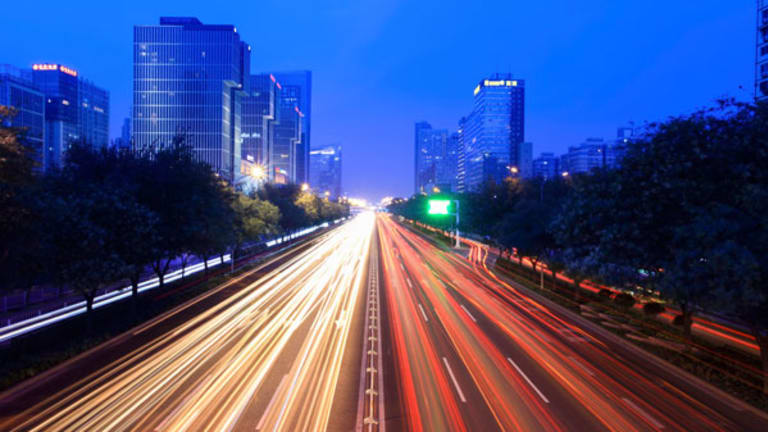 Solar Returns to IPO Market After a Long Hiatus
The first solar IPO in almost two years is expected to price on Friday.
NEW YORK (
) -- Solar energy companies are headed back to the initial public offering market. It's been quite a while since the last solar IPO in October 2010, but it's not any improvement in the solar sector fundamentals that is leading solar companies to again test investor appetite for offerings.
Pricing in solar, which had stabilized after a free fall in 2011, has started down again. The two biggest European markets are implementing significant solar subsidy reductions that will keep the demand visibility uncertain into 2013.
A strong bull market, on the other hand, is often just what the venture capitalists ordered when they are looking to exit portfolio holdings. With the
S&P 500
about to close out the first quarter up around 12%, the time is ripe for IPO offerings. Yet solar stocks
have not matched the action in 2012's early bull market run.
Take
First Solar
(FSLR) - Get First Solar, Inc. Report
, which declined 75% in 2011, then rallied by more than 30% to start 2012. It's currently posting a negative 26% return year to date. China's
LDK Solar
(LDK)
, and most of the Chinese solar companies, also rallied sharply after a disastrous 2011, but have seen almost all of those early year-to-date gains wiped out.
So should the response to the return of the solar IPO be "uh-oh," or is it a good thing?
The answer to this question begins with recognition that the last solar companies to go public, in 2010, wouldn't make it to the exchange today. Chinese solar companies involved in the most commoditized -- i.e. falling price -- points in the solar supply chain would have a difficult time making a case to investors. Thin film contenders to First Solar, like
Nanosolar
and
MiaSole
, which have talked about going public for years, also would find it difficult to market an IPO.
Pacific Crest clean energy analyst Ben Schuman noted, "Obviously, VCs are looking for an exit and lots of VC-funded later stage companies are module vendors that have had their value proposition come into question. There are a few stories where the business model isn't dependent on module pricing and that's where you can see successful IPO activity going forward."
In October 2010, when Chinese polysilicon maker
Daqo New Energy
(DQ) - Get Daqo New Energy Corp. Sponsored ADR Report
priced at $9.50, it was lower than its anticipated range. After two years of upheaval in the solar market, the lower-than-expected IPO price looks frothy. Daqo's current share price is $2.15.
When Chinese solar module company
Jinko Solar
(JKS) - Get JinkoSolar Holding Co., Ltd. Sponsored ADR Report
went public in May 2010, it priced at $11, the low end of its range. Jinko soared as high as $36 in late 2010 thanks to an unprecedented boom in the Italian solar market, but that was just good timing: Jinko trades at under $6.50 today.
The first new solar IPO,
Enphase Energy
, which will price on Friday, represents a niche in the solar market that is distinct from the general solar supply chain woes and global supply/demand imbalance.
BrightSource Energy
, which builds large-scale solar thermal projects employing a unique solar concentrating tower technology, is planning an April IPO. BrightSource is the more controversial offering of the two, having scrapped its IPO last year, and as a number of analysts have pointed out, offering investors an S-1 that raises as many questions as it answers. For that reason, this article will focus on this week's solar IPO.
Enphase will price its IPO -- originally expected at $10 to $12 -- on Friday. The deal price range was lowered to $6 to $7 this week, no surprise to several analysts
TheStreet
consulted who described the planned range as being too high to generate investor excitement.
The U.S. company is in the solar niche of microinverters, which contrary to the larger sector woes, has been booming. Microinverters are used on small-scale solar projects (typically less than 10 kilowatts) to regulate the voltage. The inverter is a key component in any solar system, regulating the electricity generated by the panels and ensuring overall system efficiency, and Enphase's distinction is in its focus on the microinverter -- which is attached to each panel -- as opposed to the central string inverter, which has been the industry norm and functions as an overall solar system voltage control. Whereas the failure of a central string inverter can take down an entire system, the microinverter can increase overall system reliability by its per-panel approach.
The Enphase story has been entirely linked to North America, and predominantly growth in U.S. solar.
Undeniable in the case of Enphase Energy is the top-line growth, even as it remains a pre-earnings company. Revenue has risen from $20 million in 2009 to just under $150 million in 2011, though cost of revenue has risen at almost the same pace, reaching $120 million last year.
The key issue for Enphase is about whether this top-line growth is sustainable. Here are a few key issues to consider:
Much of the recent growth in the U.S. market, in particular in 2011, was stimulated by the section 1603 cash grant program, which served as a ballast under the small-scale solar project market, and which expired at the end of last year. There is an effort underway to get Congress to revive the cash grant, however, it is all but a legislative certainty. It's impossible to know how much of Enphase's recent growth came courtesy of the big push in 2011 to deploy solar before the cash grant expired, but it's a factor in the company's recent rise that can't be ignored. Is it just a matter of lucky timing for the top line?
"Industry wide we saw a surge in demand in the U.S. as 1603 wrapped up and I think maybe there will be an air pocket after 1603 but given what's happened to module pricing and state incentives, solar should still be profitable in the U.S. The concern would be a temporary pause," Pacific Crest's Schuman said.
It's no surprise then that Enphase has talked more about international expansion becoming part of its growth story. This brings up the issue of competition with the heavyweights in the inverter market, Germany's
SMA Solar
and
Power-One
(PWER)
. Both companies have launched microinverters, and both are among the biggest market share holders in Europe. Enphase does have a first-mover advantage in microinverters, and the microinverter has not been the driving focus for these companies in the past, however, with the large-scale projects in the European markets and in the U.S. being de-emphasized by subsidy schemes there is reason to expect that the inverter heavyweights will be chasing even the "small fish."
Schuman said with the move by government to support smaller scale projects, all the major inverter players recognize this and there will be more competition in microinverters.
Enphase is a unit growth story and as a percentage of the overall solar market the microinverter niche remains tiny, so there is room to grow, however, it is also a more expensive option than a traditional inverter at a time when there is pricing pressure across solar and the need to bring down systems cost. Inverters are more insulated than modules and solar cells from the pricing pressures, however, even the inverter space faced a recent glut and has shown that it is not immune to the sector's constant risk of voaltile pricing swings.
Edwin Mok, solar analyst at Needham & Co. put it this way: "They are changing the way people are building solar systems and there is adoption and relative to the whole industry it is far from saturation. However, the microinverter costs a lot more on a per-watt basis than the central inverter and the challenge for any high cost company is that they constantly need to show value. Any solar system also using Enphase understands the benefit that comes with it, but as an investor you have to believe there is going to be a sea change in the market."
Pavel Molchanov, Raymond James analyst, added, "The market penetration right now of microinverters is a few percentage points of the global inverter market and there is good chance that number will grow into high single digits into the second half of the decade. But it's not a solution for utilities, mostly rooftop and small commercial projects, and the biggest issue is not the competition or margin pressure but simply can they achieve the kind of expanded market penetration they have in the last few years. For solar, the vast majority of the market remains outside of North America."
Schuman added the bottom line analysis, "They have shown they can grow but not that they can be profitable."
That's often the bottom line (literally) negative read when it comes to evaluating any clean energy IPO offering.
It's not at all uncommon for a renewable energy pure-play to debut as a public company in a pre-earnings phase. That's been the case for the most recent popular string of renewable energy IPOs in the biofuels niche, and has been the story of some of the more successful pure-play stories in the space, like
Westport Innovations
, albeit an alternative transportation company still reliant on a fossil fuel input, natural gas.
Notably, the pre-earnings profile had not been the case with the last solar IPOs, specifically, but those frothy days are behind the sector anyway, as even many in the top tier of solar companies are expecting a profitless 2012. So in a way, the fact that Enphase is still in the pre-earnings phase is a minor point in evaluating the risks and shows just how much the situation for solar has changed.
Enphase stands out in the solar market with a story that is unique, but where that story goes from here is not without a number of big risks. The 50% haircut in the IPO price range this week tells you that, fortunately, investors have pushed backed and let the underwriters know that the past growth is not enough to provide comfort.
-- Written by Eric Rosenbaum from New York.
>To contact the writer of this article, click here:
Eric Rosenbaum
.
>To follow the writer on Twitter, go to
.
Follow
TheStreet
on
and become a fan on