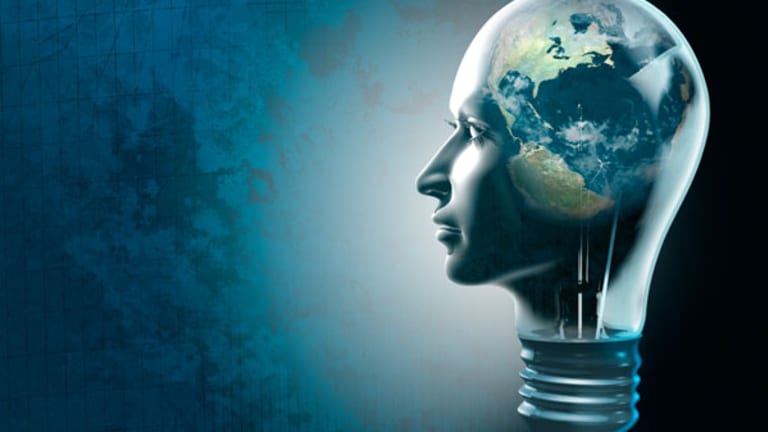 Solar PV Eating Solar Thermal's Lunch
Standard photovoltaic solar modules are winning the war versus solar thermal, just as the U.S. solar power plant market heats up.
(Solar photovoltaic vs. solar thermal story updated for new lawsuit against six major solar projects)
NEW YORK (
) -- The news that
Tessera Solar
sold its 850 megawatt Calico Project on Wednesday to a New York-based energy project development company wasn't a surprise. Just a week ago, Southern California Edison canceled its power purchase agreements with Tessera. Yet the sale of the Calico project to a company called K Road Power -- staffed by former Sithe Energies and Goldman Sachs officials -- has broader implications for the photovoltaic solar industry.
For one, the 850 megawatt project, one of the largest solar projects yet approved in the U.S., dwarfs First Solar's 550 MW Topaz project. In fact,
First Solar
(FSLR) - Get First Solar, Inc. Report
had been the rumor mill favorite to walk away with the Calico project ever since the Southern California Edison-Tessera deal fell apart last week.
K Road Power noted in buying the Calico project that 750 megawatts of the 850 MW total will be changed to standard photovoltaic modules. Tessera's project had been predicated on using its proprietary SunCatcher thermal technology, which will now only be featured on 100 MW of the 850MW Calico project, according to a statement from K Road.
Suddenly, 750 MW has materialized out of thin air for the standard PV module market, and at the expense of solar thermal.
It's not clear which solar module player among the publicly traded companies was in line to supply the modules to the Calico project, if any, but it will be one of the largest projects constructed in the U.S., pending approvals and a raft of permitting challenges associated with large-scale project reviews.
Some 750 megawatts of solar PV suddenly materializing out of thin air for competitive bidding is bullish for solar PV, though the K Road Power CEO was cagey about any relationships.
K Road Power CEO William Kriegel said that while K Road is new and designed to focus on the U.S. Southwest, it grew out of Sithe Energies, which has developed 15 gigawatts of energy projects. The company is familiar with all of the players in the standard PV module market, but makes decisions on a case-by-case basis and depending on specific contract economics and site considerations. K Road was developed to focus on solar specifically.
"We're familiar with all of the companies in the module space and we have good relationships with all of them. We are not a technology company. Our job is to develop projects and find the best partners based on cost and performance," the K Road CEO said.
Mind you, 750 megawatts is nothing to sneeze at, considering total U.S. solar market growth in 2011 is expected to be between 1 gigawatt and 2 GW.
It's not just the usual U.S. solar players, such as First Solar,
SunPower
(SPRWA)
, and
MEMC Electronic Materials
(FSLR) - Get First Solar, Inc. Report
, as well as
Recurrent Energy
-- bought by
Sharp
this year -- that have been vying for U.S. solar project business.
The Chinese low-cost module providers are also establishing beachheads in the U.S. -- among them,
Trina Solar
(TSL)
,
Yingli Green Energy
(YGE)
, and the biggest of the Chinese,
Suntech Power
(STP)
. Suntech may have the least efficient cost structure among the Chinese module suppliers, but it's first to ramp up a major solar manufacturing presence in the U.S., with a plant in Arizona.
The Chinese module suppliers have been explicit about not following the U.S. solar company model of buying pipelines of businesses, however, they would no doubt be interested in 750MW of module sales if it were available.
In the larger argument about PV and solar, the waving of the white flag by Tessera and the transition of 750MW of an 850MW project from solar thermal to PV modules is another indication that standard PV is winning important battles, if not the whole war.
"The opportunity over the next five years in the U.S. West and California specifically as the price of solar comes down is very good," the K Road CEO said.
Tessera's project financing problems -- not just financing for the Calico project, but also for its Imperial Valley project -- have been well documented.
Aaron Chew, analyst at Hapoalim Securities, says the Tessera deal implosion is really the final blow in what has been a multi-year shift in solar market pricing. At the time that Tessera was first lining up projects and PPA partners among the utilities, solar thermal was competitively priced as compared to PV, and expected to come down even more than it has over the past few years. However, the price of PV modules has come down so steeply in a few years time that solar thermal is having a much harder time competing for financing dollars, and the levels of PPA support per kilowatt hour required for solar thermal projects are significantly higher than those for PV module-based projects.
"Despite lots of big wins and lots more solar thermal supposed to come on line in 2011, PV is winning the war," Hapoalim's Chew said. "There was a lot of hope a few years ago that solar thermal would be a cheaper option than PV, but it's PV pricing that's been in freefall."
The K Road Power CEO agreed, saying that over the next few years, "Solar PV is winning the war." Kriegel added that there is nothing fundamentally bad about new solar thermal technologies, but it will take them more time to mature and become competitive. "For the power market, the players need to be sure of pricing," the K Road CEO said.
Notably,
Reuters
had an article on Tuesday about the expected slowdown in solar thermal projects next year. While the gist of the article was that a slowdown would occur because most of the projects that were looking for fast-track approval were doing so ahead of the looming expiration of the federal cash grant -- since extended for a year -- the underlying theme not covered is part and parcel of the K Road purchase of Tessera's project: solar thermal is losing ground to PV in attracting project finance dollars and proving itself as an economically viable model.
Aside from the economic arguments over the best road to finding and completing financing for solar plants, there is always the issue of permitting delays challenging the growing number of mega solar projects across the southwestern landscape, and now there are the first lawsuits challenging the projects also.
Just as K Road Power announced its purchase of Tessera's Calico project, Wedbush Securities analyst Christine Hersey released a note with the news that six major solar projects are named in a lawsuit against the Bureau of Land Management (BLM), including K Road Power's Calico project.
The La Cuna de Aztlan Sacred Sites Protection Circle Advisory Committee, along with Californians for Renewable Energy and five individuals -- Alfredo Acosta Figueroa, Phillip Smith, Patricia Figueroa, Ronald Van Fleet, and Catherine Ohrin-Greipp -- filed a lawsuit in the U.S. District Court, Southern District of California contesting the permits issued by the Bureau of Land Management for six solar projects.
The projects identified in the suit are: BrightSource Energy's Ivanpah Solar Electric Generating System Project; NextEra's Genesis Project; Chevron Energy Solutions and Solar Millennium's Blythe Solar Power Project; Chevron Energy Solutions' Lucerne Valley Solar Project; Tessera and NTR's Imperial Valley Solar Project and K Road Power's (acquired this week from Tessera and NTR) Calico Solar Project.
The suit states that for each of the six projects, the BLM violated several federal laws and therefore issued permits illegally.
-- Written by Eric Rosenbaum from New York.
RELATED STORIES:
>>Solar Grinch: Spain Does the Unthinkable
>>Solar Outlook 2011: the German Question
>>Solar Outlook 2011: New Year, Same Ole Euro
>To contact the writer of this article, click here:
Eric Rosenbaum
.
>To follow the writer on Twitter, go to
.
>To submit a news tip, send an email to:
.