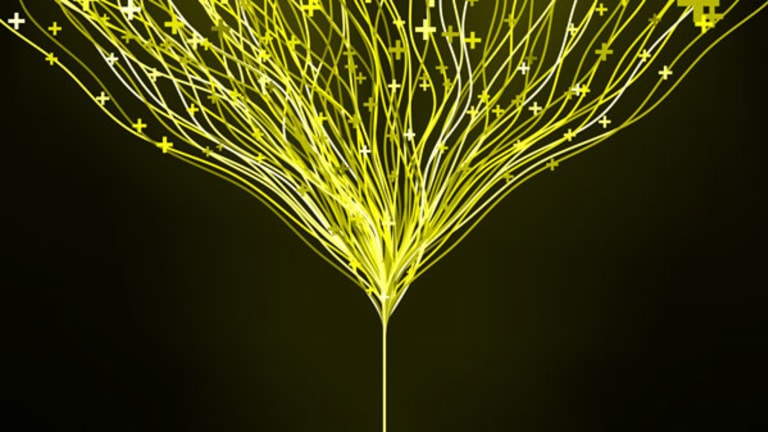 Solar Losers: STR Holdings
Solar company STR Holdings dives on an earnings disappointment.
NEW YORK (
) -- Solar-sector niche play
STR Holdings
(STRI)
is getting crushed on Friday morning after failing to live up to heady expectations from investors for the second half of 2010.
STR Holdings makes a chemical encapsulant that is essential for solar modules. STR is a play on solar volume: as long as solar volume is strong, STR should be selling at high volume.
Solar volume has been stronger than expected in 2010, and in particular for the second half of the year. STR shares are up 31% this year, before Friday's selloff, and since September had broken through the $20 barrier, hitting a short-term high of $27.68 on Monday, before beginning to slide.
The STR Holdings slide on Friday morning saw shares down 18%, back around the $20 mark.
Peak valuation has been an ongoing concern for STR Holdings, given the run-up in shares, and fears that it is facing more competition from low-cost Asian providers of its commodity product, leading to market-share loss.
Mark Bachman, Auriga Securities analyst, who launched on STR Holdings this week at a hold, cited peak valuation concerns as a reason to not be more bullish on the solar niche play. He noted in his initiation of coverage that STR Holdings had guided investors to a sequential decline in volume in the third quarter. "There was upside, but not enough, and now margins are coming under pressure," Bachman said in reaction to the earnings. "Although solar module manufacturers all have positive things to say, STRI could not follow in their footsteps. The results were in-line with the Street estimates, but clearly fell short of expectations," the analyst added in an email to
TheStreet
.
STR Holdings raised expectations for the full-year outlook, but it wasn't enough to dispel fears about market-share losses and deteriorating gross margin. The company now expects fourth-quarter earnings per share of 34 cents to 38 cents on revenue of $96 to $100 million, more or less in line with the conservative Street view. For the full year, STR Holdings raised earnings guidance from $1.35 to $1.45, to a range of $1.47 to $1.51. The full-year revenue target was taken up to a range of $370 million to $374 million, from a previous guidance of $345 million to $360 million.
David Arcaro, analyst at BattleRoad Research, says that even though the company had guided to a sequential decline in volume, there were several negative takeaways from the STR Holdings earnings and the conference call.
For one, whisper numbers had been going higher even after the company guided volume down. STR Holdings results were more or less in line with expectations, with earnings of 39 cents, above the company's previous guidance of 32 cents to 37 cents. The Street had been expecting more from the company given the strength of module shipments across solar companies. Most solar companies have been reporting beat-and-raise quarters with module shipments exceeding expectations.
"People are seeing as indication of share loss," says BattleRoad Research analyst Arcaro. "If solar modules on a volume basis are growing and these guys are not, what's the differential?" the analyst asks.
The question has stoked fears that STR Holdings is losing share to cheaper Chinese players. "This stock was overly sensitive to a negative surprise and had several things going against it in the quarter," the BattleRoad Research analyst said. It's the oldest story in solar: a company soars in the gross margin column and its shares rise, yet within a short period of time, low-cost competition from Asia begins to chip away at its market and investors hit the panic button.
STR Holdings indicated on its conference call that it doesn't see loss of market share, and in fact, its existing customers from the solar module segment will be gaining more market share, a positive for its outlook. Yet investors weren't buying this argument on Friday.
There were a few other line items from the earnings that spooked investors.
STR Holdings had close to $1 million in unexpected costs from its ramping up of its solar encapsulant manufacturing process. In addition, its raw material, EVA resin, has become supply constrained, leading to higher input costs for STR Holdings and deterioration of gross margins. The input pricing increase was expected, but the hit to gross margin of 2% to 4% in the fourth quarter is still a negative catalyst for the stock. Resin costs are expected to be up 8% year-over-year in the fourth quarter.
The ramp costs and the input pricing increases led to a third-quarter gross margin of 40.2%, down from 42.8% in the previous quarter, and a disappointment for investors.
STR Holdings didn't provide any guidance on 2011 either, and while formal guidance was not expected, the BattleRoad Research analyst said there wasn't really even a qualitative read on 2011 from the company, which didn't help matters either. STR provided a basic expectation of pricing declines next year, but annual pricing declines in the low double-digits are embedded in Street models.
All in all, it looked from the earnings like conditions had not materially improved for STR Holdings, leading to the huge selloff on Friday morning.
-- Written by Eric Rosenbaum from New York.
RELATED STORIES:
>>Solar Winners: LDK Rallies Alone
>>Solar Losers: 4 Keys to the First Solar Selloff
>>Solar Losers: 5 Keys to the Power-One Selloff
>>Solar Winners: Time to Take the Money and Run?
Follow TheStreet.com on
and become a fan on
Copyright 2009 TheStreet.com Inc. All rights reserved. This material may not be published, broadcast, rewritten, or redistributed.