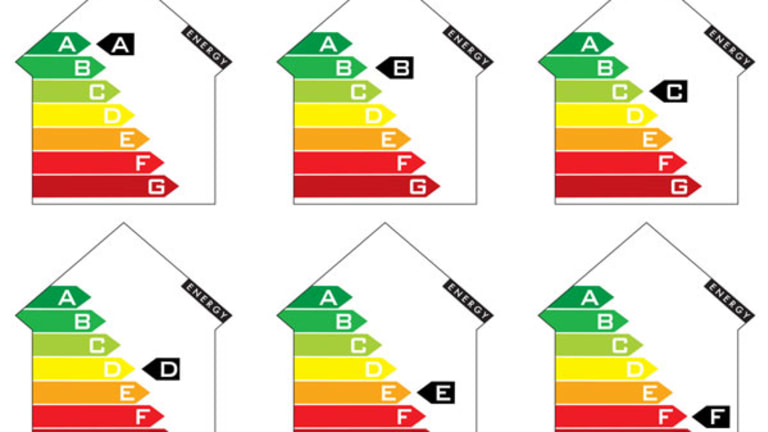 Solar Losers: All of 'Em
Solar stocks continue on their freefall on Friday, with cumulative losses in share price over the past week as large as 25% and upwards.
NEW YORK (
) -- Henry Ford once famously said that "history is bunk," and solar investors may be saying the same thing these days about guidance from the solar industry.
On Wednesday, Germany announced a proposal to slash its solar feed-in tariffs by 15% on rooftop and open-field projects, and 25% on farmland projects. What's more, Germany may move ahead with a soft cap on solar, which would trigger a further tariff reduction of 2.5% if an annual 3.5 gigawatt capacity target is reached.
It is not an exaggeration to say that a sizable portion of the solar supply/demand balance rests on Germany's ability to absorb capacity from the solar industry. To be fair, the rest of the world's solar capacity is expanding rapidly, and markets like Italy are poised to grow in 2010 specifically. Still, whether
Italy's solar growth is only to be a short-term boom before a bust remains an open question, too.
Germany sent a big message to solar players in its proposed changes on Wednesday, particularly with the proposed soft cap on overall solar capacity: Germany won't be the "demand sink" for solar any longer. Will the rest of the world catch up in time to offset Germany's slap in the face of solar?
That question is hard to answer, and Germany has not officially acted yet. Still, one thing is clear: if Germany moves ahead with a proposed April tariff reduction of 15% on rooftop systems, the big second-quarter bounce that has driven solar shares ever-higher, will not occur.
An FBR Capital Markets analysis published on Friday by its solar analyst Mehdi Hosseini indicated that solar players are already reacting as if the 15% rooftop reduction in feed-in tariffs is a fait accompli.
Hosseini writes:
"Average sales price (ASP) negotiations have already begun affecting (module) deliveries as early as March...Contrary to some of our peers who recently have argued that declines in (German) IRRs will be absorbed by project owners, we expect at least a 25% decline in module ASPs in CY10 from CY09. This implies at least 20% downside risk to the current consensus revenue expectations (for solar wafer/cell/module manufacturers), while the EPS impact could potentially be higher if cost reductions are not as aggressive."
If investors have learned a lesson from the recent shake out in solar, it may be this: as they reevaluate solar demand and solar players, they might want to look beyond the guidance from solar companies and the most bullish analysts, or in the least weigh those bulls against the risks.
An investor doesn't need to look back very far to see how bullish comments were leading up to Germany's big announcement.
On January 12th, speaking at a Needham & Co. conference,
Suntech Power
(STP)
vice president of external relations Steven Chadima said that Suntech was sold out at least through the second quarter of 2010.
Was Chadima speaking without knowledge that Germany might be a game-changer? Far from it: Chadima was quoted during the same Needham conference presentation as saying that Suntech expected the German feed-in tariff cuts to be 10% and made mid-year 2010. That scenario was certainly the solar industry wish, but should Chadima have been speaking about at an investor conference as if it was the likely outcome?
Of course, the German environment minister proposed the worst-case scenario April date for rooftop solar proposed tariff cuts, in addition to the larger cuts than the Suntech official publicly stated was the expectation.
An analyst who did not want to be quoted bashing solar, conceded, "Everyone who went to the Needham conference was upping their stock. That's the way these companies play. They're supposed to give the bullish call. I wrote a report early in January that stated the German cut would be at least 10%-20%. 10% was the minimum."
The analyst added, though, that solar figures like the CEO of Suntech Power, Zhengrong Shi, are also often frustrated by the way their companies are quoted in the press, and there is always the chance that the message from a conference presentation can be somewhat lost in translation, so to speak.
Ming Yang, v.p. of business development at
JA Solar
(JASO)
was also at the Needham conference talking up solar demand only days before the first rumors of Germany's proposed drastic cuts surfaced.
The JA Solar executive predicted that the global market for solar power would grow at a 30% clip annually beginning in 2010 and for the next several years, and by as much as 50% in 2010. Estimates vary across the industry, and global demand is sure to increase, but that might not matter as much as huge dips in average sales price and earnings in the coming quarters, as outlined in the FBR Capital research.
As for average sales price drops in 2010, JA Solar's Yang said that solar cell prices would drop by low single digit percentage points in the first quarter of 2010. A slightly different view, to say the least, from the FBR report of a 25% decline in module ASPs and a 20% downside risk to revenues across modules, cells and wafers.
"I hope solar investors have realized that just listening and believing in what module manufacturers say is the worst thing you can do," said Mehdi Hosseini, analyst at FBR Capital Markets.
Obviously, no company, whether it is JA Solar or Suntech, could predict what Germany would propose. Still, should solar companies be speaking publicly at conferences telling investors how large they think the German cut will be specifically, and how rosy their demand scenario will be in 2010, knowing that Germany was going to announce reductions to its solar tariffs that might not reflect the industry's wishes?
The research community also had its solar bulls in recent weeks.
On two consecutive days in December, both
Barclays Capital and Thomas Weisel Partners upped both Suntech and JA Solar. Weisel only upped the solar players from underweight to market perform. Barclays, citing improved earnings outlook for 2010, upped the Chinese solar players to overweight, and raised Suntech's price target to $20, and JA Solar's price target to $6.
On the same day as the Barclays upgrade, JA Solar went from $4.50 to $4.95 and saw more than 16 million shares traded.
By January 11, JA Solar had reached $6.84. On Friday afternoon, JA Solar was back to $4.56.
Suntech spiked from $15.89 to $17.05 on Dec. 7. By Jan. 11, Suntech shares were up to $18.34. On Friday, Suntech shares were even lower than the Dec. 7 price, at $13.02.
Collins Stewart upped
First Solar
(FSLR) - Get First Solar, Inc. Report
to a buy on Dec. 4, citing a better supply/demand balance and more favorable pricing. The previous day, First Solar spoke at a Credit Suisse conference, a
Lazard analyst upped his price target on First Solar, and shares went up by $7.
First Solar went from $122.95 on Dec. 3 to $131.69 on Dec. 4. By Jan. 11, First Solar stock hit $141. On Friday afternoon, First Solar was back down to $110.63.
On Monday, Jan. 11, when
solar shares reached their collective high right before the German feed-in tariff cuts dawned on the markets, Collins Stewart also raised its price target on
Trina Solar
(TSL)
, from $56 to $75. Collins Stewart also upped its price target on
Canadian Solar
(CSIQ) - Get Canadian Solar Inc. Report
from $26 to $40.
Trina Solar has since completed a 2-for-1 stock split. Trina was at $31.07 on Jan. 11. On Friday, Trina Solar was at $20.96.
Canadian Solar was at $33.19 on Jan. 11. On Friday, Canadian Solar was at $21.63.
As for other notable losers in the solar pack from Jan. 11 to this week's big selloff, though by no means the only other losers:
Solarfun Power
( SOLF): down from $10.60 on Jan. 11 to $7.09 on Friday.
Yingli Green Energy
(YGE)
, down from $18.84 on Jan. 11 to $12.66 on Friday.
Of course, these are just examples of some of the recent more bullish calls in solar. These research firms were not alone in predicting a bright, immediate future for solar. There have been bearish analysts all along too, those bearish on specific solar stocks and those overall bearish on the industry, beating the drum of Germany during the final months of 2009.
What's more, the bulls could be right in the end, and the selloff in solar an overreaction. And the analyst community continues to be split on the impact from Germany, with some analysts still saying that it will be a net gain for the Chinese solar players. However, a net gain in market share when that is market share of a sector taking a huge hit in average sales price and earnings, might obscure the truth.
In the least, it must be at least a little frustrating for the solar investor: so much positive sentiment packed into the period of time right before anyone in the "solar know" knew that Germany was widely expected to announce what could be a solar game-changer.
Most analysts still believe that fourth quarter earnings will be much stronger for solar companies. That's good short-term earnings news, but also reason for investors to be extra cautious.
Let's hope that as those earnings come out, solar investors are able to place them in the proper perspective within the larger context of solar growing pains that are possible in the first half of 2010.
2010 guidance from solar companies will be coming in this earnings period, too. "Guidance will be very problematic, and the solar companies have two months to figure it out to come to their senses, making reasonable projections, or maybe they have another trick up their sleeve," Hosseini said.
If solar companies go to the sleeve, solar investors might be well advised to cuff them.
-- Reported by Eric Rosenbaum in New York.
RELATED STORIES:
>>Germany to Solar: 15% Cut Not Enough
>>Italy: About to Give Solar the Boot?
>>Solar Industry Incentives Outlook: 2010
>>See our new stock quote page.
Follow TheStreet.com on
and become a fan on
Copyright 2009 TheStreet.com Inc. All rights reserved. This material may not be published, broadcast, rewritten, or redistributed.