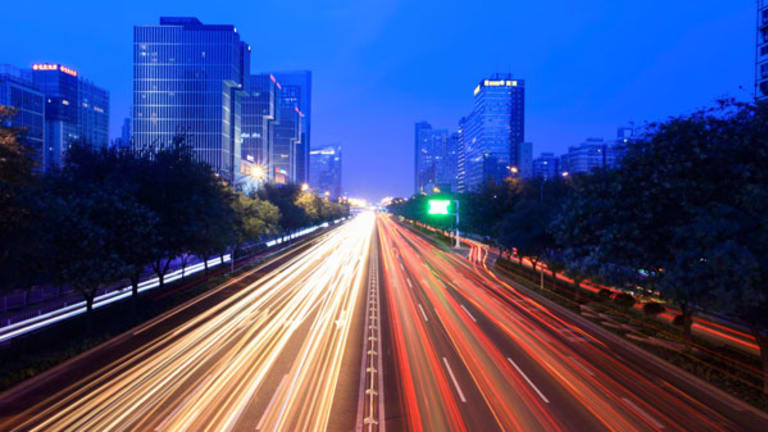 Solar Losers: 5 Keys to the Power-One Selloff
Shares of solar inverter company Power-One decline after a massive blowout of Street expectations for the third quarter.
NEW YORK (
) -- If there were ever a case of a solar stock being a big winner and loser on the same day, it might be solar inverter company
Power-One
(PWER)
, which blew by Street estimates in its after-hours earnings report on Thursday, and is down between 3% and 6% in Friday trading.
It didn't look like it was going to be a losing day for Power-One based on the initial reaction to its third quarter earnings. Anxious investors had their finger on the buy button when Power-One reported after the close on Thursday, awaiting the end of the trading halt in Power-One shares. And why wouldn't an investor be waiting to buy into the earnings rally? The Street had more or less said it would take a blowout quarter for Power-One to continue its earnings momentum, and Power-One delivered what amounts to a blowout: earnings of 40 cents per share versus Street consensus of 23 cents, and revenue of $314 million versus Street consensus revenue of $264 million.
Power-One had guided investors to revenue between $250 million and $270 million when it last reported.
Power-One shares rocketed by 16% in the after-hours session on Thursday and opened with a similar gain on Friday morning, yet by mid-day Power-One shares were down by between 5% and 6%. If the reversal from a near 20% rise to a 6% dip seems hard to understand, it really shouldn't be. Here are five factors that all play into the reversal of fortune in Power-One shares, and in the end, don't rule out the bull case for the company.
Number One:
Volatile trading has always been the case for Power-One. The loss of 6% was down to as little as 2% by 2 p.m. and back to 5% by 3 p.m., and of course, all of that was preceded by the open 16% up on Friday morning.
Number Two:
Short covering had to be a significant part of the earnings rally. There was huge short interest on Power-One headed into the earnings. Four million shorts had been added to Power-One shares in the weeks previous to the earnings. Short covering alone can't explain the kind of volume that was experienced in Power-One shares, but its role in making an earnings rally seem huge can't be entirely discounted.
Number Three:
Given the performance by Power-One in the previous earnings periods, there was no doubt a high level of event-driven trading going on around its earnings. There was commentary in the market from short-term trading firms about the opportunity in Power-One shares on Thursday ahead of its earnings, and so there were definitely traders looking to get a quick-hit earnings profit on the expected blowout quarter from Power-One, which it delivered.
Number Four:
Power-One shares were trading below the $3 mark earlier this year, but it wouldn't take investors booking profits who had gotten into Power-One at below $3 for the profit-taking trade to make up a big part of activity in Power-One on Friday. Plenty of investors piled into Power-One after shares slipped from a 52-week high of $13 after its last earnings, down to the sub-$9 mark as recently as the end of September. A nice profit-taking opportunity availed itself of investors who entered Power-One shares just a month ago, and given the uncertain outlook headed into 2011, an investor couldn't be blamed for saying 'enough is enough'.
Number Five:
The larger outlook on the solar sector headed into 2011 may drive all solar earnings reaction, and this might be the big one, and the larger outlook for the solar sector was not positive as read by the reaction to the earnings from
First Solar
(FSLR)
, also delivered in the after-hours session on Thursday. First Solar also beat and raised, but for a host of reasons including an uncertain outlook on 2011, in particular about 2011 pricing, First Solar was among the market's biggest losers on Friday.
The specific aspect of the First Solar outlook that applies to Power-One is the state of affairs in Europe, where feed-in tariffs are declining and markets like the Czech Republic look to decline severely next year. Power-One might be well positioned in Italy, which is expected to be one of the stalwarts of European demand in 2011, but overall, First Solar's results were not taken as a sign that all is well with European solar headed into 2011. Power-One is diversifying into more markets, including the U.S. and China, and is less exposed to Germany than First Solar has been historically.
Nevertheless, making a bet on Power-One at this point is not just a bet on its recent string of outperformance but on its geographic diversification picking up the slack by the second half of 2011 for an expected European decline. Some investors might prefer to not place that bet.
Almost every solar share was in the red on Friday, and the losses grew throughout the day, and it's not a stretch to think that the reason was First Solar, and Power-One drawn into the bearish turn on solar. Power-One solar inverter peer
SatCon
(SATC)
was down close to 5% on Friday. SatCon also recently reported blowout earnings and its shares had previously rallied.
SatCon is much more tied to the U.S. market and the large-scale solar project market than Power-One, yet there too, First Solar sounded some alarm bells. The industry bellwether announced that it had already begun construction on its Agua Caliente project in the U.S., even though it had yet to line up a buyer.
One justifiable reason for doing so is that the cash grant program that has helped to finance alternative energy projects through the financial downturn expires at the end of this year, and to qualify, First Solar needed to start construction on the project. The larger issue is that starting 2011, there will be many more projects trying to get financed under the legacy investment tax credit finance mechanism than there may be tax equity investors to open up the wallets, leading to problems in the project development market in the U.S.
There are also the elections next week in the U.S. which could have a significant impact on alternative energy development, particularly in the solar heart of California. This risk may not be front and center with investors or in the solar headlines as much as Europe, but some analysts think it could be an additional pressure point, and where there's smoke...
The U.S. is still expected to be one of the biggest markets for solar in 2011, though, so the SatCon selloff may simply be part of the general sector slide on yet another turn in sentiment, and with many solar shares, including SatCon, trading at relatively high levels, at least as far as recent share price history is concerned.
Several analysts, nonetheless, remain bullish on the outlook for Power-One, and with Power-One guiding to revenue of $340 million to $360 million in the fourth quarter, it's not a case that lacks its merits. Carter Driscoll, analyst at CapStone Investments, said that Power-One addressed the European issues, noting that it took share in Germany in the most recent quarter. The inverter company also acknowledged that growth in the European solar market could be flattish or even down in 2011, but they believe they will continue to take market share.
"Europe won't be a huge growth market, but they can continue to take share and with more growth coming from the U.S. and China, there is more upside in Power-One shares," the analyst said. Driscoll conceded that the bull and the bear are evenly matched headed into 2011, with bulls able to point to a more diversified product line from Power-One and global reach. Bears though can easily counter that the company has heavy geographic exposure to Europe.
"It's difficult to say Power-One is an expensive stock in my opinion," the CapStone analyst said.
Bill Ong, analyst at Merriman Curhan Ford, said it was simply a blowout quarter from Power-One, and he continues to think the stock will work well through the end of the year. Ong said he thought a combination of First Solar commentary on 2011 and profit-taking explains a large part of the negative turn in Power-One trading. "If First Solar hadn't made any negative comments it would have been a cleaner rally for Power-One, but there are lots of cross currents in the sector and concerns about the lack of visibility in the second half of 2011," the analyst said.
Ong said that if there was one minor negative in the Power-One report, and it was a stretch for bears, it's the decision by Power-One to stop reporting bookings. The business backlog is a data point that investors use to gauge the health of a business cycle, but Ong says that it's a data point that only makes sense for capital equipment providers with long lead times. Power-One no longer fits the profile of a company that should be providing this data, in fact, the analyst said for an inverter sales company bookings data could be misleading. Nevertheless, he said that if he had to look for something that might be a specific negative trigger in Power-One's earnings, this was one minor debatable point.
"I'm bullish on the stock and raised my numbers substantially. The bear case is the second half of next year," Ong said. Merriman Curhan Ford is now at a $21 to $22 price target on Power-One shares, and full year 2011 earnings was raised to $1.40 from $1.10 - even its previous 2011 earnings was ahead of the Street consensus of $1.01.
Yet other analysts are taking a more cautious approach. Stifel analysts reacted to the Power-One earnings by writing, "Given our caution on 2011 for the industry...and the near doubling of global inverter capacity to 35-40GW coupled with a likely easing of component availability in 2011, we are taking a more conservative stance on units for Power-One than we believe consensus is modeling. We are assuming Power-One sells roughly 2.5GW of units in 2011 with price declines of
approx. 10%. We look to get constructive on shares as we get more confidence that Power-One can grow its market share in a declining Europe market (94% of 3Q10 revenue) and have success in the US and China - two markets that nearly every inverter maker is focused on."
-- Written by Eric Rosenbaum from New York.
>To contact the writer of this article, click here:
Eric Rosenbaum
.
>To submit a news tip, send an email to:
.
RELATED STORIES:
>>Solar Stocks Now a Core Holding, Poll Says
>>Solar Winners: Time to Take the Money and Run?
>>Solar Sector Selloff: JA Solar, LDK Solar, ReneSola
>>Is Solar Pricing Squeeze Just Ahead?
Follow TheStreet.com on
and become a fan on
Copyright 2009 TheStreet.com Inc. All rights reserved. This material may not be published, broadcast, rewritten, or redistributed.