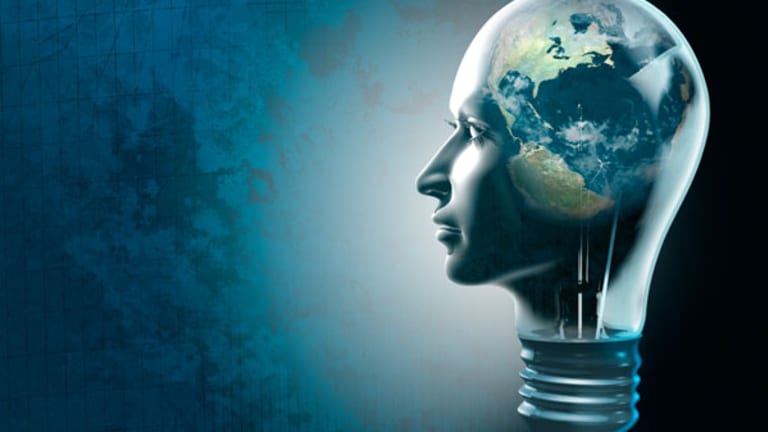 Solar Losers: 4 Keys to the SunPower Selloff
SunPower talks a big game at its annual investor day, but the numbers present a portrait of continuing earnings uncertainty.
NEW YORK (
) --
SunPower
undefined
hosted its annual investor and analyst day on Thursday in New York, and by the time it was over, shares of the U.S. solar company were selling off. On Friday morning, SunPower shares opened down and stayed that way, declining by more than 5.5% on Friday and SunPower trading was twice its average daily volume.
If it seems like a counter-intuitive selloff -- after all, analysts were roundly supportive of SunPower finally opening up its books and providing more transparency and visibility on its "opaque" business than ever before -- this still wasn't enough to prove that SunPower had put to bed the nagging issues about its cost reduction roadmap and competitive positioning at a time when solar supply is expected to overwhelm demand.
>>Solar Losers: Credit Suisse Call Sends Sector Slipping
In a qualitative sense, SunPower is always a big talker. It's the quantitative details where it can't as easily resolve all the issues. SunPower CEO Tom Werner can state to
Reuters
after the annual meeting that SunPower is "in attack mode," hoping to rally the investor troops around the solar company, but as many if not more investors and analysts still think SunPower is under attack. Generally speaking, analysts and investors are prepared to be given the Big Gulp-sized cups of SunPower Kool Aid to drink at the annual rah-rah day, and the 2010 addition of Camp SunPower was no different, according to those in attendance.
Wedbush Securities downgraded SunPower to a sell after the investor day, but even analysts who are maintaining a hold on the stock presented a raft of reasons why the SunPower story is still a little lost at sea.
As analysts sift through the overload of information that SunPower finally provided, there may in fact be upside in models that will take time to sort out and manifest itself. For the moment, though, here are 4 keys to why SunPower is selling off on Friday, and even the silver lining on the SunPower investor day
(Editor's note: order does not represent a qualitative valuing of earnings items)
.
No. 4 Key to the SunPower Selloff: Game-Changing Technology Talk is a Long Walk
As mentioned above, SunPower is renowned for talking up its technology and how it's beating the pants off the proverbial competition, even when it's anything but clear that the competition isn't leaving SunPower caught with its pants down. No one doubts that the company is a technology leader, and a technology innovator, but in a market long gone down the road of commoditization, the technology advantage of SunPower is hard to justify as a driver of Street models.
An example from the SunPower analyst day was its big talk about moving into concentrated photovoltaic (CPV) technology, which company executives described as being a potential "game-changer" by 2012. SunPower talked up the 7x capacity increase for each dollar of capex spent through the use of concentrated photovoltaic equipment -- more or less mirrors that concentrate the energy generated by photovoltaic cells by tracking the movement of the sun across the sky.
The issue with the CPV is that it's not a new idea, it's not an idea exclusive to SunPower, and other Silicon Valley solar companies have so far failed to prove that CPV is a "game-changer" on a large-scale project deployment basis. SunPower says that beta-testing will be done in 2011 and benefits available by 2012, but investors and the Street are taking a wait-and-see approach, and for now, it's just another item in the R&D expense column.
"I'll believe it when I see it," said Oppenheimer & Co. analyst Gary Hsueh. The Oppenheimer analyst said for the time being, for all SunPower is talking up the potential for SunPower to provide a levelized cost of energy(LCOE) 20% lower than other photovoltaic projects using CPV, it would be nice if the Street could see today how SunPower's long-time argument about the balance of systems cost advantage it has with its Oasis program for utility-scale solar is already benefiting margins. "We haven't even seen a positive impact on profits from Oasis yet," the analyst contended.
Jeff Bencik, analyst at Kaufman Brothers, added, "It sounds great, but until they prove it on a utility scale and win contracts using it, we are talking about at least two to three years out before it's installed anywhere on a basis that's beyond a test plot."
No. 3 Key to the SunPower Selloff: LCOE Advantages Versus Declining ASP, Flat Margins
Given SunPower's propensity to be impressed with itself when it comes time to play the role of marketer, investors and analysts weren't surprised that the first part of the investor day presentation was taken up with a long dissection of SunPower's advantage over crystalline silicon and thin-film players when the solar business is viewed from the perspective of the levelized cost of energy (LCOE).
Yet when it came to prove that advantage and the resilience of SunPower's average selling price and an improving margin profile, SunPower left investors wanting.
In fact, SunPower guided gross margin to be flat to down in each of its major business segments, and for ASPs to drop by 20% to 25%.
"They are excellent marketers and so they gave so much information it was almost overwhelming," said Auriga Securities analyst Mark Bachman. "SunPower opened up the kimono to a greater extent than ever before, but instead of buying the marketing pitch and saying 'I'm a cheerleader now,' analysts come away and look at the numbers and the first take is skepticism," the analyst said.
Oppenheimer's Hsueh said that SunPower is making the same case about LCOE, but guiding to ASP declines one would expect of plain vanilla crystalline silicon players. "It's a little disappointing that there's no more confidence on ASPs mirroring the perceived advantage on LCOE," the analyst said. He added, "they gave a lot of info, but you walk away and say, 'it's not like gross margin is going higher, and not like EPS is going higher, so there was no positive catalyst for shares.'
"There is no positive catalyst for revaluing the stock higher other than transparency. They are spinning a tale about beating the pants off the competition on an LCOE basis, and if so, one assumes we would see a more defensible, at least stable margin profile, and some kind of hope for margin expansion next year," Hsueh said.
SunPower says it's a stable market, but the complaint has always been about the vulnerability of its premium pricing versus its cost reduction roadmap. At the same time, the competition has stepped up its game, in particular in the residential market, with Chinese solar companies taking share. "They continue to say it's a stable market but all those number are degrading," the Auriga analyst added.
No. 2 Key to the SunPower Selloff: 2011 Outlook is in Line, as Opposed to Proving Upside
As alluded to in the comments from the Oppenheimer analyst, SunPower's guidance for the coming year was more or less in line with the Street. The midpoint of its EPS guidance range of $1.75 to $2.04 -- $1.90 - was more or less in line with the Street forecast, while the SunPower revenue forecast was a little light. Since many on the Street were already expecting earnings per share guidance in the range of $2 for 2011, the guidance was a disappointment in the sense that there was no positive surprise.
"By the end of the presentation, the estimates were not as good as everyone hoped," said Auriga's Bachman, adding that bringing down the revenue number and maintaining the same earnings means removing potential upside from the stock.
There's a second issue with the SunPower earnings too: it's the second year in a row with the earnings back-end loaded. "SunPower is great at doing this back-half-of-the-year earnings model to keep people in the stock all year long and saying everything will land in the fourth quarter," Bachman said.
He noted that SunPower's upcoming fourth quarter 2010 report will be important to watch given the 2011 guidance. If SunPower can't back up what it told investors to expect for the fourth quarter 2010, than it will make the back-end guidance look that much worse for next year. However, if it delivers in the upcoming fourth quarter, it could remove any uncertainty about the back-end loaded model for 2011.
"It's another back-end loaded year and that's tough to swallow right now," the Oppenheimer analyst said.
No. 1 Key to the SunPower Selloff: GAAP versus Non-GAAP Earnings
For all of the transparency offered by SunPower and improvement from its "black box" financial model, SunPower is sticking to its guns about providing non-GAAP numbers that several analysts, including Bachman and Bencik, find very frustrating. Both Auriga and Kaufman Brothers are finally relenting and using the non-GAAP SunPower model, but it's not without a bitter taste left in their mouths.
The SunPower non-GAAP model excludes many expenses that make it unfair to compare to other solar companies. Analysts noted that the SunPower GAAP numbers for 2011 show a big deterioration in earnings, even as the non-GAAP profile looks fine.
"From SunPower, it's always been, 'Let's exclude everything we don't want to include, even though all the other companies report on a GAAP basis,'" Auriga's Bachman said.
This leads to a pretty hefty difference between non-GAAP and GAAP numbers, and argument over the true earnings power of SunPower. It's no surprise, then, that the SunPower investor presentation includes a slide trumpeting the fact that on a non-GAAP basis, it has the second-highest gross profit among solar companies, behind First Solar.
Yet the SunPower GAAP earnings shows a big drop year over year. SunPower is guiding to GAAP guidance of 35 cents to 65 cents in 2011, with 45 cents to 55 cents in the fourth quarter alone.
For 2010, SunPower has guided to full year GAAP guidance of 75 cents to 90 cents.
"GAAP earnings are sliding from 90 cents to 65 cents on roughly $600 million more in sales in 2011, and that adds to the skepticism about how much you can really see into this business," Auriga's Bachman said.
The Silver Lining in the SunPower Selloff: Big Talk, But Conservative Numbers
While SunPower loves to talk a big game about how great its technology is -- and during this investor day, in particular, practically bludgeoned the investor community with information -- when it comes to the ASP guidance and earnings guidance, SunPower can play the part of a coy mistress to the Street.
On a qualitative basis, SunPower CEO Werner can talk about "attack mode" and SunPower can talk up the "game-changing" nature of CPV, all without repercussions. Yet if it misses on actual earnings numbers, the reaction could be brutal. Additionally, with fears across the solar sector about oversupply in 2011, it may be wise for a company to be conservative on ASP assumptions.
All this leads to the fair counter argument that SunPower is guiding ASPs down by 20% to 25% because it wants to play it safe with the potential oversupply situation. In fact, all the analysts agreed that SunPower is smart to under-promise and over-deliver, though over-delivery is by no means assured.
"If they are being conservative with ASPs, there's upside," Kaufman's Bencik said. "They are essentially assuming oversupply where they have to reduce prices to keep demand, but they may end up getting better pricing than is built into their guidance."
The Kaufman analyst also noted that with SunPower revenue guidance coming in slightly below the Street expectation, and the nature of SunPower's business being more utility-scale driven every day, this may amount to no more in the end than a bump in 2012 numbers.
Over the past three months, SunPower had climbed from below $10 to above $13, so there could be some quick profit-taking going on with the continued uncertainty after the investor day, too.
"I don't want to look a gift horse in the mouth, since they gave us so much information, and the guidance may just be conservatism," Oppenheimer's Hsueh said.
If, on the one hand, the Street came to the conclusion that a gift horse -- meaning the level of information finally divulged by SunPower -- shouldn't be looked in the mouth, the fact that SunPower yet again set up 2011 to be a year where earnings are heavily tilted to the second half of the year -- same as in 2010 -- also means that additional horse proverbs apply.
Investors may be pulling up on the SunPower reins on Friday because, for all the information divulged by the typically frustrating company, and for all its attempts to lead investors to water in 2011, investors aren't willing to be led just yet, even if SunPower says to expect plenty of water in the trough by the end of 2011. After all, troughs can also be full of fodder.
-- Written by Eric Rosenbaum from New York.
RELATED STORIES:
>>Solar Stocks After the Selloff: MEM: GT Solar, MEMC
>>Solar Losers: Credit Suisse Call Sends Sector Slipping
>>Solar Stocks After the Selloff: GT Solar, MEMC
>To contact the writer of this article, click here:
Eric Rosenbaum
.
>To follow the writer on Twitter, go to
.
>To submit a news tip, send an email to:
.