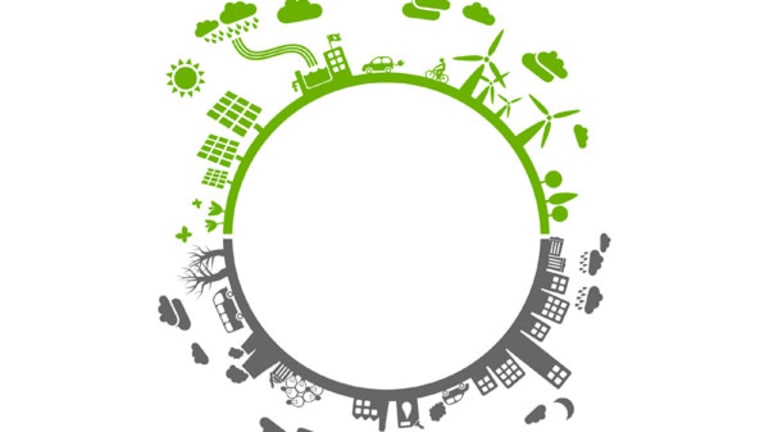 Solar Growth in Italy Walks Boom/Bust Line
The latest data from the Italian government on solar installations suggests that huge growth may precipitate some big political changes.
(Italian solar story, updated for analyst comment)
NEW YORK (
) -- The latest data from Italy about solar installation growth presents the classic boom/bust dilemma.
The Italian state-run electricity service agency known as GSE reported on Tuesday that installed solar capacity may reach 8 gigawatts in 2011, meaning Italy will hit its long-term solar growth target approximately nine years ahead of expectation. The 8GW cumulative solar installation level implies a 5GW year in Italy in 2011, and a growth rate of 170% year over year.
Italy has 711 MW added in 2009, and has added 1.85GW grid-connected and 4GW of unconnected solar installations in 2010.
No market has ever absorbed 5GW of solar installations in half a year, which the GSE data, while not possible to validate immediately, suggests occurred in Italy. Yet the solar market is much bigger today than it was when Spain absorbed 2.4GW in 2008, which at that time represented one-third of the global solar market, and even bigger than when Germany had its mega-year in 2010.
Nevertheless, most analyst expectations for Italian annual installation growth in 2010 has been in the range of 2 gigawatts, and for 2011, in the range of 4GW.
In light of the existing estimates, the latest data confirms the view, or fear, of many, that Italy may slow sooner rather than later, and that a cap on solar installations is possible. It makes it seem as if the 4GW that was expected in Italian market growth in 2011 occurred in 2010. The Italian data indicated that there was close to 2GW installed in Italy in the fourth quarter alone.
Stifel analyst Jeff Osbourne wrote on Tuesday afternoon that the most surprising figure in the Italian data release is the 4GW of plants that were in the process of or fully installed before Dec. 31 and waiting to be connected to the Italian grid.
"Without being able to judge the validity of the 4GW of projects waiting to be connected, if in fact all the 4GW of notices of installed equipment / completed systems result in an additional 4GW of solar systems qualifying under the old FIT, we would expect the outcome to be in increased solar subsidy cost pressures which the reduced FIT levels announced mid-year for January 1, 2011 were expected to mitigate in the first place. This, in combination with country's now rapidly approaching its 8GW 2020 target, will raise political risks to the country's current subsidy scheme, in our view, given recent moves by governments such as France, Greece, Spain, Czech Republic, etc. to cap or severely slow the industry in the face the mounting program costs."
If the 4GW was the most important, it was also the most confusing. The Italian FIT policy included a provision so that projects on the ground by year-end 2010 would still qualify for the pre-2011 feed-in tariff even if they weren't connected until June 2011, yet given the level of the frenzy to take advantage of that provision, it's likely that some people will fear that all bets are off and Spain 2008 2.0 is going to occur in Italy, if not also compounded by a new version of the Spanish 2010 retroactive FIT decline.
There were some analyst reports on Tuesday afternoon suggesting that the Italian demand wouldn't just drive numbers higher for the fourth quarter, but for the first quarter of 2011 also. It's possible that Italian politicians won't take whatever action they are going to take to slow the growth of solar immediately. However, given that there was 4GW of unconnected solar on the ground in Italy by year-end 2010, the counter argument that there is little time to waste in Italy to slow the unexpected growth in solar deserves serious consideration.
Consider this point recently made by Credit Suisse in a research note, and released before it was even clear that as much as 6GW of solar had been placed on the ground in Italy in 2010. "8.5GW of our 2011 demand comes from Germany and Italy - and there is risk in both countries that policymakers eventually clamp down on volumes. Italy has 25% more sunshine than Germany on average, and Italy's electricity market is about half the size of Germany. If you are concerned that Germany cannot sustain 7GW of solar per year, Italy's 3.5GW is equivalent to 5.8GW of German volumes if you adjust for sunshine and electricity market size."
Given that Italy's 2020 goal was 8GW, and its one utility entity, Enel, that has to deal with the grid issues, it's hard to imagine it is prepared for the onslaught of solar. Therefore, the latest from Italy at least draws immediately comparisons to the EDF in France lobbying the government and the Czech utility monopoly forcing the Czech solar market to more or less a hard stop. The same politics could occur in Italy to make the government act sooner rather than later, and either way, a political football hurts solar multiples.
Solar stocks have been rallying to 52-week highs, as in the case of
First Solar
(FSLR) - Get First Solar, Inc. Report
after Goldman Sachs added the U.S. solar bellwether to its conviction buy list on Monday.
On Tuesday, many of the Chinese solar stocks that have rallied took a breather, with 5% to 6% losses in several stocks in the afternoon.
Jinko Solar
(JKS) - Get JinkoSolar Holding Co. Ltd. Report
led the way down with a loss of more than 11%.
JA Solar
(JASO)
was down by close to 6%, while
LDK Solar
(LDK)
was down by 7.5%.
These stocks have all rallied extensively in recent weeks, and so, a haircut of this size in share price might be expected without any specific market noise. Jinko Solar, for example, is up more than 30% in the past month. Yet FIT reduction chatter ups the ante considerably, and the numbers from Italy seem, at first glance, off the charts in terms of expectations.
The rally in the solar sector was driven by the political chatter in Germany taking a turn for the better, and an incrementally better demand view for 2011 set against extremely low multiples on solar stocks. The latest data from Italy doesn't categorically imply that Italy will immediately come to a hard stop, but a political day of reckoning in 2011 seems likely in Italy and uncertainty is never a good thing for solar stocks. Throughout 2010, earnings of solar companies beat expectations, but multiples compressed, as investors feared the worst about subsidy reductions, steep pricing declines and overcapacity in the sector.
>>Solar Winners: First Solar, LDK
On Tuesday, two stocks that have big exposure to Italy were good examples of just how quickly solar sentiment can change, with
SunPower
(SPWRA)
and solar inverter company
Power-One
(PWER)
moving higher early.
The big move in shares of both SunPower and Power-One seemed to reflect minor news developments at each company.
>>Solar Winners: SunPower, Power-One
Yet by the afternoon, as the Italian data was digested, both stocks turned south in trading, driven by the projections out of Italy for an even bigger year in 2011, and the suggestion to some investors that after a rally off compressed multiples, risks were ascendant in solar yet again.
SunPower owns a big project pipeline in Europe and a sizable share of it in Italy, while Power-One is a major player in the solar inverter market in Italy, even if Germany remains its largest market. The boom in Italy probably could mean a better than expected fourth quarter for Power-One, but going from up 3% at mid-day to down 5% in the afternoon, shows that the last quarter performance is yesterday's news, even if last quarter's installed base in Italy remains today's headline.
Great earnings defying multiple compression in the solar sector was the norm in 2010, and there's a risk that could be the norm again if Italy becomes a political hotbed for solar, which the latest data suggests looks more likely with each additional megawatt installed.
Gordon Johnson, analyst at Axiom Capital, said one big question in the fourth quarter has been where all the modules were going. "It looks like they were going into Italy. The Chinese are like locusts; they attack any market with a good FiT with reckless abandon. Then, the market is forced to close," Johnson wrote in an email on Tuesday.
"If Italy caps/eliminates the incentive, prices will fall 60%; then, as demand elasticity emerges, other countries will be forced to cap. This is a major problem, right at a time when many solar PV companies have aggressively expanded capacity...these guys never learn," Johnson concludes.
-- Written by Eric Rosenbaum from New York.
>To contact the writer of this article, click here:
Eric Rosenbaum
.
>To follow the writer on Twitter, go to
.
>To submit a news tip, send an email to:
.
RELATED STORIES:
>>Solar Winners: First Solar, LDK
>>First Solar Chart Looks Toppy