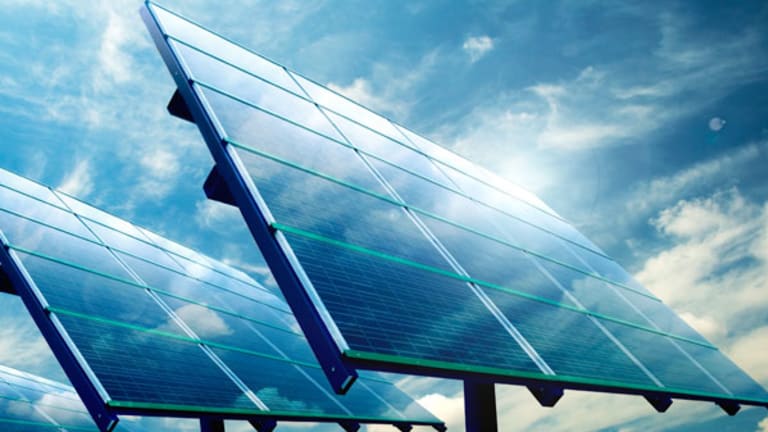 Solar Gets U.K. Aid; Don't Expect Boom
The U.K. is stepping up its support of the solar industry -- although the size of the solar projects to receive incentives is relatively small compared with reductions in big European countries.
(U.K. solar story updated with additional analyst commentary on the impact of newly announced U.K. solar tariffs)
LONDON (
) -- The U.K. is going to offer solar feed-in tariffs, it announced today, in a welcome development for the solar industry at a time when the biggest European backers are reducing solar incentives.
The U.K. feed-in tariff scheme, however, has a big focus on the small -- that is, solar projects of 5 megawatts or less.
Italy's proposal to reduce its solar-feed-in tariffs also has a focus on stimulating job growth at the smaller solar project end of the market. Italian solar officials have said that the Italian government is trying to find a compromise between solar support and job growth.
There have been questions as to whether solar's profile versus wind energy will diminish as part of the global renewable energy portfolio, due to its higher costs. Notable in the U.K. announcement was the fact that while its support for solar was focused on small projects of less than 5MW, the government also announced a program to support large-scale wind power, and as many as 70,000 jobs in wind power by 2020.
Indeed, some alternative energy officials have said that it would make the most sense for the U.K. to focus exclusively on wind, as it has so much more potential in wind than solar. While it can't hurt to broaden the focus to also embrace solar, the U.K. will continue to be a market where wind generation makes the most sense.
Rooftop solar panels will earn ten times the rate for conventional electricity -- or 41 pence for each kilowatt hour, versus a conventional electricity rate of 4.5 pence,
Bloomberg
reported on Monday. The solar feed-in tariffs are expected to take effect in two months.
Andrew Kinross, a director at
Navigant Consulting
(NCI) - Get Report
, said that the 5 MW project level is not the big impediment to the U.K. becoming a bigger boon to solar, but at the same time, the introduction of the feed-in tariff (FIT) scheme in the U.K. won't make the country a make-or-break market for solar.
"The UK FIT is certainly a 'nice to have' for the industry, but I don't expect it to have a significant impact, because the solar resource is so poor," Kinross said.
Kinross explained that in the U.K., there are a total of 850 kilowatt-hours per kilowatt-year available. To explain it more simply, there are a total of 24 hours in the day and 365 days a year, which when multiplied means a potential 8,760 kilowatt-hours of energy.
The U.K.'s cloudy climate, however, puts its solar capacity at 850 kilowatt-hours. What's more, its new FIT scheme is less attractive than the incentives offered by other FIT markets, including the usual European players and Ontario, Canada.
In Ontario, the kilowatt hours reach 1,000-1,100, and the FIT is higher than in the U.K. Ontario has a 10MW limit on projects. Still, the 5 MW limit in the U.K. is not the big problem. It's that in Ontario there are hundreds of MWs already in the queue waiting to be developed as projects, while solar electricity in the UK remains expensive for its relative potential.
In Spain, kilowatt-hours reach the level of 2,000. The revenue that a solar project can generate is the kilowatt-hours times the FIT per kilowatt-hour. For the U.K. projects, the relatively small size of the market means it is already one-third the revenue size of Spain, and it would need to have an FIT scheme 3 times the size of other feed-in tariffs to compensation, when in fact, its FIT is lower than many new FITs, like in the case of Ontario.
Ontario's feed-in tariff works out to 80 cents, whereas the new U.K. tariff is 65 cents. Ontario has both more KW-hours available, but also at a higher tariff rate. Given this formula, Navigant's Kinross does not expect the U.K. market to be a solar market that really takes off compared with markets like Ontario.
The comments from the British government seemed aimed at the consumer market in the U.K., as well as small-scale solar -- with U.K. officials saying that it hoped the incentives would lead to U.K. consumers and businesses thinking about installing rooftop solar panels.
A limit at 5MW, and a focus on stimulating local rooftop solar, may not be as big a ballast as solar would have liked to see given current
political winds blowing against solar in Germany and Italy. One British official was quoted by
Bloomberg
describing the new feed-in tariff scheme as "too little, too late."
Big public solar companies like
First Solar
(FLSR)
,
Trina Solar
(YGE)
,
SunPower
(SPWRA)
,
Yingli Green Energy
(YGE)
and
Suntech Power
(STP)
are diversifying geographic solar capacity, particularly with an eye to the U.S. market.
However, the U.K. solar support probably won't change the game for solar companies -- as Germany and other European nations reduce their solar feed-in tariffs, it is the biggest markets, such as the U.S. and China, that need to step up to the solar plate in the coming years, and not just a few rooftops with a view of the Thames.
-- Reported by Eric Rosenbaum in New York.
RELATED STORIES:
>>Germany May Bend a Bit for Solar
>>Brave New Solar, or Grave New Solar?
>>Should Investors Buy Solar's Growth Prospects?
>>Solar Winners and Losers: JA Solar, Trina Solar
>>See our new stock quote page.
>>See our new stock quote page.
Follow TheStreet.com on
and become a fan on
Copyright 2009 TheStreet.com Inc. All rights reserved. This material may not be published, broadcast, rewritten, or redistributed.