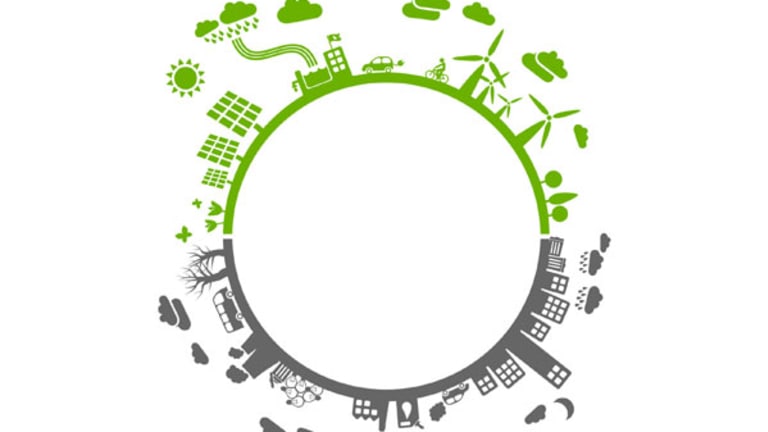 Publish date:
Solar Flare: JA Solar Is Red Hot
For the second consecutive day, JA Solar is trading at levels that seem elevated -- even for the momentum solar sector -- and a variety of theories are circulating to explain the surge.
For the second consecutive day, JA Solar is trading at levels that seem elevated -- even for the momentum solar sector -- and a variety of theories are circulating to explain the surge.
(JA Solar article updated for closing price and trading volume spike)
ZHABEI, China (
) --
JA Solar
(JASO)
, for the second consecutive day traded at a level that's extreme even for the solar sector.
By the end of Tuesday, just under 40 million JA Solar shares had been traded, close to seven times its normal daily volume. JA Solar hit more than 22 million shares -- almost quadruple its daily volume.
On Monday, even before after-market close news was released of a shipment-guidance positive revision and a share repurchase by JA Solar management, JA Solar stock was up more than 15% on the day, and some 17 million shares had been traded, versus an average of 6.8 million.
On Tuesday, the JA Solar flare was hovering at 10% all day, before closing with a gain of 8.7%.
These trading volumes and a two-day rise of 26% are noticeable, even in a momentum sector like solar, where outsized trading spikes are not unexpected, and sometimes border on unjustified.
Akeena Solar
(AKNS)
recently shot up 56% in one day on news that
Lowe's
(LOW) - Get Lowe's Companies, Inc. (LOW) Report
would stock Akeena Solar's solar panels for the home market.
On one recent day,
First Solar
(FSLR) - Get First Solar, Inc. Report
, flared on news from business partner Phoenix Solar, even though the
specific Phoenix news provided little reason for such a bullish call on First Solar.
So is the JA Solar rapid rise justified or another example of the solar sector version of Alan Greenspan's irrational exuberance?
The solution to JA Solar's huge run-up depends on which market detective you are talking to.
As for yesterday's rapid rise, before the after-market release of shipment guidance and a share repurchase by JA Solar management, there are some cynics who argue that someone somewhere had information ahead of the rest of the market.
"JA Solar skyrocketed all day yesterday on a lack of relevant news, and I don't know this for a fact, but it seems like some market participants had information which others did not have," said one analyst who covers JA Solar but did not want to be quoted on the implication of insider information.
In terms of the specific news released yesterday, the $75 million share repurchase program announced by JA Solar was the more bullish of the two news items. The increase in shipment guidance was not on the order of magnitude that could explain a 17 million share spike in trading. Both Barclays Capital and Hapoalim Securities said the increase in shipments would account for no more than a 1 cent to 2 cents increase in earnings per share, and as such, could not justify the JA Solar spike.
While the share repurchase from management is at least a better reason for a bull call on JA Solar, it was not announced until after market close and
the 17 millions shares of JA Solar already had been traded , most in a huge spike around 11:30 AM.
Is JA Solar just a cheap stock? That's the opinion of Barclays Capital. "The only reason I see for this level of activity is that it is a catch-up trade. It is cheap compared to many of its peers," said Barclays Capital solar analyst Vishal Shah.
For one, the market can't be looking at the shipment guidance number and saying it wants to buy for that reason alone, Shah said, adding that it has been already well known that the demand environment would be strong in the short-term. JA Solar is among the cheapest of the Chinese solar companies that have witnessed a huge run-up in the past few months.
To that point, the second-biggest gain in the solar sector on Tuesday was from another of the cheapest Chinese names:
China Sunenergy
(CSUN)
, which was up just under 5% on Tuesday.
The combination of its cheapness relative to its Chinese peers and a technical analysis of its trading range could be responsible for the massive surge -- or at least that's what some financial advisors think is happening.
"There is a huge potential for a huge move upward for JASO again today," said a financial advisor on Tuesday morning. "JA Solar is crossing through major short- and long-term resistance lines, a technical 'perfect-storm' and a rare event ... if successful," said advisor Tomas Leszczynski, CEO of wealth manager
Santoren
.
To call a trading spike in the solar sector a rare event would be misguided, but at the level of JA Solar's rise, with 40 million shares traded in the past day and a half, maybe a technical perfect storm is as good an explanation as the market can offer, or expect.
-- Reported by Eric Rosenbaum in New York.
RELATED STORIES:
>> Wind Versus Solar: Is One a Better Wager?
>> Do Solar Firms Face German D-Day?
>>See our new stock quote page.
Follow TheStreet.com on
and become a fan on
Copyright 2009 TheStreet.com Inc. All rights reserved. This material may not be published, broadcast, rewritten, or redistributed.