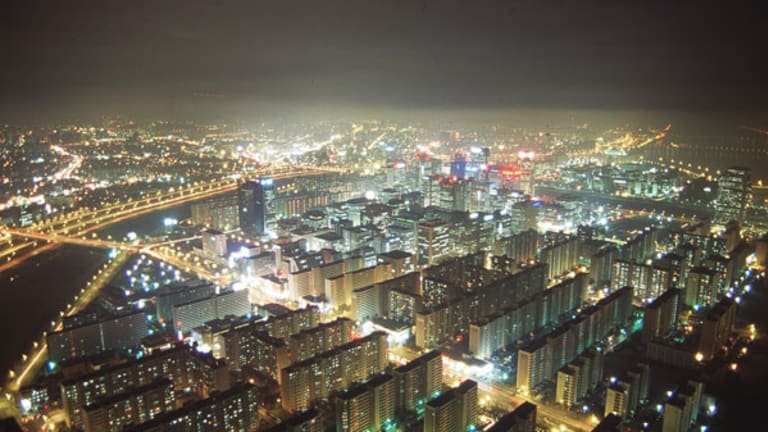 Solar Earnings Watch: Power-One Lowers Guidance
Power-One lowers its revenue outlook for the first quarter, citing tough conditions in key European solar markets.
(Power-One guidance revision story updated for analyst comments, Thursday trading)
NEW YORK (
) -- Solar inverter company
Power-One
(PWER)
said late Wednesday that it won't meet its previous revenue guidance for the first quarter because of tough conditions in key European markets of Italy and Germany.
The stock declined 4.1% to $7.95 on volume of around 185,000 in Wednesday after-hours trading, according to
Nasdaq.com
, but rebounded on Thursday, up more than 2% early.
Power-One now sees revenue of $240 million to $245 million in the first quarter, down from a prior projection of $260 million to $290 million.
"We've revised our guidance for the quarter due to recent adverse conditions in the European solar market," said Richard Thompson, CEO of Power-One, said in a press release.
The Power-One CEO positioned the guidance revision as a short-term blip in the long-term solar story as it diversifies away from Europe and into growing markets, but also reiterated the company's belief that European nations will continue to support solar installations.
"Based on current developments, we still anticipate European countries such as Italy and Germany will continue to support solar adoption to reduce reliance on non-renewable sources of power. Further, for the remainder of 2011 and 2012, we believe we are better positioned to handle similar regional anomalies due to our expanded product line and focus on developing new markets, including the United States, China and India."
Investors and Wall Street are not as confident, with the the view of Power-One still far from a consensus buy. However, the flip-flop in trading between the negative after-hours action on Wednesday and Thursday morning recovery was not a surprise. A negative pre-report from Power-One was not "out of left field," but always a potential risk given the recent inventory glut and the uncertainty in Italy regarding solar subsidies. Furthermore, Power-One shares have retreated significantly already this year and the Street consensus remains in the range of 7 times earnings, even if some analysts believe that the multiple remains too high.
Dale Pfau, analyst at Cantor Fitzgerald, said when factoring in all the negative headwinds, including the continued uncertainty in Italy, the recent outlook from German solar companies, and channel checks indicating that the first quarter has been slower than typical seasonality, the Power-One revenue guidance revision not a big surprise.
Power-One has seen its shares fall by 18% this year as a glut in the solar inverter marketplace caused short-term pressures and as fears of European subsidy cut-driven slowdowns have weighed on shares -- Power-One lowered revenue guidance when it last reported, just not enough. The inventory glut in the inverter market in particular weighed on Power-One since as much as 400MW of its inventory was pushed out. What Power-One did not see coming was the sudden slowdown in Italy as solar subsidy revisions are debated, adding a layer of risk to its guidance on top of the existing inventory glut.
Power-One shares were below the $8 mark in late trades on Wednesday and one analyst who did not want to be quoted before issuing a formal note said it's reasonable to expect Power-One shares' new reality to be the $7 to $8 range, but the stock had rebounded to $8.50 in early trading as bullish analysts reiterated buys on the stocks predicated on the short-term blip being relatively minor compared with a second half 2011 healthy market for the inverter company.
The current average estimates of analysts polled by
Thomson Reuters
are for Power-One to post earnings of $1.15 a share for the full year and 26 cents a share for the first quarter. Following the lower outlook, two analysts told
TheStreet
that earnings for the full year could come down below $1 a share with the first-quarter view taking a hit of as much as 5 cents.
Power-One did not change its full year guidance, even as it took down first quarter revenue assumptions.
Stifel was among the analysts who still believe that Power-One consensus numbers remain too high. Stifel is 12% below the low range of management's previous full year 2011 guidance and believes the current Wall Street numbers of $1.2 billion in revenue are factoring in a greater than 20% market share assuming a flat to down solar market of 17GW, which in Stifel's view is is unattainable. Stifel lowered it first quarter estimate to 19 cents earnings, and its full year earnings view to 72 cents (Stifel was already below $1, at an 85 cent earnings estimate before the new revenue guide).
Italy has been one of Power-One's largest markets and has reportedly ground to a halt as solar investors wait on confirmation -- as soon as next week -- from the Italian government on planned changes to solar support. A
Reuters
report on Wednesday quoting the undersecretary of industry in Italy stated the country will reveal its new solar plan next week. The plan is expected to protect existing solar projects slated for completion in 2011 and implement month-by-month incentive reductions for the remainder of the year, but push out more systematic changes to solar subsidies until 2012.
As the Italian situation has gripped solar stocks in uncertainty, there have been expectations that the slowdown in Italian solar installations might lead to downward guidance revisions for the first quarter. Credit Suisse wrote in a recent research report that one of the factors it views as a headwind for solar stocks right now (before it becomes more constructive on the sector) is for solar stocks to not be hammered in the wake of negative earnings pre-reports.
>>3 Solar Stock Trading Triggers
German solar inverter giant
SMA Solar
recently provided a 2011 outlook that was very cautious. SMA Solar told investors during its recent earnings conference call that the solar market could shrink in 2011. "Due to changes in support programs in important European solar markets, SMA predicts a temporary stagnation in the market in 2011. A slight downturn in growth cannot be ruled out," the solar inverter company said in its earnings release.
The bigger issue than the Power-One guidance revision, analysts say, is whether it's just the first of many first quarter solar sector impacts from the stand-still conditions in Italy.
"I don't think it's a big surprise given Power-One's exposure to the Italian market, but it's a very good read into what's happening in Italy," said one solar analyst after the Power-One announcement. "Italy has been effectively shut down and there may be a cascade effect," the analyst added.
Doing "back of the envelope" math, the analyst explained that the mid-point of Power-One's original revenue guidance implied 730 megawatts in the first quarter and Power-One has 50% of those inverter sales into Italy. The shortfall specific to Power-One after its revenue guide down is 130MW of expected shipments. In turn, this formula implies an Italian market size that has to be revised down from 700MW to 800MW, to 600MW, and March was more or less "effectively shut down" in Italy.
Said a second solar market analyst, "They thought the inventory would flush out sooner but it didn't happen, and at the same time competitors are cutting prices."The analyst said the Power-One model has to come down more, and the key issues will be the pricing declines and the margin erosion, not the stated revenue guide. "They've given us revenue guidance but no EPS guidance, and that tells me that basically, they lack visibility on volume and pricing," the analyst added.
"This stock is dead money for a while and they have a lot to prove before it really bounces," the analyst concluded.
Jefferies lowered its price target on Power-One to $10, from 412, but maintained a buy on the inverter stocks and argues that once the Italian solar subsidy policy is set (which is reportedly going to happen next week), the company's will recover, but the shares will remain under pressure until it demonstrates renewed growth.
Needham & Co. is tilting more to the negative view in the near-term for Power-One, arguing that the company will see limited growth and the potential risk for increased pricing pressure and lower margins given the uncertainty surrounding the subsidy changes in Italy and Germany, and the lingering risk of excess channel inventory. It reiterated a hold.
"Beyond the seasonality in 1Q, a build up of channel inventory has caused a slowdown in the solar inverter space. PWER previously projected that it will take the industry 4-6 months to work down inventories; however, with a slowdown related to the FiT changes and increased likelihood for more order cancellations, we believe the channel inventory issue could drag out into 2H11," Needham analyst Edwin Mok wrote, taking his 2011 full year guidance down to 98 cents.
Power-One shares were down 3.5% on Wednesday during regular trading.
-- Written by Eric Rosenbaum from New York.
>To contact the writer of this article, click here:
Eric Rosenbaum
.
>To follow the writer on Twitter, go to
.
>To submit a news tip, send an email to:
.