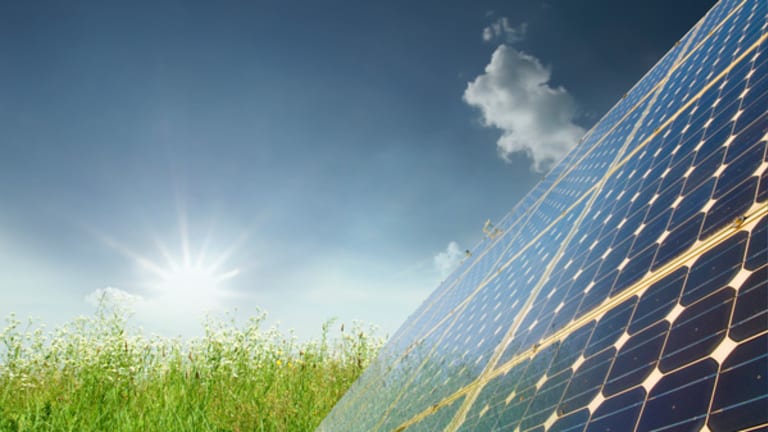 Solar Dogs to Have Their Day, Poll Says
U.S. solar laggards Energy Conversion Devices and Evergreen Solar will recover from current woes, a new survey of <I>TheStreet's</I> readers indicates.
(Solar sector poll article updated with Tuesday's news regarding solar company stock movements, as well as news from the Cezch Republic regarding a possible hard cap on solar projects in the country.)
NEW YORK (
) -- Rumors of the impending death of the dogs of the U.S. solar industry are greatly exaggerated, a new poll of
TheStreet
readers indicates.
For the armies of the solar righteous, already convinced that
TheStreet's
coverage of the solar sector amounts to no more than a cog in a grand conspiracy to short the entire solar sector -- a conspiracy that involves big oil, coal states, hedge funds, maybe even Scientology, and definitely this reporter -- the new poll result should come as no surprise.
What's more,
TheStreet's
alleged short positions in
Energy Conversion Devices
(ENER)
and
Evergreen Solar
undefined
-- as well as short positions in any solar share about which we ever write anything that is not simply regurgitating a solar press release or re-writing a bullish analyst report -- are doomed to implode as Energy Conversion Devices and Evergreen Solar recover from weak earnings and amidst serious business challenges.
(For the record: All members of TheStreet's editorial staff -- including this reporter -- sign an explicit agreement upon being hired by the site that they are forbidden from buying or selling a security.)
The outlook for the solar sector was looking mixed on Tuesday, and a mixed outlook may be equivalent to a positive outlook for these U.S. solar dogs. Tuesday was a rally day for the entire solar sector, and Evergreen and Energy Conversion took part in the rally, too.
Evergreen shares were up close to 5% on Tuesday afternoon, while Energy Conversion Devices was up a more modest 1.6%. The Evergreen share spike was in line with the big rally among U.S. and Chinese solar stocks, with gains ranging from 4% to 7% on Tuesday. So maybe investors are showing their hand in terms of which of the U.S. solar dogs they prefer as far as making a comeback call.
On the other hand, there were also reports from the
Czech Republic on Monday that it would be the latest European nation to turn against its generous support for solar. The Czech Republic's grid operator is now considering a hard cap on solar projects and there is also a parliamentary plan to reduce solar incentives. The Czech Republic has been slated as one of the growing -- and lucrative -- markets where solar companies can diversify as German projects wane.
A comeback in solar stocks on the same day that there is a pullback reported from another key European solar supporter: will the comeback or the pullback reign? The poll was clear in its answer to this question.
Still, before turning to the poll results -- and the solar world's version of Dewey Defeats Truman in the form of the triumphant recovery of Energy Conversion Devices and Evergreen Solar as predicted by the poll -- let's go through some of the reasons as to why solar analysts are concerned about the outlook for these two U.S. solar companies.
As
TheStreet
detailed in an article last week about Energy Conversion Devices and Evergreen Solar, it is hard to find an analyst bullish on these two solar stocks.
UBS downgraded Energy Conversion Devices to a sell after its recent earnings and cut Energy Conversion's June 2010 earnings forecast to a loss of $2.40 per share, from a loss of 71 cents; for 2011, UBS forecasts a loss of $1.50 for Energy Conversion Devices, as opposed to a previous forecast for a profit of 18 cents.
Wedbush Securities reacted to the Energy Conversion Devices by writing that the solar player will continue to struggle with oversupply -- and, what's more, did not see the fact that company management chose not to provide fiscal 2010 production or revenue guidance as a good sign. Wedbush is now forecasting an Energy Conversion Devices loss of $3.19 for fiscal 2010, versus a previous estimate of a loss of $1.94. For 2011, Wedbush expects a loss of $2.32, versus a previous estimate of $1.69.
RBC Capital markets, for its part, thinks it will be difficult for Evergreen just to operate on a positive-cash flow basis, let alone be profitable enough to pay off its current debt load. Evergreen has $90 million in the bank, versus $97 million slated for project spending in 2010, two-thirds of that in the year's first half. Evergreen said on its earnings call that it needs to tap the capital markets imminently, and a secondary or convertible equity deal could further dilute existing shares.
RBC Capital Markets Stuart Bush said of Evergreen Solar, "They've lost credibility in being able to communicate a path to profitability."
Clearly either RBC Capital's Bush is part of the grand conspiracy to short solar, or Evergreen and Energy Conversion Devices
do
face serious challenges, at a time when average sales price is coming down drastically in solar, and these two solar companies have yet to achieve the technology efficiencies to be cost competitive.
Is this to say that Evergreen Solar and Energy Conversion Devices can't turn the corner? Of course not -- though analysts do think that before even looking at the long-term roadmap to success, short-term cash management is obviously a critical issue for these solar companies, and therefore, also a critical issue for their shareholders.
However, in the spirit of taking a step back from the grand conspiracy to short solar, let's take a look at a few of the bullish scenarios for these two U.S. solar companies.
Energy Conversion Devices is striving to bring its conversion costs down to 95 cents and its solar efficiency up to 12%, and it is planning a "technology roadmap" day in the spring, which could provide a positive answer to current analyst fears.
What's more, Energy Conversion has a unique expertise in the Building Integrated Photo Voltaic (BIPV) solar market. With the commercial building market crushed in the credit crisis, a recovery in commercial building could be a boon to Energy Conversion's fortunes.
What's more, Energy Conversion has less exposure to the German market, where solar firms face big incentive cuts in 2010, with its BIPV specialty focused on Italy and France, among other countries. At least at this point though, the market demand for BIPV is just not there, and Energy Conversion expects to run its operations at 25% capacity in the first quarter.
For Evergreen, management announced along with its earnings an attempt to standardize its wafer-making technology. If Evergreen can use its patented ribbon technology to make a standard solar wafer, it would open up a much broader market of solar customers for Evergreen, and potentially even attract acquisition suitors. Evergreen has also shown in the past an ability to find financing from an apparent financing abyss, as when it signed a joint venture with China's
Jiawei Solar
.
On the other hand, not all Evergreen joint ventures have turned out as winners for the company. Last Thursday, Evergreen announced that it would sell a much-maligned, money losing joint venture in Germany,
Sovello
in the first quarter.
Taking both the bullish and the bearish outlooks into account, we asked
TheStreet's
solar savvy readership:
Should solar investors be banking on either Evergreen Solar or Energy Conversion Devices after their recent bleak earnings?
Approximately 54% of poll respondents say that Energy Conversion Devices and Evergreen Solar will execute on strategies -- maybe the above-mentioned, specifically -- and succeed against a chorus of naysayers. That's the good news.
However, 21% of poll respondents think that both Energy Conversion Devices and Evergreen Solar will be extinct before long.
Approximately 13% of survey takers believe that Evergreen Solar will be felled, and that current shareholders should come out of the dark and run for daylight.
Meanwhile, 12% of survey respondents think that Energy Conversion Devices is the doomed U.S. solar company.
Perhaps the poll results indicate that in-the-know solar investors are willing to place bets that Evergreen can achieve the technological efficiency to become an attractive acquisition target, or even make it on its own; and that Energy Conversion Devices' expertise in the BIPV market will eventually result in payday for its shareholders.
Or maybe the poll respondents who think the future is bright for Energy Conversion Devices and Evergreen Solar are minor cogs in a grand conspiracy to protect what's left of their currently declining shares in the two solar companies.
A conspiracy theory, in solar? We won't even go there.
-- Reported by Eric Rosenbaum in New York.
RELATED STORIES:
>>Is it Lights Out for U.S. Solar Dogs?
>>Solar Wafer Shakeout: ReneSola, REC
>>Solar Growth: By the Numbers
>>See our new stock quote page.
Follow TheStreet.com on
and become a fan on
Copyright 2009 TheStreet.com Inc. All rights reserved. This material may not be published, broadcast, rewritten, or redistributed.