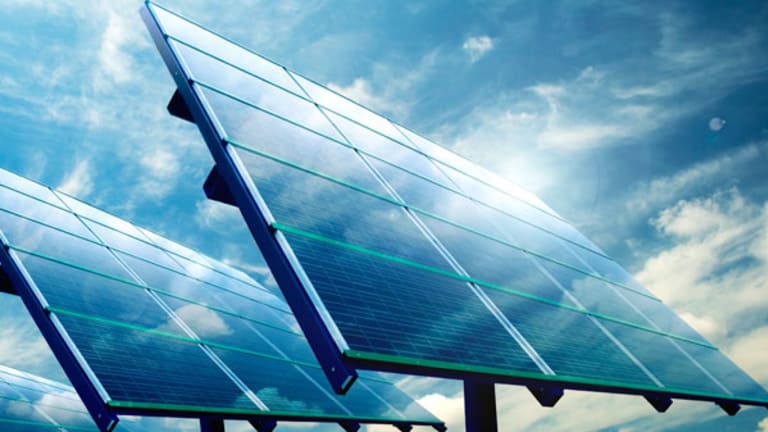 Solar CEO: Italy Risk Has Impact
Energy Conversion Devices says the political sea changes in Italy are having a big impact on first-quarter performance.
Energy Conversion Devices says the political sea changes in Italy are having a big impact on first-quarter performance.
NEW YORK (
) -- A sign of the Italian impact on the solar sector was evident Thursday in comments released by U.S. niche solar player
Energy Conversion Devices
( ENER). The company estimated that as much as 50% of first-quarter revenue would be negatively affected by European solar incentive changes, and production needed to be dialed back immediately.
"The dramatic and abrupt shift in the French and Italian solar incentive structures has impacted our business and forced us to reconsider our near-term financial outlook," Mark Morelli, president and CEO of Energy Conversion Devices said in a statement aiming to temper expectations for near-term results.
Energy Conversion Devices shares were down 25% after hours on Thursday.
The Energy Conversion Devices CEO added, "Recent events have injected disruptive uncertainty into the markets, which is causing financing sources to put projects on hold and may impact as much as 50% of this quarter's forecasted revenue."
France has placed a temporary moratorium on solar installations as it hammered out the details of a new auction process for project awards linked to solar incentives rates. In Italy, wholesale changes to solar policy are expected within a month.
>>Italy: Solar Uncertainty Is Still the Rule
The Energy Conversions Devices CEO said, "We expect better visibility on the timing of our projects after the announcement of the new Italian feed-in-tariff program and the French tender process. Nevertheless, for the quarter ending March 31, 2011, we are reducing production to 25 megawatts and are also aggressively pulling back on our cost structure. Thus our financial results will be affected due to restructuring and factory underutilization charges."
Shares of Chinese solar company
Canadian Solar
(CSIQ) - Get Report
led the entire solar sector down on Thursday, declining by more than 18% during regular trading.
There were a host of reasons for the solar selloff, from the renewed eurozone fears as Moody's downgraded Spain, to fears of a weakening Chinese economy with its trade deficit hitting a seven-year high. A bad day on the tape is a doubly bad day for high-beta plays like solar stocks, typically, too. However, on a solar-specific basis one of the biggest risks remains the changes being contemplated to solar incentives in Italy. The country has been the fastest-growing market in solar and in the fourth quarter, and was primarily responsible for high selling prices across the solar sector.
Canadian Solar said during its conference call that orders by Italian customers have been postponed due to the uncertainty, the first specific indication from a solar management team that fears of delays in Italy were occurring. Italy is expected to present a proposal for a new solar incentive scheme by April, and it would presumably take effect in June, based on previous comments from Italian politicians.
In the interim, though, solar project economics have been left in the lurch, and the financing of solar projects is dependent on a guaranteed feed-in tariff rate from the government. Solar pricing throughout the supply chain is ultimately linked to this rate. As long as Italy leaves the solar sector in limbo as to what the new tariff rate will be, bankers will be reluctant to finance projects, and potential buyers of solar products will be negotiating for big price concessions. This point has been made many times in recent weeks by solar analysts, but it was not until the comments from Energy Conversion Devices and Canadian Solar that solar management teams specifically commented on the Italian risk.
In the case of the comments from the Energy Conversion Devices CEO, though, it would be going a step too far to extrapolate to problems for all the companies in the sector. Christine Hersey, analyst at Wedbush Securities, explained, "This is more specific to ENER since France and Italy were their core markets. However the slow down in these markets will impact everybody since now all are trying to sell into Germany, the last major market at the moment."
Energy Conversion Devices sells solar modules for the niche building integrated photovoltaic market, which is limited to European markets like France and Italy, while the major solar module vendors in the thin film and standard crystalline silicon technologies have much broader geographic diversity.
In the case of the commentary from Canadian Solar -- which added to an earnings miss in the fourth quarter (due to a one-time charge) as well as a gross margin guidance disappointment for the first quarter with input prices rising -- taking the broader view would suggest that the divide between tier 1 and tier 2 solar manufacturers may be widening with the European slowdown.
Piper Jaffray analyst Ahmar Zaman said that "It's possible we are seeing early signs of diversification between tier 1 and tier 2 players in the market," with strong demand continuing for tier 1 brands, but a company like Canadian Solar beginning to feel the pinch. The Piper Jaffray analyst described Canadian Solar as low tier 1, borderline tier 2 company as a result of its lack of true vertical integration. Input costs in the fourth quarter, and Canadian Solar's lack of scale in its internal wafer making capabilities, hurt its margin profile, with wafers among the solar inputs where pricing has remained higher than expected.
-- Written by Eric Rosenbaum from New York.
RELATED STORIES:
>>Italy: Solar Uncertainty is Still the Rule
>>LDK Solar: Bulls and Bears Dig in Heels
>>Suntech Guidance Up, Revenue Unchanges
>To contact the writer of this article, click here:
Eric Rosenbaum
.
>To follow the writer on Twitter, go to
.
>To submit a news tip, send an email to:
.