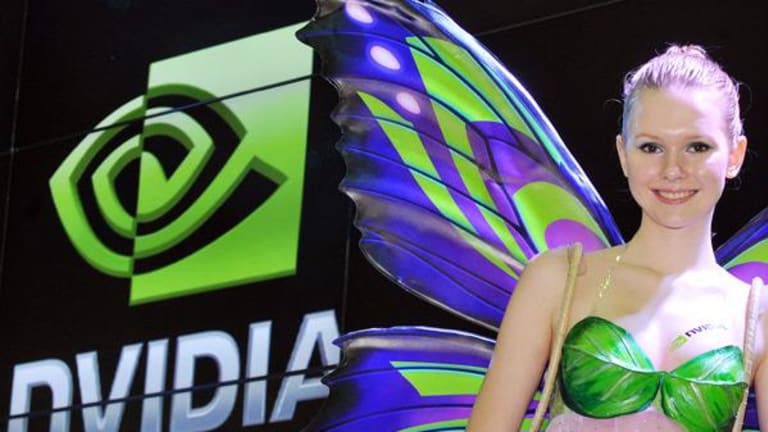 SoftBank's Reported $4 Billion Stake in Nvidia Could Have a Strategic Purpose
While it's possible that SoftBank just considered Nvidia a good investment, it might also see value in having Nvidia partner more closely with top CPU core designer ARM.
Occam's Razor -- the theory that the simplest explanation and the one requiring the fewest assumptions, is usually the right one -- may very well apply to SoftBank's (SFTBY) reported decision to take a 4.9% stake in Nvidia (NVDA) . The Japanese tech/telecom conglomerate has been buying stakes left and right in tech companies that are major players in promising, high-growth markets. Nvidia, whose GPUs underpin a large chunk of the world's PC gaming rigs, server-based neural networks and autonomous driving R&D platforms, certainly fits this description.
But considering that news of SoftBank's stake follows its 2016 purchase of a chip industry giant that counts Nvidia as a client, it's also possible that SoftBank thinks there's some strategic value to its stake.
Bloomberg reported overnight that SoftBank has amassed a stake in Nvidia that's just below the 5% threshold that would require a regulatory disclosure. The company had recently disclosed an Nvidia position of unnamed size, while stating that its massive new Vision Fund -- which has raised $93 billion so far, and aims to raise $100 billion before it closes -- would have the right to buy 25% of SoftBank's stakes in Nvidia and certain other companies.
Nvidia is up 1.3% as of the time of this article, and briefly cracked $140 on Wednesday morning. Shares are up 35% since the company posted a very strong April quarter report on May 9, and a whopping 322% since the start of 2016. As a result, SoftBank's reported stake is currently worth $4 billion.
Bloomberg's report comes two weeks after SoftBank confirmed that it's investing $5 billion in Chinese ride-sharing giant Didi Chuxing (adding to an existing stake), and one week after major Indian payments/e-commerce firm Paytm announced it's raising $1.4 billion from SoftBank at a $7 billion valuation. SoftBank has also made nine or ten-figure investments in Southeast Asian ride-sharing leader Grab, satellite Internet upstart OneWeb and Indian e-commerce firm Snapdeal, ride-sharing leader Ola and online travel firm Oyo Rooms.
SoftBank also, of course, owns a major Japanese wireless carrier called SoftBank, maintains a majority stake in Sprint (S) and (though it has pared its stake lately), remains Alibaba's (BABA) largest shareholder. And last September, the company closed its $31 billion acquisition of British chip intellectual property supplier ARM Holdings, whose CPU core architecture is used by practically every smartphone processor and is contained in billions of other chips shipped each year. 
Indirectly, ARM and Nvidia compete a bit. Though its CPU core business gets much more attention, ARM (through its Mali line) is also a major supplier of GPU core designs. But ARM's GPU cores mostly target power-sensitive mobile and embedded use cases, while Nvidia's GPUs target more demanding PC, server, console and automotive workloads.
More importantly, Nvidia, via its Tegra processor line, is a prominent user of ARM's CPU cores. The company's Tegra K1 and X1 processors -- they're used by auto infotainment systems, as well as Nintendo's Switch handheld console and Nvidia's Shield consoles -- pair off-the-shelf ARM CPU core designs with Nvidia GPUs. And its Drive PX 2 autonomous driving board and Jetson TX2 embedded device module feature processors relying on powerful ARM cores (named Denver and Denver 2.0) that Nvidia designed itself, along with standalone Nvidia GPUs.
SoftBank and its high-profile founder, Masayoshi Son, could see some room for further collaboration between Nvidia and ARM. For example, as ARM clients such as Cavium (CAVM) and AppliedMicro try to gain share in a server CPU market dominated by Intel (INTC) , getting Nvidia to make sure its Tesla and GRID server GPUs work well with ARM CPUs could be helpful. And for more powerful embedded and IoT devices, there could be value in getting standalone Nvidia GPUs to play nice with third-party ARM-based processors, as well as ARM's mbed IoT software/services platform.
Certainly, many of SoftBank's prior investments seemed to have a broader strategy at least partly in mind. Sprint and SoftBank (the Japanese carrier) have partnered on various initiatives, and the Asian ride-sharing firms that SoftBank has invested in are natural partners. There are also synergies between many of the Indian tech companies that SoftBank has poured money into.
This doesn't guarantee that SoftBank had such objectives in mind when it decided to invest in Nvidia. It may have simply seen a compelling play on multiple tech trends that it's high on. Certainly, the recent performance of Nvidia's stock means that SoftBank can't be faulted for now if it merely decided to buy shares to sell them at a higher price.
But there is a lot of logic in trying to draw the world's preeminent GPU seller (on a revenue basis) with the creator of the world's most ubiquitous CPU architecture. And if SoftBank was thinking along such lines when it decided to buy a sizable in Nvidia, it's easy to see the company making additional investments in chip industry firms that could be valuable partners to ARM.
Read More Trending Articles:
25 Wealthiest States: What They Export, Whom They Employ