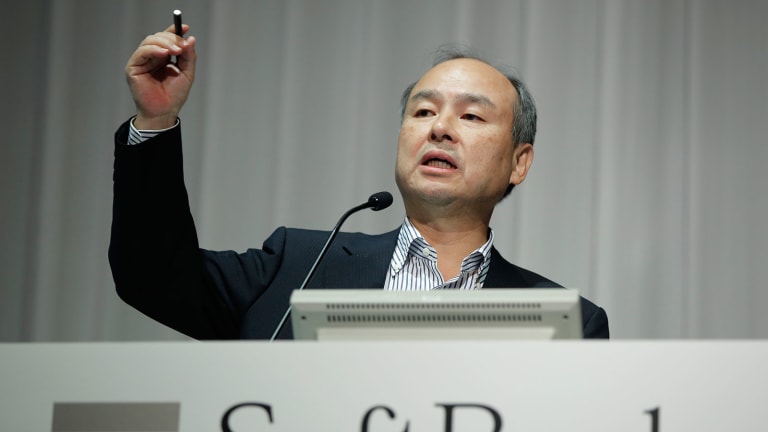 SoftBank Gets Green Light to Invest in Uber in Latest Big Ride-Hailing Bet
The Japanese tech giant views the U.S. as one of the most important markets for ride-sharing.
This story has been updated from Aug. 15.
Uber Technologies Inc. just paved the way for a big investment by SoftBank Group Corp. (SFTBY) , marking the Japanese conglomerate's latest big wager on ride-hailing services. 
Uber's board unanimously voted to approve SoftBank investing between $1 billion and $1.25 billion in the company at its latest valuation of  $68 billion, as part of a consortium with Dragoneer Investment Group. The consortium would then purchase an additional large stake from existing Uber shareholders at a lower valuation. The deal is far from being finalized, but by voting to move forward, Uber's board has signaled that it will at least consider the investment. The board met late Tuesday and agreed on several other initiatives, including reducing most of former CEO Travis Kalanick's super voting power.
Should the SoftBank investment prove successful, it would add to Softbank's already tangled web of investments in the rideshare market. Last month, SoftBank led a $2 billion funding round in Grab, Uber's top ride-hailing competitor in Southeast Asia, in addition to its other multi-million dollar investments in India's Olacabs, Brazil's 99Taxis and China's Kuaidi Dache, which merged with rival Didi Dache in 2015 to form the giant Didi Chuxing.
SoftBank CEO Masayoshi Son now seems to have the U.S. in his sights. During an Aug. 7 press conference, Son expressed interest not just in Uber, but also its top rival Lyft Inc.
"We have not decided which way, but U.S. is a very big market," Son explained. "It's the most important market...This is a share economy and one of the most important industry." 
SoftBank has established a global presence in the ride-hailing space, but the market is still very much in its early days, said Santosh Rao, head of research at Manhattan Venture Partners. By looking at Uber, SoftBank is likely looking to "spread its bets" even further and capitalize on every corner of the market, he added.
"I think at this point they just want a good stake in the market to just ride it out," Rao noted. "Uber also wants to find an investor that will stay with them. It's a long haul that requires a lot of investments, while profitability is still a ways out." 
A stake in Uber could also give SoftBank some leverage to orchestrate new partnerships and, possibly, even mergers. For proof, look no further than the Indian e-commerce market, where Son has tried to engineer a tie-up between Snapdeal.com (SoftBank controls 35% of Snapdeal's owner, Jasper Infotech Pvt. Ltd.) and Flipkart Online Services Pvt. Ltd. as a means of pushing Amazon.com Inc. (AMZN) - Get Amazon.com, Inc. Report out of the market, but talks ultimately dissolved. 
Son, who is chairman of Sprint Corp. (S) - Get SENTINELONE, INC. Report , has also been eager for consolidation in the U.S. telecom and cable markets. He continues to seek a merger between Sprint and T-Mobile U.S. Inc. (TMUS) - Get T-Mobile US, Inc. Report , or a possible tie-up between Sprint and Charter Communications Inc. (CHTR) - Get Charter Communications, Inc. Class A Report . 
In the meantime, the ride-hailing market has already experienced some consolidation. Uber has ceded several international markets after realizing it may be easier to pair up, rather than compete head to head. In July, Uber merged with Yandex, the Russian search giant and ride-hailing service. That's after Uber sold Uber China to Didi Chuxing for a 20% stake in Didi amid bruising and expensive competition.
Some seem to think that a partnership or merger between Uber and Ola, India's incumbent ride-hailing service, could be next. India continues to be a difficult market for Uber to conquer: Uber operates in 29 cities in India with 250,000 drivers, while Ola serves 102 cities with nearly 450,000 drivers in its network, Rao noted. He added that India's ride-share market remains particularly fragmented, as each service competes on price and market share.
"Localizing the service is absolutely essential and Uber is playing catch-up on that front," Rao said. 
SoftBank could facilitate some kind of an agreement between Uber and Ola, as the company made two separate investments in Ola -- one worth $210 million in Oct. 2014 and another worth $350 million in April. 
"They are really aggressive in emerging technology. They want to be a part of it," Rao said. "That's their whole strategy at this point."