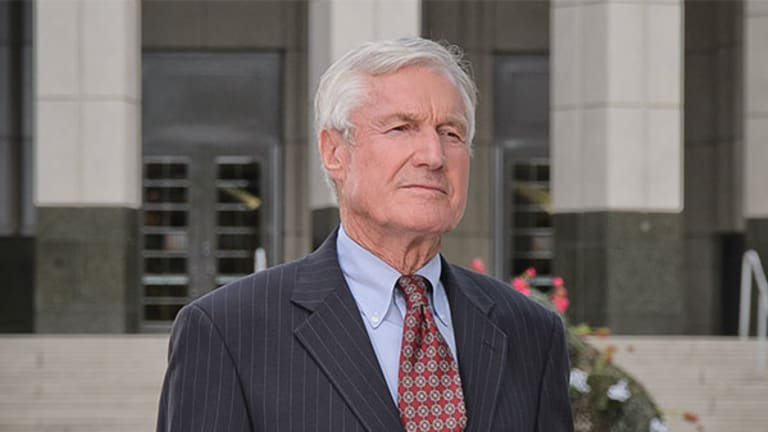 So You Didn't Win the Lottery with J.G. Wentworth (Update 1)
J.G. Wentworth reported a net loss in its first quarter of earnings after going public.
Updated from 11:18 a.m. ET with CEO and CFO commentary throughout, along with afternoon market action.

NEW YORK (TheStreet) -- After reporting a net loss for the third quarter, J.G. Wentworth's parent company, JGWPT Holdings (JGW) , might not be the lottery ticket that stock investors had hoped it would be after a weaker-than-expected initial public offering in November.
But, as with the lottery, there's always next time.
J.G. Wentworth of Radnor, Pa., buys structured legal settlements, lottery winnings and annuities owed to consumers at a discount and then sell those payment streams to debt investors through asset-backed securitizations. The company's commercials are a mainstay on daytime T.V. "It's my money and I need it now," the T.V. ads exclaim!
On Friday, J.G. Wentworth reported a net loss of just under $1 million on $103.1 million in third quarter revenue, which was  down 4.8% the third quarter of 2012. The company's quarterly loss, its first results as a public company, contrasted with an over $21 million profit at this time last year.
J.G. Wentworth attributed its falling revenue and net loss to "an increased interest rate environment." The company said in an October filing with the Securities and Exchange Commission that a sharp rise in interest rates during the third quarter was likely to push revenue lower and the company's bottom line to a net loss.
So what to make of J.G. Wentworth?
TheStreet pointed out in a review of the company's initial IPO documents, that J.G. Wentworth's business model is eerily similar to so-called originate-to-distribute mortgage lenders such as New Century and Countrywide Financial of the bygone days of the housing boom.
The company uses warehouse credit lines to buy structured settlements, lottery winnings or annuities at favorable present values, and then  sells those long-term payment streams to bond investors through securitization markets. Basically, J.G. Wentworth makes structured settlement or lottery payouts and then it distributes the future cash flows of the assets it buys to investors, collecting fees and markups in the process. The company also retains a residual interest in the securities it sells.
Those mechanics aren't far off from the business models of New Century, Countrywide Financial or the mortgage departments of Bear Stearns, Lehman Brothers, Merrill Lynch, Goldman Sachs (GS) - Get Goldman Sachs Group, Inc. Report and Morgan Stanley (MS) - Get Morgan Stanley Report for that matter.
To be fair, J.G. Wentworth buys structured settlements and lottery winnings from highly rated insurance companies and not individuals, meaning the assets it buys and sells carry "effectively no credit risk," as JMP Securities analysts noted in a December initiation of J.G. Wentworth.
J.G. Wentworth CEO David J. Miller and CFO John R. Schwab  highlighted in an interview with TheStreet after earnings were released on Friday that the company has been securitizing receivables since 2001 and has conducted nearly 40 transactions, which carry low loss histories.
According to J.G. Wentworth's prospectus, loss rates have historically been well below 1%. The company also has the ability to sell its assets through private placements.
J.G. Wentworth's current a market capitalization of about $500 million also shows there are investors willing to put their money behind such businesses five years after the financial crisis.
"Stock investors dreaming of the good old days of originate-to-distribute finance can rejoice: J.G. Wentworth's parent company, JGWPT Holdings, is preparing for an initial public offering," TheStreetwrote in late October.
That description still appears a strong way to characterize J.G. Wentworth for common stock investors.
Put simply, the company is risky and should only appeal to sophisticated financial services investors who are aware of the risks inherent in businesses that rely heavily on credit facilities and securitization markets to keep their sales going.
J.G. Wentworth also carries extremely high leverage, which only adds to the underlying risks of its business. As with the third quarter, the fact that interest rates are generally expected to rise in coming years could be problematic.
Six sell-side analysts cover J.G. Wentworth and all have "buy" ratings on the shares.
In a review of many of the analyst initiations of J.G. Wentworth, there wasn't much discussion about the company's leverage. Presumably, analysts and investors are optimistic the J.G. Wentworth will be able to de-leverage in coming quarters.
The numbers as they currently stand appear risky.
J.G. Wentworth carries assets and liabilities held in variable interest entities of $3.86 billion and $3.43 billion respectively, and has shareholder equity of just under $38 million, according to third quarter earnings. That shareholder equity also goes against $556 million in outstanding term-loan debt.
Because the vast majority of J.G. Wentworth's assets and liabilities are so-called Level 3 assets -- financial assets that are often valued using management judgment -- it wouldn't take much of a re-valuation to greatly change J.G. Wentworth's leverage. A lot depends on in-observable and management's use of discount rates.
Meanwhile, the company carries high leverage after its private equity owner JLL Partners conducted multiple dividend recapitalizations in 2013. From the third quarter of 2012 to 2013, J.G. Wentworth's term loan debt outstanding nearly quadrupled.
J.G. Wentworth's IPO was expected to help the company pare down its term loans, however an offering that was roughly 50% lower than the high-end of the company's initial range meant that total IPO proceeds only extinguished $123 million in term loan debt, less than the $151.9 million that the company had forecast at the mid-point of its initial range.
CEO Miller and CFO Schwab said in their interview that the company plans to use excess cash flows in 2014 to de-leverage. They also said that the company isn't currently considering any secondary share sales to pay down outstanding debt.

Since going public, J.G. Wentworth, has been able to refinance its term loans, saving 200 basis points in interest. That refinancing, combined with a $123 million term loan repayment using IPO proceeds, will reduce J.G. Wentworth's annual interest expense by $20 million.
TheStreet's initial review of J.G. Wentworth detailed a host of other risks for common stock investors to consider, including J.G. Wentworth's leveraged cash flows, its reliance on retained securitization interests for earnings, the opacity of the company's balance sheet and a business model that isn't changed much from when company fell into bankruptcy during the financial crisis.
That being said, at current valuations, this company may look like a winner to some sophisticated stock investors. After all, two winners of the Mega Millions lottery just took home $636 million in winnings -- potentially good business for J.G. Wentworth and its sister brand Peachtree.
The company's de-leveraging and its potentially improved sources of finances may be the kind of restructuring investments that appeal to hedge funds.
Indaba Capital Management, Citadel and Mangrove Partners have all disclosed positions in J.G. Wentworth, and JLL Partners remains a large investor. Financial services sector turnarounds like AIG (AIG) - Get American International Group, Inc. Report, Radian (RDN) - Get Radian Group Inc. Report, Synovus (SNV) - Get Synovus Financial Corp. Report have been other hedge fund favorites in recent years.
Bottom Line: Ordinary investors would do well looking at other less risky investments.
Shares in JGWPT Holdings, J.G. Wentworth's parent, were down nearly 1.5% $16.90 in Friday afternoon trading. The company's stock has gained over 20% since its IPO pricing in November.
-- Written by Antoine Gara in New York
Follow @antoinegara