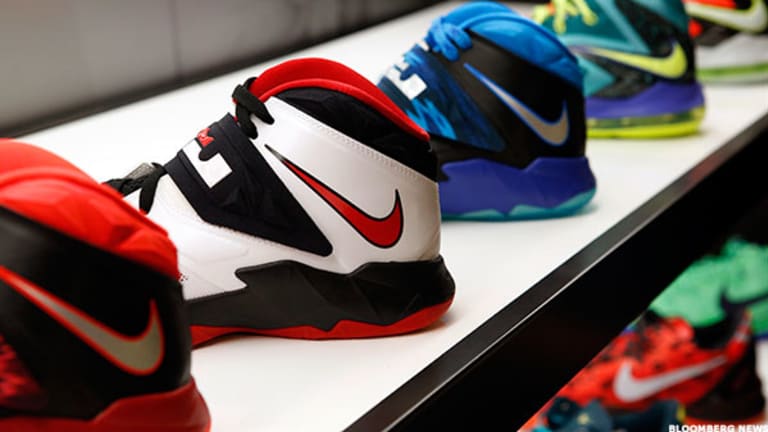 Sneakers at Work Are Running Up Sales for Nike, Foot Locker
Nike, Foot Locker and Skechers are just some companies cheering that more workers like the idea of wearing sneakers at the office.
NEW YORK (TheStreet) -- Foot Locker (FL) - Get Foot Locker, Inc. Report is cheering as office workers are buying fewer dress shoes and going for comfort.
Men and women are dressing down their footwear at the office and companies that can deliver the goods will win. The top six categories for footwear sales in the first quarter of 2014 are all casual shoe categories according to SportsScan Info. The biggest increases came in the basketball and walking shoe categories with increases of 21% and 24% respectively.
Foot Locker is just one of the companies that will be able capitalize on this fashion trend. The shoe makers that are running away with this trend include Skechers (SKX) - Get Skechers U.S.A., Inc. Class A Report and Nike (NKE) - Get NIKE, Inc. Class B Report. The chains that will be happy to win these customers include Dicks Sporting Goods (DKS) - Get Dick's Sporting Goods, Inc. Report, Hibbett Sports (HIBB) - Get Hibbett Inc Report and online retailer Zappos, owned by Amazon (AMZN) - Get Amazon.com, Inc. Report.
Foot Locker owns 43% of the athletic footwear market revenue and has mostly recovered from the financial crisis of 2008 which crippled the company. Foot Locker will benefit from the success of the brands it carries including Nike. According to Stern Agee analyst Sam Poser, 85% of all basketball shoes sales are Nike and Jordan (which is a Nike brand.) 
Meanwhile, attitudes toward wearing sneakers in the office are changing, in a shift that is definitely generational. In a new nationwide survey conducted for TheStreet by GfK's Omnitel, 48% of people in the 18-24 age group believe it's OK to regularly wear sneakers in the office, while only 33% of people over 65 think this is acceptable. Men are overwhelmingly in favor with 51% for it, while only 40% of women would wear sneakers in an office setting.
One thing men, women, young and old all agree on -- it's more comfortable. Over 70% of men and women say the reason that they'd wear sneakers in the office is that the shoes are more comfortable. Last year, Skechers began using "Memory Foam" in the foot-beds giving users an instant feeling of comfort. Now Steve Madden (SHOO) - Get Steven Madden, Ltd. Report, Dr. Scholl's and other brands are jumping into the trend.
One shoe that designed to be super comfortable is the Nike Flyknit. Sam Poser, an analyst with Stern Agee wrote, "Nike's Flyknit will be a 2015 story as Nike is still trying to determine the optimal price point." Flyknits for men and women range anywhere between $119 and $225 and with its colorful argyle pattern, it isn't a stretch to see them complementing a work outfit.
Nike also owns the Converse line of shoes. These classic canvas sneakers are riding the fashion trend called "normcore." Normcore refers to consumers who don't want big flashy logos, preferring simplicity. This is why TheGap (GPS) - Get Gap, Inc. Report is doing well and Abercrombie & Fitch (ANF) - Get Abercrombie & Fitch Co. Class A Report isn't. Normcore carries over into the shoe business. If a customer doesn't want the latest LeBron James Graffiti kicks from Nike, then they may be the shopper that wants Converse.
Skechers is also coming back in a big way. Poser said the company's showroom was the busiest he had seen in years. Skechers is performing well in Academy Stores and Finish Line stores plan to start carrying the brand. Relaxed fit is the main growth driver according to Poser. Skecher sales were up 20% year over year in the first quarter of 2014. The only other footwear companies to have a better quarter were Under Armour (UA) - Get Under Armour, Inc. Class C Report and Jordan.
Steve Madden rode the boot trend of the past couple of years and had some real winners, like the Troopa boot. Madden's best-selling style now is the slip-on sneaker in various iterations including pony hair and quilted uppers, but Poser doesn't believe they will offset the deceleration of the boot business. Steve Madden will do well in department stores, where they can stock the slip-ons along with other brands, but a lack of variety will make it harder to meet demand in company-owned stores.
"What we have noticed is that more fashionable brands have started making sneakers like Betsy Johnson and even a Mark Jacobs," said Natasha Pace, a spokesperson for Zappos. Even Coach (COH) makes several sneaker styles. Pace believes the move for comfort even among those with relatively young feet is due to a push for more walking and less driving. She also pointed out that weekend music festivals don't lend themselves to uncomfortable footwear.
Other comfort brands that will benefit from the comfort push and normcore trend are Vans and Timberlands, both of which are owned by VF Corporation (VFC) - Get V.F. Corporation Report. Retailers have told Poser that they expect the Vans brand to be strong through 2015. Vans customers have a strong emotional connection to the shoe and the variety of styles for customers to choose, both slip-ons and lace-ups. Timberlands sales have been accelerating and Timberland, keenly aware of flooding the market with their shoes in the past, is only sending out so many pairs. It frustrates retailers, but they understand the appeal of a shoe you can't get.
The "ugly shoe" trend for women was strong at the 2014 spring fashion shoes. Celine, Prada and even Trina Turk showed them with their clothes. This has helped spark sales of the much more affordable Birkenstocks, which are manufactured in Germany.
For men, who already get to wear flat comfortable shoes, sneakers are often seen as a fashion choice. More men than women said fashion was the reason they'd wear athletic shoes to the office. Some men are obsessed with their shoe, or "kicks," and are referred to as "Sneakerheads." They post instagram pictures of their shoes and wait in line at 2 a.m. at Foot Locker to buy limited edition shoes. Many young men identify with these "kicks" and are willing to spend hundreds of dollars on a pair. To these guys, wearing a pair of limited edition "J's" (for Michael Jordans) is akin to a woman showing off her Louboutins.
Dicks Sporting Goods and Hibberts Sports both said in their recent earnings announcements that they were expanding their shoe departments. Dick's is even going to begin a test of Skechers to see how well they sell. While Foot Locker is a great place to buy Nike, most shoppers find that the selection of other brands is limited.
Pace at Zappos believes the trend began during the Olympics, but she also noted that Silicon Valley tech workers may also be to blame. "It's San Francisco where people need more practical footwear. I get it. It's not like Los Angeles where people wear platform heels to Costco (COST) - Get Costco Wholesale Corporation Report."
So get used to seeing more sneakers with suits and dresses because workers are cheering this new fashion trend.
Will Express Lead to Other Retailers Being Snapped Up?
Can Lululemon Regain Its Shining Star Status
-- Written by Debra Borchardt in New York.
About the Survey
OMNITEL is a weekly national telephone omnibus service from GfK, a division of GfK Custom Research North America. The sample for this OMNITEL wave consists of 1,005 total completed interviews, of which approximately 750 consist of landline telephone exchanges and about 250 are made up of cell phone exchanges. Interviews were conducted from June 13 - 15, 2014. The margin of error on weighted data is + 3 percentage points for the full sample.
Disclosure: TheStreet's editorial policy prohibits staff editors, reporters and analysts from holding positions in any individual stocks.