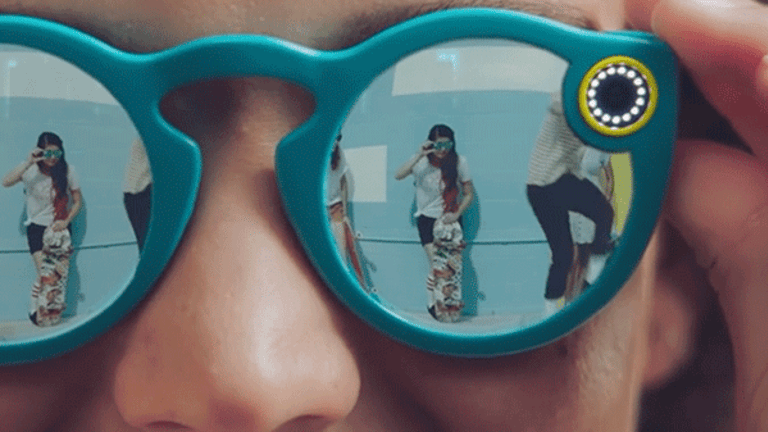 Snapchat's New Glasses Look Like a Gimmick, but Facebook Probably Isn't Laughing
The messaging upstart's track record shows why its Spectacles video-recording sunglasses shouldn't be taken lightly, even if big questions remain.
Snapchat -- or Snap Inc., as it now calls itself -- has become a $20 billion company in the face of constant doubting from consumers and pundits who looked at its messaging app, shook their heads and said something to the effect of "I don't get it" or "This is a gimmick."
That's worth keeping in mind when reacting to its Spectacles video-recording sunglasses.
Spectacles, unveiled on Friday evening in a Wall Street Journal column, costs $130, comes in three colors and lets users record up to 10 seconds of video by tapping a button on the glasses. The video is recorded in circular, rather than rectangular, form and is taken by a lens with a relatively wide 115-degree field-of-view.
As one would expect, Spectacles uses wireless links to pair with smartphones. Snap founder and CEO Evan Spiegel is trying to downplay near-term expectations for the glasses, referring to them as a toy and promising to take a slow approach to commercializing them. "It's about us figuring out if it fits into people's lives and seeing how they like it," he says.
Still, it's worth remembering the Snapchat app itself was dismissed as a gimmick -- nothing more than a way for teenagers to share pictures they didn't want their parents to see, and which wouldn't be permanently stored -- not too long ago. The same has held for subsequent features such as the ability to draw and write text on top of shared pictures, the ability to create "Stories" whose content vanishes after 24 hours and the ability to add face-altering "lenses" to photos and videos.
In spite of the frequent derision, Snapchat has grown to have more than 150 million users (more than Twitter (TWTR) - Get Report), a large portion of whom are in their 20s and 30s rather than just teens. It's also now avidly used as a promotional platform by many celebrities and media firms, and its parent is reportedly aiming for at least $300 million in 2016 revenue.
By creating a platform where shared content by and large isn't saved, and where users don't have to worry about likes and comments, Snap has carved out a unique social media and messaging niche and become a thorn in Facebook's (FB) - Get Reportside, particularly among younger consumers.
If it's able to reach lower price points, win over third-party hardware makers and sidestep the privacy and image concerns that have plagued Alphabet's (GOOGL) - Get ReportGoogle Glass, Spectacles could provide another means of expanding Snap's reach.
Facebook and Alphabet are holdings in Jim Cramer's Action Alerts PLUS Charitable Trust Portfolio. Want to be alerted before Cramer buys or sells FB or GOOGL? Learn more now.
Limited as they are right now, Spectacles fulfill one of the goals Google Glass has long had: To let users do things they typically rely on a smartphone for while keeping both of their hands free. As the WSJ writers, "as you record, your hands are free to pet dogs, hug babies or flail around at a concert. You can reach your arms out to people you're filming, instead of holding your phone up, as Spiegel describes it, 'like a wall in front of your face.'" 
Moreover, Snap is going to great lengths to avoid having Spectacles viewed as a product for geeks, the way Glass has been -- just see this YouTube video for the glasses if you need proof.
At the same time, just as Glass has sought to do much more than record photos and video, Spiegel hints Spectacles could have a larger set of use cases (accessing information? conducting e-commerce transactions?) if they become widely adopted as an image-recording tool.
Unlike Google with Glass, Snap is taking a bottoms-up approach to the wearables market, creating a cheap, simple device that can take over a core smartphone feature and potentially expanding its feature set in time.
The company's decision to simultaneously rename itself Snap is also telling. In addition to providing a more serious-sounding corporate moniker ahead of an expected IPO, the former Snapchat's new name points to a future where the company sees itself less as a provider of ephemeral messaging apps than as a provider of solutions for sharing what people see in the world around them via camera lenses.
Facebook, which depends so heavily on the photo and video sharing of its users to drive engagement, and whose attempts to create rivals to Snapchat have failed to date, has to be watching carefully. This is particularly true given how the sharing of personally-created content on Facebook news feeds has been pressured by the growing popularity of messaging apps in general.
For now, Spectacles is still far more an unfinished experiment by a quirky upstart than a threat to Facebook or anyone else. But that upstart's history of fending off much bigger rivals and striking gold where few expected means it's worth taking seriously.