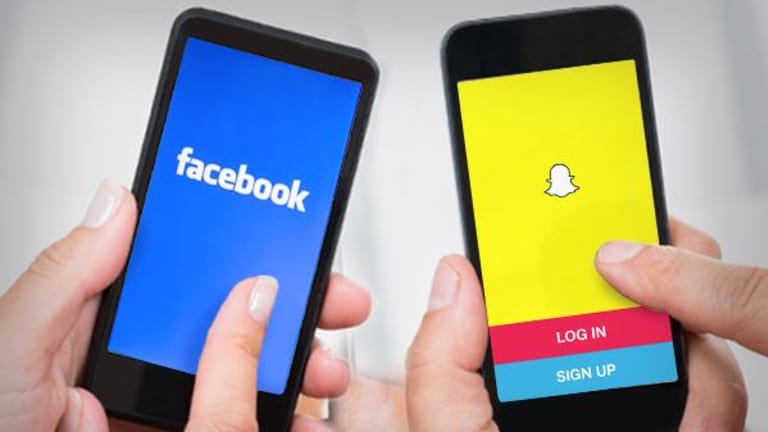 Teens are flocking from Facebook Inc. (FB) - Get Facebook, Inc. Class A Report to its younger, hipper competitors like Snap Inc. (SNAP) - Get Snap, Inc. Class A Report . 
Fewer 12- to 17-year-olds in the U.S. will use Facebook in 2017 than last year, as they move on to more youth-centric social media platforms like Facebook-owned Instagram and Snapchat, according to research from eMarketer. Approximately 14.5 million people in the "marketer-coveted" 12 to 17 age group will use Facebook in 2017, marking a 3.4% decrease from 2016. It's also the second consecutive year that teen usage has fallen on Facebook, as the group slid 1.2% in 2016, eMarketer noted. 
At the same time, Snapchat is expected to see usage increase in every age group (except the oldest cohort), with the largest acceleration among 18- to 24-year-olds, where it'll jump 19.2% this year. Instagram, meanwhile, will see usage among those under 12 years old increase by 19%. Instagram users between 12- to 17-years-old will increase 8.8%.
Facebook is a holding in Jim Cramer's Action Alerts PLUS Charitable Trust Portfolio. Want to be alerted before Cramer buys or sells FB? Learn more now.
The data suggests that even though Facebook continues to be the world's largest social network -- counting more than 2 billion users this year -- bigger may not always be better. 
"We see teens and tweens migrating to Snapchat and Instagram," said Oscar Orozco, a forecasting analyst at eMarketer. "Both platforms have found success with this demographic since they are more aligned with how they communicate -- that is, visual content."
"Outside of those who have already left, teens and tweens remaining on Facebook seem to be less engaged -- logging in less frequently and spending less time on the platform," he added.
For the time being, Facebook doesn't seem to be keeping teens entertained, but it's unlikely to become a permanent headwind to the company's long-term user growth, according to several analysts.
"Instagram is several times the size of Snap's audience, so I'm not sure if Facebook really cares if teens are spending time on Facebook or Instagram, as long as their generating advertising revenue," said Jan Dawson, chief analyst at Jackdaw Research.
Many other social media platforms have come along that threatened to become the new alternative to Facebook, but few have achieved as much lasting power and ubiquity as the social media giant, said Pivotal Research analyst Brian Wieser. A lot of them, like MySpace and Bebo, turned out to be "flashes in the pan" that eventually died out, he noted. Snapchat is probably more than just a flash in the pan, Wieser argued, but as users grow older, they may find themselves using the disappearing message app less and less, while moving back to Facebook.
More of What's Trending on TheStreet:

Facebook CEO Mark Zuckerberg's Instagram profile. 
"If I want to follow my daughter's roller derby team and they're only publishing updates on Facebook, then I have to be on there," Wieser said. "It doesn't necessarily predict future behavior if you don't use a platform at a young age." 
Even if teen users aren't spending time on the core Facebook platform, they're practically addicted to Instagram, which Facebook smartly purchased for a meager $1 billion in 2012. Other Facebook properties like WhatsApp and Messenger are gaining popularity among teens as well, Wieser said. 
Without Instagram, Facebook probably would be a lot more worried, Dawson said. Most of Facebook's organic attempts to fend off competition from Snapchat have failed, he noted. Stories-like products including Messenger Day and WhatsApp Status have received little traction and, earlier this month, Facebook shut down Lifestage, its teen-focused Snapchat clone, altogether. Where Facebook's core platform has stumbled, social media platforms like Snapchat and Instagram have flourished, given their focus on sharing raw, personal content, rather than curated and polished life updates that are viewed by people outside your immediate friend circle, Dawson noted. 
Facebook's teen problem has been a concern in the past and it's a lingering worry among some of its investors who say that the weak spot could ultimately make the company vulnerable in the future, said CFRA Research analyst Scott Kessler. 
"Everything Facebook has done outside of Instagram to compete with Snapchat organically has failed," Dawson said, but Instagram has become a huge way for Facebook to "fend off" competition with Instagram. 
Instagram has about 700 million monthly users and its Instagram Stories product recently hit 250 million daily users, while Snapchat has trailed it with about 173 million daily users. Snap's daily usersincreased marginallyquarter-over-quarter in the fiscal second period, but it still hasn't grown users as fast as Wall Street has hoped. 
The eMarketer data also raises the question of whether Snapchat can keep teen and tween users on its platform as they age. One strategy it seems to be using is original programming, Dawson noted, which so far has been well received, albeit being in the early stages. Snapchat's first-ever daily news program, NBC News' "Stay Tuned," just racked up 29 million-plus viewers. Other major media outlets are also being drawn to the platform, most recently CNN, which said on Monday that it would launch its own daily news show on Snapchat. 
Facebook, for its part, has also launched a major effort to host and produce original shows. 
"Snapchat is trying to build up a reputation as a place where you spend time and as that happens, it's possible that it might be that place for teens as they age," Kessler said. "Early numbers [for its original content] have come out, but anything has novelty value in the beginning. The question is does it have staying power."