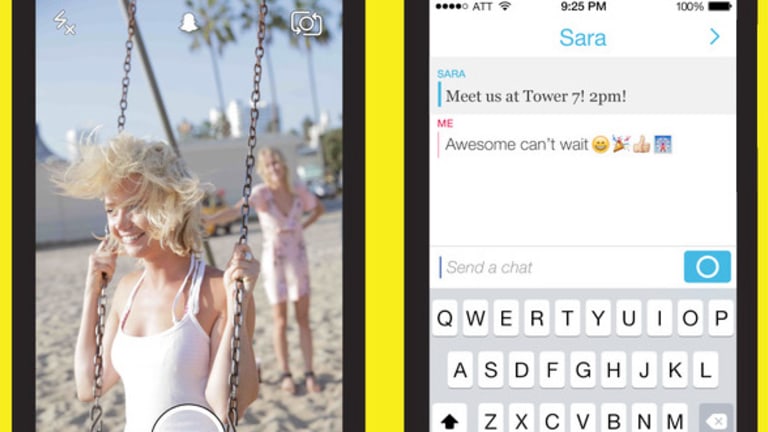 Snapchat Hoping Its Debut Can Help End a Cold Snap for Tech IPOs
The window may be finally opening wider in the tech IPO market after a quiet first half of the year.
As social media darling Snapchat preps for its market debut, investors are hoping the phenomenally popular app can help bring a thaw to the IPO market.
Snapchat's parent company Snap has picked Morgan Stanley (MS) - Get Morgan Stanley (MS) Report and Goldman Sachs (GS) - Get Goldman Sachs Group, Inc. (GS) Report to lead its initial public offering, which could come as early as March, Bloomberg reported Thursday, citing JPMorgan Chase (JPM) - Get JPMorgan Chase & Co. (JPM) Report, Deutsche Bank (DB) - Get Deutsche Bank AG Report, Allen & Co., Barclays (BCS) - Get Barclays PLC Sponsored ADR Report and Credit Suisse (CS) - Get Credit Suisse Group AG Sponsored ADR Report as joint book runners.
Venice, Calif.-based Snap's IPO could reportedly value the social media company at $25 billion or more -- a valuation that would place Snap among the largest tech IPOs in some time.
"Everyone is going to obsess about [Snap]," said Kathy Smith, principal at Renaissance Capital, manager of IPO-focused Exchange Traded Funds.
"Investors are really interested in growth, and that's what Snap is offering," she added, noting that demonstrating a strong profit model will be the key to any kind of premium valuation for Snap, which was founded in 2012 by Evan Spiegel.
Snap, which counts well-known venture capital firms Benchmark, General Atlantic, Kleiner Perkins Caufield & Byers and Sequoia Capital among its investors, has been steadily growing its user base and revenues by targeting a younger demographic and creatively experimenting with advertisements. It's even tapping into hardware, as exemplified by the introduction of its Spectacles sunglasses in September.
Snap's appointment of a new CFO last year, Drew Vollero, was a signal that the company was likely starting to think about a market debut, Santosh Rao, head of research at Manhattan Venture Partners, said.
"The way these guys are ramping up revenue is amazing," Rao added, explaining that Snap has developed a following among a fickle, yet desirable, age group of between 18 to 34.
Meanwhile, Snap appears to be moving along with its market debut at a time when the tech IPO market has started to improve.
After a quiet first half of the year, the window for tech IPOs has finally started to open, and recent debuts have delivered strong performances.
For example, infrastructure software maker Nutanix (NTNX) - Get Nutanix, Inc. Class A Report , spend management software provider Coupa Software (COUP) - Get Coupa Software, Inc. Report and cloud communications company Twilio (TWLO) - Get Twilio, Inc. Class A Report  all priced at the higher end of their range or even higher, and all closed significantly higher. Japan's messaging company Line (LN) - Get LINE Corp. Sponsored ADR Report also jumped in its market debut in July, rising 27% in its first day of trading.
"What's happening is there is this pent-up demand," Rao said, explaining that the positive IPO environment after a shaky market earlier in 2016 due to macro economic concerns and investors looking for growth stocks have opened the gate.
Accounting software maker BlackLine and WiFi chip set company Quantenna have already filed their respective prospectus filings with the Securities and Exchange Commission.
The next likely candidates include music streaming services provider Spotify and social media site Pinterest, Rao, as well as potentially cloud storage company Dropbox and data analysis firm Palantir Technologies.
Meanwhile, successful market debuts will likely create a domino effect.
"The market warmed up deal by deal," said Renaissance Capital's Smith, while also acknowledging that the returns are starting to contract due to an ongoing stock market selloff.
Still, tech has been a bright spot within the IPO market -- it's been the best-performing sector with 16 IPOs this year.
"We know what's lacking is real secular growth, and eyes are turning to the tech sector," she added.