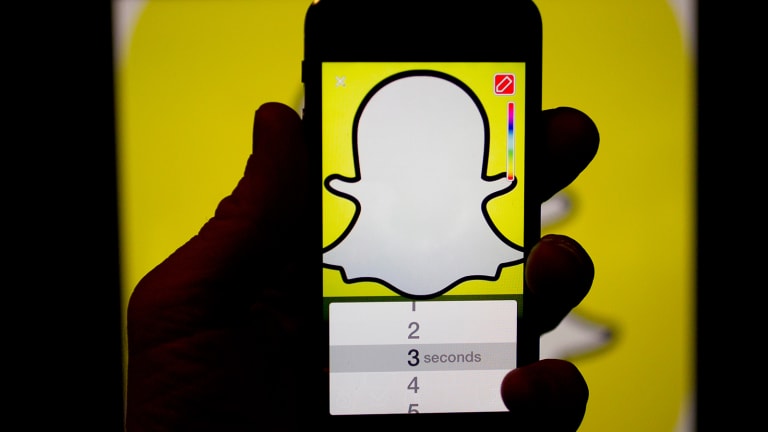 Snapchat GeoFilters: Playing Hooky in New York City
Snapchat will eventually use geofilters as an ad space, but for now they're just fun site-specific filters and an excuse to travel around Manhattan.
NEW YORK (TheStreet) --Snapchat, the ephemeral photo messaging app, started selling ad revenue in 2014 with the app's story and discovery features, but one of the newest area for ad space have been actual locations.
Although only three years old, Snapchat has 100 million daily active users that share ephemeral snapshots of their lives to friends and is valued at over 15 billion with Jack Ma's Alibaba (BABA) - Get Free Report as its latest backer.
Touted as the best way to reach 18 to 30 year olds, Snapchat has begun selling ad space on its geofilter feature. Geofilters are site-specific filters that allow snapchatters to overlay graphics on their videos and photos based on the location their snaps are posted from. Companies like Soulcycle and McDonald's (MCD) - Get Free Report have been some of the first companies to use these features as a place to put their logos but the feature as an ad space is still underdeveloped. However, geofilters have been around for a while now as a way to post graphics based on location.
It was a nice day so we took this as an opportunity to go explore and find some of the geofilters Manhattan has to offer.
Seeing as how it was right outside our office at 14 Wall Street, we went down to the Wall Street Bull as our first stop. Fun fact: The charging bull was actually a Christmas gift to the city of New York and was never actually commissioned but dropped beneath a 60-foot Christmas tree.
Leaving the financial district, we stopped by the Brooklyn Bridge, which when first built connected two different cities until 1898 when Brooklyn went from the fourth-biggest city in the United States to a borough of New York City.

Getting back on the 6 train, we decided to stop by New York University, right near Greenwich Village's Washington Square Park, where we weren't the only people playing hooky. Unfortunately, we didn't have time to visit NYU's second campus in Abu Dhabi.
Since it was a nice day out we figured we might as well walk a few blocks north to stop by the Union Square Market. Union Square gets its name from being located where Broadway and Fourth Avenue meet and, ironically, was the famous site of unionized workers labor rallies at one point in time.
Thinking it was a good idea at the time, we went to Times Square, which until 1904 was named Longacre Square when the New York Times moved its headquarters to the Times Building, which in turn became One Times Square.

Then we wandered away from the crowds and over to Broadway. Broadway theaters are defined by having 500 or more seats whereas Off-Broadway theaters have between 100 and 499 and Off-Off-Broadway have below 100.

Before making our way back to the office we stopped by Grand Central Terminal, which at one point in time was almost turned into an 80-story skyscraper designed by Marcel Breuer before protests prompted the city to landmark the building.
But not before making some friends with some locals on the subway. Fun fact: If all of the tracks that make up the New York City subway system were lined up, they would reach from New York to Chicago. Fun fact number two: If a train delay causes someone to be late for work, the MTA will email or fax a letter explaining why that person was late to work.
Luckily we made it back to 14 Wall just in time to take one last snap before my phone died.
BONUS: In honor of the U.S. Supreme Court decision that made same-sex marriage legal in all 50 states, Snapchat added two more filters to celebrate!