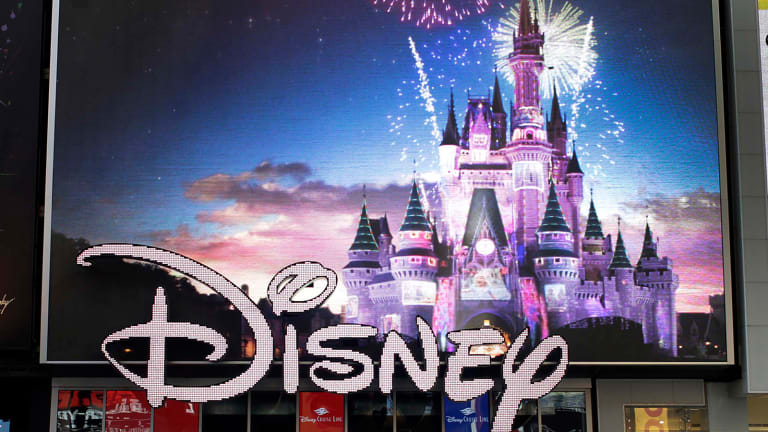 Snap Up Shares of Disney If New 'Star Wars' Film Is Disappointing
Investors and analysts are fretting that this year's 'Star Wars' film won't be as big as last year's was. Here is why that is nonsense.
Investors and analysts are fretting that this year's 'Star Wars' film won't be as big as last year's was. Here is why that is nonsense.
Editors' pick: Originally published Sept. 22.
Let's face it: We all have that one friend who waited in line for at least half a day to see Star Wars: The Force Awakens the second it premiered.
And that same friend probably went back a few days later to see it again.
That is the sort of mega-fan that Walt Disney (DIS) - Get Report loves for its big movie releases. And The Force Awakens certainly brought out the Star Wars obsessives, as well as everyone else who wanted to go to the movies.
After all, the film grossed more than $2 billion.
But that was last year.
This year, the entertainment juggernaut is slated to release yet another entry in the Star Wars franchise.
But at an entertainment industry investors' conference sponsored by Goldman Sachs Disney Chief Executive Bob Iger said of the upcoming film: "We never felt it would do the level that Force Awakens did."
Investors who seem to be looking for any reason to panic at slightly bad Disney-related news seized on this as proof that the stock is going to take a header. Shares fell by more than 1.5% between Tuesday and Wednesday afternoon, though it is up again on Thursday.
That decline was an overreaction and an opportunity to grab some Disney shares at a discount.
Few films could be as successful as the The Force Awakens. It was the first brand-new Star Wars movie in more than a decade, and it was good, too, something that the three previous Star Wars films weren't.
It told the story of beloved characters such as Luke Skywalker and Princess Leia.
By contrast, the new film, Star Wars: Rogue One, is coming right on the heels of The Force Awakens. And it is a spin-off with many new characters, not a continuation of the beloved saga.
It will still be a mega-hit and pull in both Star Wars fans as well as those out for a nice day at the cinema.
Granted, Disney has had a rough year. The company's stock has lost more than 24% over the past 12 months.
But that follows an all-time high in August 2015 that was clearly a bit inflated.
Disney is one of the world's greatest investments and companies. It is already forging its way into the new era of digital entertainment, bringing its content to Netflix and setting up a streaming service on its own to boost its beleaguered ESPN brand.
In addition to its entertainment content portfolio, which is huge and has an overall stellar track record, the company owns lucrative merchandising licenses and theme parks. There are plenty of avenues to bring in consistent profit streams.
Investors shouldn't turn their backs on Disney just because lightning might not strike twice with Star Wars. Instead, look for any overblown pessimism as a buying opportunity.
---
85% Accurate Trader gives his Personal Guarantee: "Give Me 9 Minutes a Week and I Guarantee You $67,548 a Year." Disney continues to make a great long-term play for investors. But what if I told you I know a way you can see a $67,548 per year - or more - in profitable trades just by following this simple step-by-step process? The trader who is sharing this secret has been right more than 8 out of 10 times, turning $5,000 into more than $5 million for himself. Click here to see how easy it is to follow his lead and collect thousands of dollars in "Free Money" every month.
This article is commentary by an independent contributor. At the time of publication, the author held no positions in the stocks mentioned.