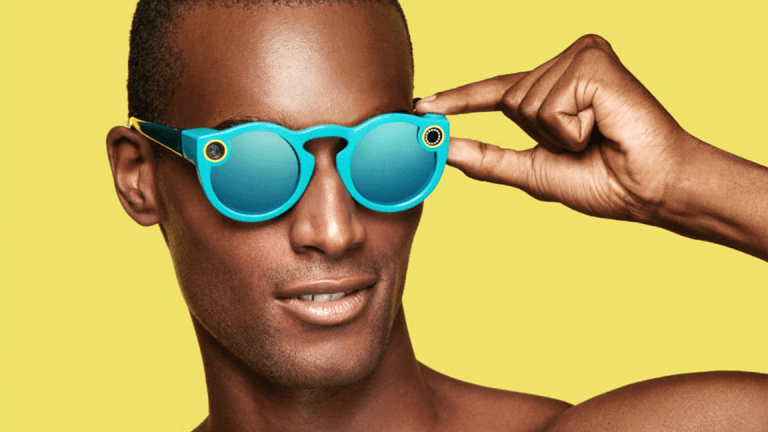 Snap Takes $40 Million Write-Down on Spectacles After Misjudging Demand
The messaging company said it mis-took the initial hype for the camera-powered glasses, and now has too many unsold units sitting in its warehouses.
Snap Inc. (SNAP) didn't sell enough of its Spectacles and now its taking a $39.9 million write-down on the camera-equipped glasses, less than a year after the product was released. 
The messaging company said it misjudged "strong early demand" for the $130 glasses and bought more Spectacles that it was able to sell. Additionally, more consumers returned Spectacles than the company anticipated. 
"Moving forward, we will continue to be in the market place with Spectacles and expect modest revenue from the product line," said Snap CFO Drew Vollero in a statement. 
The comments came after the company reported fiscal third-quarter results late Tuesday. Snap badly missed Wall Street's expectations for revenues and daily active user growth, sending shares plunging 17% to $12.52 in after-hours trading on Tuesday. On Wednesday morning, shares were trading down about 10.6% to $13.51.
Snap doesn't break down revenue by segment, so it's unclear how much money it generated from Spectacles. In the second quarter, Vollero said a "substantial amount" of the company's $5.4 million in other revenue came from Spectacles. That's a decline from when Spectacles brought in $8.3 million during the prior period. 
The company rolled out Spectacles to great fanfare in Nov. 2016, when it exclusively released them via pop-up vending machines in selective cities across the U.S. The machines, called Snap Bots, attracted big crowds that would wait in line for an upwards of six hours to get a pair. In some cases, the $130 glasses would sell for thousands of dollars on eBay. 
Just last month, CEO Evan Spiegel said at the Vanity Fair New Establishment Summit that the company had sold more than 150,000 pairs of Spectacles. That number "exceeded" Snap's expectations, he said, adding that the goal was to sell more Spectacles than sales of the original iPod. It seems that Snap's tone around Spectacles has changed since then, however. 
"We were very excited about Spectacles and by the initial reception and because we were so excited I guess we made the wrong decision," Spiegel said on the company's earnings call on Tuesday. "Ultimately we made the wrong decision based on the early traction and ordered a lot of long time parts and ultimately weren't able to sell as many Spectacles we'd be able to based on the early adoption." 
"So we're learning from it and we plan on avoiding a similar mistake in the future," he added. 
The Information reported late last month that Snap had hundreds of thousands of Spectacles sitting unsold in the company's warehouses, either fully assembled or in parts. The company also laid off dozens of employees from the hardware team behind Spectacles, according to Business Insider.
More of What's Trending on TheStreet: