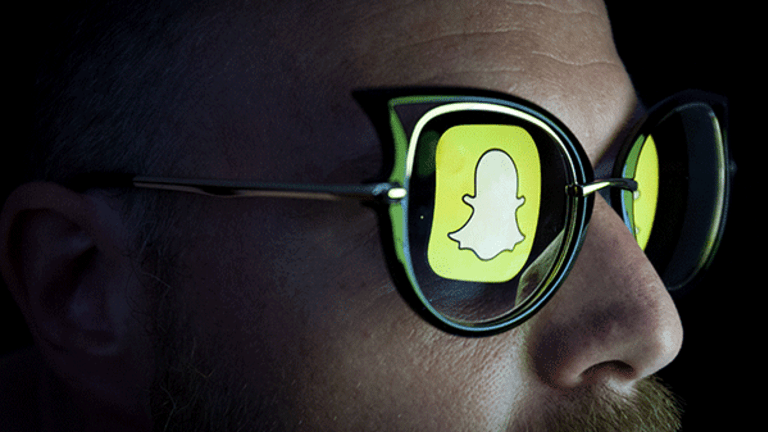 Publish date:
Snap Sinks Nearly 7% as Facebook Launches Copycat Feature on Its Main Platform
Deutsche Bank initiated coverage of Snap with a Buy, but even that wasn't enough to hold off the bears worried about Facebook's growing encroachment on its territory.
Deutsche Bank initiated coverage of Snap with a Buy, but even that wasn't enough to hold off the bears worried about Facebook's growing encroachment on its territory.
Snap (SNAP) - Get Report shares took a dive on Tuesday as rival Facebook (FB) - Get Report launched its latest attack on the fledgling social media company by copying one of its main features and bringing it to its primary platform.
Snap closed down 6.8% to $22.19 on Tuesday, reversing gains of nearly 5% on Monday that were spurred by a slew of bullish notes from more than a dozen of Snap's underwriting banks. Another underwriting firm, Deutsche Bank, also releaseda buy recommendation on the company on Tuesday. 
The parent company of Snapchat received 10 Buy ratings on Monday, which gave the stock a "pretty substantial lift" in the face of a relatively weak stock market, said CFRA research analyst Scott Kessler. Now investors may be "having second thoughts" about their enthusiasm and actions they may have taken relative to the stock, he added. 
Facebook's newest feature, which rolls out a near identical clone of Snapchat Stories in the company's core platform, does little to quiet analysts' and investors' concerns about Snap's slowing user growth. Facebook is seen as a major threat to Snap's ability to capture and maintain new users, largely because of its massive user base that extends beyond Snap's main demographic of 18-24 year olds, as well as the fact that it owns multiple social media properties, including Instagram and WhatsApp, that could quickly replace Snap. 
Like Instagram Stories, which launched Last August, Facebook Stories appears at the top of users' dashboards on the Facebook app and allows them to publish multiple photos and videos that disappear after 24 hours. Stories won't appear on a users' timeline or news feed unless they post them there, Facebook product manager Connor Hayes wrote in a blog post. 
Facebook Stories also incorporate filters and effects similar to those used on Snapchat, as well as brand-sponsored masks reminiscent of Snap's advertising partnerships with companies like Taco Bell, Starbucks (SBUX) - Get Report and Gatorade. And like Snapchat's private messaging feature, Facebook Stories has a Direct option that allows users to send photos and videos to specific friends. Unless the viewer presses the replay button, photos and videos disappear after one view.
Facebook and Starbucksare holdings in Jim Cramer'sAction Alerts PLUS Charitable Trust Portfolio. Want to be alerted before Cramer buys or sells FBor SBUX? Learn more now.
The launch of Facebook Stories marks the fourth time that Facebook has attempted to clone Snapchat Stories across its various properties. The first was Instagram Stories, followed by WhatsApp Stories and then Messenger Day, which drew a noteworthy amount of criticism from users and members of the tech community who argued that it hurt many of Messenger's key features. 
Facebook Stories seems less heavy-handed than Messenger Day, said Jan Dawson, chief analyst at Jackdaw Research, in a blog post. That said, many features on Facebook Stories "feel different for difference's sake" rather than seeming truly valuable for Facebook, Dawson added. 
It makes sense for Facebook to add a Stories-like feature to its core platform, Dawson argued, because there it has 1.8 billion-plus users vs. Instagram's 600 million monthly active users. 
The new threat posed by Facebook Stories wasn't enough to deter Drexel Hamilton analyst Brian White from reiterating his Buy rating on Snap on Tuesday, noting that "imitation is the sincerest form of flattery." Drexel Hamilton was not one of the 26 banks that underwrote Snap's IPO. 
"We would use today's weakness as a buying opportunity," White wrote in a note to clients. "Facebook announcements are a strong endorsement of Snap's innovative products and creative vision. As such, we are not surprised to see another platform copy Snap; however, we believe Snap has a cachet with the millennial crowd that will be difficult for other platforms to garner." 
White said Snap resembles Apple (AAPL) - Get Report in its younger days, in that it also is a "disruptive innovator with a laser-like focus."
Deutsche Bank analyst Lloyd Walmsley also remained bullish on Snap's stock as he initiated coverage with a Buy rating and a $30 price target. Walmsley, like some other Wall Street analysts, doesn't define Snap as a social media company, but rather an "attractive" mobile ad business. 
Snap itself prefers not to be called a social media company, but rather a camera company. 
Walmsley said that Deutsche Bank, which was one of the underwriters of Snap's IPO, surveyed more than 1,000 Snapchat users and found that approximately 41% of them view Snap ads in full, asserting that many investors' concerns around ad efficacy are "overblown." He added that Snap's growth opportunities with respect to sponsored filters are "under-appreciated" and could contribute $1.1 billion to Snap's revenue, which he estimates could reach as much as $5.1 billion by 2020. 
However, not all analysts that initiated coverage on Tuesday shared the same optimism. Loop Capital analyst Blake Harper started coverage of Snap shares with a Hold rating and a $21 price target, calling it a "daring company" and an expensive stock. One of Snap's greatest challenges will stem from its ability to fend off Facebook, Harper argued. 
"Facebook has been effective at 'surfing' user behavior by quickly adding functionality and resources to take advantage of the way users act on their platform to drive increased activity," Harper said. "We expect Snap to have to do the same by following user behavior, as well as by likely introducing new camera hardware or other kinds of unconventional hardware, apps or features."