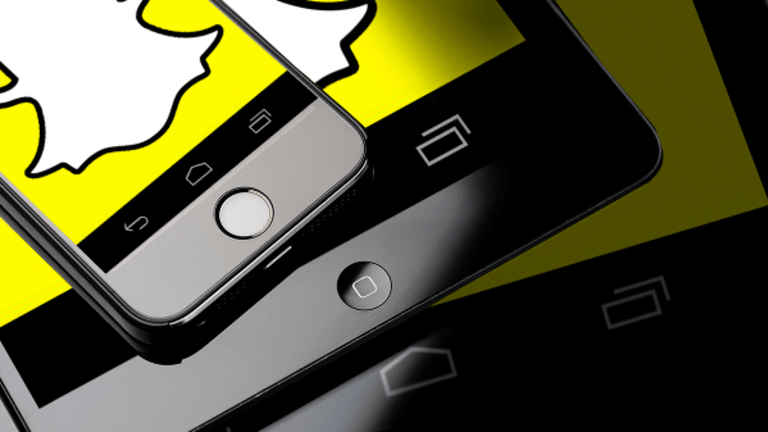 Snap Shares Plummet 12%: What Wall Street's Saying
The popular and highly-valued messaging platform saw its shares fall for the first time since going public on Thursday.
For the first time since their impressive debut on the New York Stock Exchange last Thursday, Snap Inc.  (SNAP) - Get Snap, Inc. Class A Report  shares fell on Monday. The stock closed down more than 12% to $23.80, just below its opening trade last Thursday of $24, although still well above its initial offering price of $17. 
The Venice, CA-based parent company of Snapchat has excited investors who are anxious to see another tech company follow in the footsteps of Facebook (FB) - Get Facebook, Inc. Class A Report , which went public in May 2012 at $38 a share and now trades around $137. 
However, many investors are concerned about the company's high valuation, current lack of profitability and decelerating user growth. Snap added five million daily average users (DAUs) in the fourth quarter of 2016, and 10 million DAUs in the third quarter, down from 21 million users in the second quarter and 15 million in the first quarter.
The company blamed the slowdown on technical issues having to do with multiple updates and product launches, according to filed SEC paperwork. However, Facebook and Twitter (TWTR) - Get Twitter, Inc. Report  both had modestly higher daily user growth after they went public.
These worries for the company have outweighed investor excitement for a big tech IPO and for a company that has resonated with millennials. Snap currently has six sell ratings and two hold ratings. Here's what analysts were saying:
Needham (Underperform, $19 to $23 price target)
Snap's stock is like a "lottery ticket" and while buying lottery tickets sometimes pays off big, Snap has a number of risks, Needham analyst Laura Martin wrote in a note on Monday. 
First, Snap has an 80% smaller addressable market than Facebook, which already has nearly 2 billion users, and Snap has already reached about half of its addressable market in the US.
Second, while she estimates the company will reach $3.3 billion in revenue by 2019, Snap will have to capture 14% to 16% of the adjusted digital ad spend to hit that target. Today, it only has 2% of that market. "Even if SNAP grows revenue 8-fold to $3.3B by 2019, its share price would decline based on FB & GOOG EV/Sales ratios," she noted. 
Finally, the company doesn't have a clear path to profitability and will most likely report a poor performance for its first year as a public company, Martin concluded. 
Facebook and Alphabet are holdings in Jim Cramer'sAction Alerts PLUS Charitable Trust Portfolio. Want to be alerted before Cramer buys or sells FB or GOOGL? Learn more now.
WATCH MORE:Jim Cramer Talks Snap, Deutsche Bank, Netflix and General Motors
Will Uber Fill the Gap That Now Publicly-Traded Snap Has Left in Our Hearts?
Morningstar (Economic Moat Rating of None, Fair Value Estimate (FVE) of $15 per share)
The firm initiated coverage of Snap on Friday with a Morningstar Economic Moat Rating of none and a fair value estimate of $15 per share and estimating a $21 billion market capitalization based on Morningstar's estimated share count. The firm sees Snap becoming profitable in 2020. 
The friend effect, or the trend for people to join social networks that their friends are on, is helping Snap attract users, and this growing userbase is helping the company attract the attention of advertisers. But Facebook and Alphabet's (GOOGL) - Get Alphabet Inc. Class A Report Google will most likely continue to take the majority of ad dollars in the space. 
"However, there is no guarantee that Snap will effectively monetize these users on a consistent basis," Morningstar analyst Ali Mogharabi wrote in a post. "In turn, we are not yet convinced about the firm's ability to generate excess returns on capital over the next decade."
He also noted increasing competition from giants like Facebook's Instagram app, which provides a substitute for Snapchat, he said. In August, Instagram launched its own Stories feature, which Snapchat originally introduced on its app. Stories allows users to post a slideshow of pictures and videos as their "status" on the platforms. 
"The problem is that we believe SNAP shareholders pay in full for its missteps, but don't benefit from the upside of SNAP's genius because competitors can roll out SNAP's best ideas to larger user bases virtually overnight," he explained. "Every time SNAP proves that something works, Google, Instagram, WhatsApp, Facebook and others can copy it."
In addition, its competitors' larger ecosystems have created an "exit barrier" for users that will make it hard for Snap to capture them. 
The firm sees Snap hitting revenue of $1 billion in 2017 and $1.9 billion in 2018 before hitting profitability in 2020. 
Atlantic Equities (Underweight, $14 price target) 
Snap got a downgrade to underweight from neutral at Susquehanna on Friday because the stock is overvalued at its current price. The company can't justify its current trading level because it hasn't proven that its monetization plan can work. In addition, Snap may have trouble reaccelerating user growth after seeing a slowdown in the second half of 2016.
Aegis (Hold, $22 price target)
Aegis analyst Victor Anthony said his main concern for the newly public company is the fierce competition it's facing from Facebook, Instagram, Messenger and WhatsApp. All four of these platforms are owned by Facebook and have released copycat versions of features originally introduced by Snapchat in October 2013. 
"This is a major terminal value risk and one we monitor closely as it could lead to Snap's core demo moving to Facebook's apps," he wrote in a note.
Aegis also noted the unclear plan for profitability, particularly as Facebook and Google dominate the digital ad market, as well as the company's slowing user growth. "[A] large percentage of advertisers view Snap as experimental spend -- similar to Twitter at the time of its IPO," Anthony said. 
However, Snap does give advertisers the opportunity to reach the coveted millennial demographic, he noted. "That alone should be enough to lead to upside to the offering price range this year while management works to solve most of the above issues," Anthony wrote. 
Susquehanna (Hold, $22 price target)
On Friday, Susquehanna initiated coverage of Snap with a "neutral" rating and $22 price target because of the company's overvaluation. Shares of the company may rise at first to the high $20s and low $30s, but it will have trouble maintaining those levels with rising competition from Facebook. 
Nomura Instinet (Reduce, $16)
"Snap Inc. is becoming a public company just as its user growth and monetization growth rates are beginning to meaningfully slow," the firm wrote in a note on Friday. 
Potential headwinds for the company include decelerating user growth, slowing monetization, competition from big rivals and rich valuation, Nomura noted. "We see Snap's revenue
opportunity as constrained relative to expectations and, as such, we think shares are fairly valued at best at the IPO price," the firm claimed. 
Pivotal Research (Sell, $10)
Pivotal Research analyst Brian Wieser wrote in a note on Friday that while Snap is a "promising early stage company," it's "significantly overvalued given the likely scale of its long-term opportunity and the risks associated with executing against that opportunity."
Like other firms, Pivotal Research sees the potential the company has in the digital ad space, but said it hasn't proven this monetization strategy can work yet.
In addition, two more negatives for the company include its share-based compensation, as well as the lack of experience on the management team, Wieser noted. 
"Investors in Snap will be exposed to an upstart facing aggressive competition from much larger companies, with a core user base that is not growing by much and which is only relatively elusive," he continues in the note.
Buying up shares of this big tech company because you think someone else will pay more for it is not a good investment plan, Wieser told CNBC. 
CFRA Research (Sell, $22)
CFRA Research initiated coverage of Snap on Monday with a $22 price target. "We see strong user engagement, but user growth that has decelerated," CFRA Research analyst Scott Kessler wrote in a note.