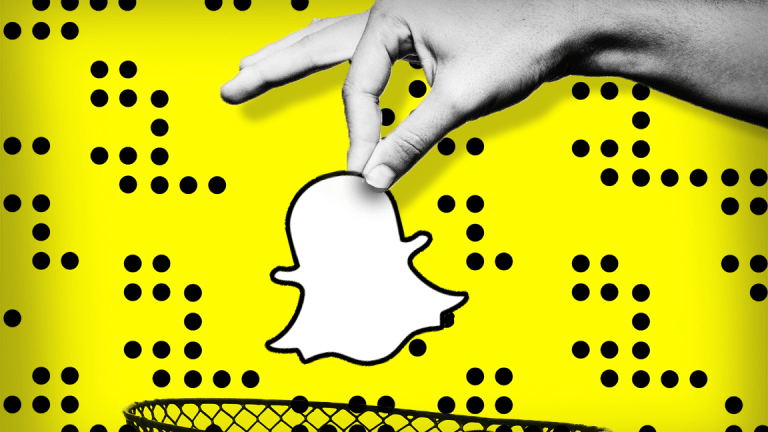 Snap Shares Jump 40% As It Finally Earns Some Trust on Wall Street
Though Facebook and heavy cash burn are still reasons for concern, it's hard to fault how Snap performed last quarter.
Snap's (SNAP) - Get Free Report solid Q4 report doesn't put to rest all of the concerns that have swirled about the company's long-term prospects. But it does reflect pretty well on how its management has been executing in a competitive environment that remains challenging in multiple respects.
After missing revenue and (with one exception) EPS estimates in its first three earning reports since its March 2017 IPO, Snap reported Q4 revenue of $285.7 million (up 72% annually) and GAAP EPS of negative $0.28, topping consensus analyst estimates of $255 million and negative $0.33. The company also finally managed to beat its daily active user (DAU) consensus: DAUs rose 5% sequentially and 18% annually to 187 million, beating an average analyst estimate of 184 million.
In response, shares had soared almost 40% to $19.50 by mid-day Wednesday, hitting their highest levels since July. They're once more above their $17 IPO price, albeit still well below their post-IPO open price of $24.
For the fourth quarter, revenue growth improved from Q3's 62%, and sequential DAU adds (8.9 million) were the highest seen since Q3 2016 -- the time when Instagram Stories and changes to the Android Snapchat app began weighing on user growth. Snap does forecast its revenue growth will slow in Q1, but given that the pre-earnings consensus called for 59% growth, that isn't by itself anything likely to alarm markets.
It is worth noting that Snap was only able to beat Q4 estimates because those estimates had fallen sharply. At the end of October (prior to a disappointing Q3 report), Q4 revenue and DAU consensus estimates were respectively at $311 million and 191 million. And three months before that, they were at $359 million and 193 million. But either way, accelerating revenue and user growth counts for something, especially when growth had slowed considerably in the preceding quarters.
On the earnings call, CFO Drew Vollero noted the Q4 sales growth was driven by the core Snap Ads product -- video ads that appear within Snapchat Stories -- as falling prices enabled by support for programmatic (software-automated) ad buys stoked demand. Excluding the new Promoted Stories ad product, Snap Ad impressions rose 90% sequentially and 575% annually, while their average price fell over 15% sequentially and close to 70% annually.
Starting in Q1, Snap plans to start transitioning its creative tools ad business (sponsored lenses and filters for Snaps) to programmatic ad buys. Vollero cautions this will impact first-half revenue growth by pressuring ad prices, albeit while promising impression growth will eventually make up for it. With Facebook's (FB) - Get Free Report ad prices rising rapidly -- they were up 43% annually in Q4 -- as the company sees ad supply growth slow, Snap's social ad offerings (and perhaps also Twitter's (TWTR) - Get Free Report ?) might look a little more appealing to some advertisers, even if they can't leverage the kind of user data and targeting/measurement tools Facebook's offerings can.
Here, it's also worth noting that Snap's quarterly average revenue per DAU ($1.53 in Q4) remains a fraction of Facebook's ($9.26 in Q4), even though a larger percentage of its users are located in lucrative developed markets. Though it's unrealistic to expect Snap to fully eliminate this ARPU gap, given Facebook's competitive strengths and the lead it has in time spent per DAU, its size suggests Snap still has a fair amount of headroom to grow ad sales.
Chief strategy officer Imran Khan observed ad sales to small and mid-sized businesses more than doubled sequentially in Q4, and that Snap for the first time got more revenue from firms not on Ad Age's list of the top 100 advertisers than it did from firms on the list. He also claimed strong momentum for Promoted Stories, mobile app install ads and Snap's Lens Studio content-creation tool (can be used by both advertisers and other content creators).
Meanwhile, CEO Evan Spiegel claimed efforts to improve the Android Snapchat app gave a lift to Q4 DAU growth and boosted Snap's retention rate for new Android users by 20% relative to the start of the year. He also talked up the early reception seen for Snapchat's major app redesign, which was only rolled out to a subset of users in Q1. The redesign, which among other things places content from media partners and content from friends on separate pages, is said to be driving significant increases time spent among users over the age of 35.
Still, while Snap's ephemeral photo/video-messaging services remain pretty immune to Facebook's attacks, Stories will continue facing a stiff fight against Facebook's various clones. Two of the clones, Instagram Stories and WhatsApp Status, now have over 300 million DAUs, and usage of another one (Facebook Stories) is starting to grow after it began supporting Instagram Stories cross-posting.
During his company's Q4 call, Mark Zuckerberg predicted Stories are set to "overtake posts and feeds as the most common way that people share across all social apps," and that their growth will "have an impact on how we build product and think about our business, including WhatsApp and Instagram." And COO Sheryl Sandberg indicated that Instagram Stories ads are now seeing rapid growth.
Also a lingering question mark for Snap: Just how profitable the company will be in the future even if it continues seeing decent ad growth. Free cash flow (FCF) was negative $197.3 million in Q4, $9 million worse than what was seen a year ago in spite of 72% revenue growth. One culprit: Snap's adjusted operating expenses grew 57% to $266 million. Another: Snap's "hosting expenses" -- driven by cloud infrastructure payments made to Alphabet/Google (GOOGL) - Get Free Report and Amazon.com (AMZN) - Get Free Report -- grew 18% to $131 million in spite of volume discounts provided by long-term deals inked in early 2017.
Vollero did predict Snap's opex growth will fall to a low-double digit clip during the back half of 2018. But keeping a lid on hosting expense growth will be more challenging, assuming video viewing and sharing on Snap's platform keeps growing meaningfully. Unlike Facebook, Snap doesn't pay for its infrastructure at cost (Google and Amazon get their margins). And together with the company's other big expenses, that's going to keep causing a lot of cash burn for at least the next few quarters.
But while Snap may have a tough hand to play, its video ad and DAU growth, along with Spiegel's remarks about the app redesign's impact, may have won its management team a measure of investor trust that has been absent for much of its post-IPO history.
Jim Cramer and the AAP team hold a position in Alphabet and Facebook for their Action Alerts PLUS Charitable Trust Portfolio. Want to be alerted before Cramer buys or sells GOOGL or FB? Learn more now.