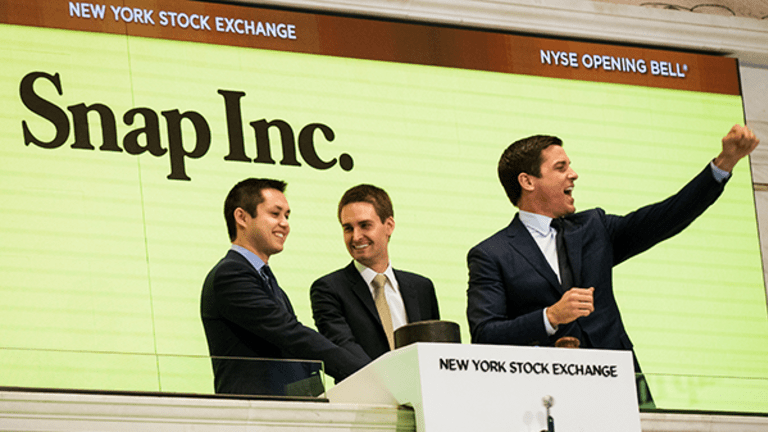 Snap's Much-Anticipated First Earnings Report as A Public Company -- Here's What to Watch
Snap will have to show that it can make money amid fierce competition with Facebook.
Snap will have to show that it can make money amid fierce competition with Facebook.
When  Snap's (SNAP) - Get Report first-ever earnings as a public company come out after Wednesday's closing bell, Wall Street analysts will hope to get more than just a snapshot of the company's current and future financial health. 
TheStreet will be hosting a live blog analyzing Snapchat's earnings report on Wednesday afternoon. Please check our home page for more details.
It's been a little over a month since the parent company of the disappearing snap went public in March, when Snap's stock rocketed 44% above their IPO price of $17 a share. Since then, the stock has experienced its fair share of ups and downs, as Facebook (FB) - Get Report released a slew of Stories-like products, ratcheting up the competition between the social media giants. Other investor concerns have focused on the fact that Snap's revenue stream is largely ad-supported, while some brands continue to view the company as being a part of their experimental ad spending budget.
Facebook is a holding in Jim Cramer's Action Alerts PLUS Charitable Trust Portfolio. Want to be alerted before Cramer buys or sells FB? Learn more now.
Snap shares were down 1.3% on Wednesday morning to $23.01, below their closing price of $24.48 on the company's first day of trading on March 2. On Tuesday, shares jumped about 3% as the company introduced a number of new features, including looping and persistent videos.
For the fiscal first quarter, Wall Street expects Snap to post a loss of 21 cents per share on revenue of $158 million. Several analysts have said they remain optimistic that Snap will post strong results, despite failing to become profitable so far, and will either meet or exceed consensus estimates for the quarter. Of the 32 analysts who cover the stock, 17 have Hold ratings, nine maintain a Buy rating and six have the equivalent of a Sell rating, according to  FactSet. 
Snap will have to show Wall Street that it can grow its users and monetization. 
"Although Snap's revenue growth rate is the highest in our coverage universe (still an early growth phase), fierce competition from Facebook (Instagram Stories now boast 200 million-plus daily active users) means that Snap's DAU number and the pace of deceleration will be important areas of scrutiny," said Cantor Fitzgerald analyst Kip Paulson in a Monday note. "We believe sequential DAU and monetization growth throughout 2017 will be key in determining the future growth curve of Snap and whether it's likely to mimic Facebook or  Twitter (TWTR) - Get Report in its user/advertiser appeal."
Paul expects Snap's DAU to come in at 175 million, with DAU growth decelerating to 43.7% year-over-year from growth of 47.7% in the 2016 fourth quarter. JMP Securities analyst Ronald Josey was slightly more bearish, projecting Snap will reach 167 million DAUs during the first quarter, representing 37% growth year-over-year. 
Both Josey and Paul expect Snap to see triple-digit, year-over-year advertising revenue growth of 248% and 359%, respectively.
Stifel analyst Scott Devitt said he projects most of Snap's first-quarter top line growth to be concentrated in North America, or roughly 88% of its total revenue stream. That comes as investors and analysts have highlighted Snap's clear focus on making its app available in developed markets -- a decision that could come at the risk of seeing user growth plateau. Competitors such as Facebook, meanwhile, have ramped up their efforts to expand on a global scale. The company even turned down an employee suggestion that it develop a stripped-down version of the Snapchat app for countries with low bandwidth internet connections, the Wall Street Journalreports, citing sources close to the matter. 
Snap's resistance to global expansion does little to mitigate concerns about Facebook potentially limiting the company's future growth. Over the past year, Facebook has rolled out one product after another that bears a striking resemblance to Snap's flagship Stories product, which allows users to publish photos and videos that disappear after 24 hours, while adding unique lenses and filters. Facebook launched Instagram Stories last August, followed by WhatsApp Status, Facebook Stories and Messenger Day -- all of them take a page from Snap's ephemeral messaging model. 
It's unclear whether Facebook's copycat attempts ended up stealing users from Snapchat, but Instagram Stories (widely considered to Facebook's most popular Stories clone) now counts 200 million DAUs. Snap said in its IPO filing in March that it had 161 million DAUs at the end of 2016, noting that it experienced a slowdown in user growth as a result of technical errors in the roll out of new products. 
Eric Kim, managing partner at venture capitalist firm Goodwater Capital, said it's likely that Facebook added non-users to its Stories platforms, but that those users were still posting Snapchat Stories. So Facebook didn't necessarily steal users from Snapchat, but Snapchat also isn't adding new users in droves like it used to. 
"[Facebook] increased the overall size of the market rather than taking one user for one user," Kim explained.
That said, Snap's share of the market still remains flat: Six months ago, 12% of users across all ages said Snapchat was their favorite destination for Stories, while Instagram was only at 4%. As of this month, about 14% of users say Facebook Stories (launched in March) is their favorite destination for Stories, while Snapchat Stories stayed flat at 12%. 
The problem with that is that it threatens Wall Street's general idea that Snap will experience the outsized growth that's largely come to be expected from Silicon Valley giants like Facebook and Alphabet's (GOOGL) - Get Report Google.
Alphabet is a holding in Jim Cramer's Action Alerts PLUS Charitable Trust Portfolio. Want to be alerted before Cramer buys or sells GOOGL? Learn more now.
"Snap is a hyper growth story," Kim said. "So Facebook may not be taking from their user base, but they could potentially be limiting how fast Snapchat can grow in the future." 
Trending right now on TheStreet:
ESPN Woes Overshadow Disney's Strong Showing in Parks and Movies: What Wall Street's Saying
In an Extremely Rare Interview, Sears CEO Eddie Lampert Proves He's Pretty Much Lost
Walmart's Jet.com Finally Has a Physical Store Open--What It Sells Will Surprise You