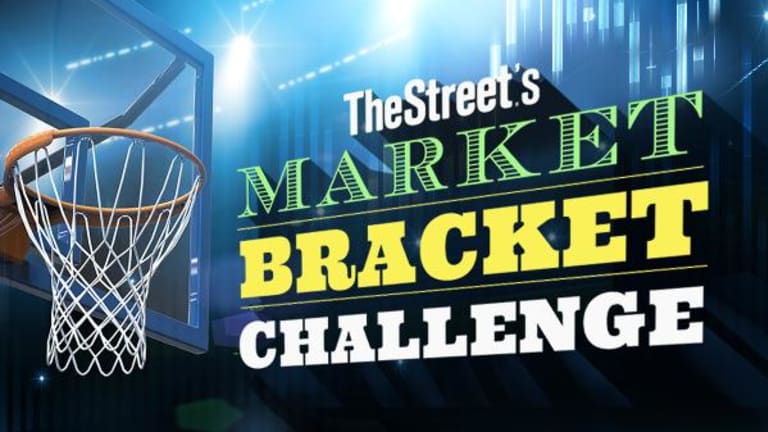 Publish date:
Snap's Cinderella Story Continues to Unfold as Nike Squeaks By AT&T: An Update From the Challenge
It has been a wild ride through two rounds of action.
It has been a wild ride through two rounds of action.
It's about that time, folks. Time for another update from TheStreet's Market Bracket Challenge, for those of you who were lucky enough to enter.
It was a bit of a tighter race overall as the markets picked up on Wednesday and Thursday after early week woes. 
Let's take a look at the highlights from the Round of 32:
Snap's Rally Isn't Fading
That said, the story of the tournament and perhaps the week remains the proverbial new-comer to the markets, Snap Inc. (SNAP) - Get Report , which continued its epic run as a 16 seed in our tournament. The self-described camera company rocketed another 11% over the course of the second round as a new pair of analysts weighed in on the company's shares. Snap blew by Digital Realty Trust (DLR) - Get Report , a heavy favorite for those who were banking on the datacenter operator to dial up a deep run in the tournament on the back of steadily increasing revenues and demand. Can it keep the momentum going?
Apple Slices by Time Warner, Barely
Fan-favorite Apple (AAPL) - Get Report narrowly escaped the jaws of defeat, posting a slight gain over the past two days while its foe, Time Warner (TWX) , posted a slight loss for Monday and Tuesday. It's been a busy week for the House that Jobs built, as the company on Wednesday acquired a popular automation app, Workflow, for an undisclosed sum and made it free on the App Store. Meanwhile, Merrill Lynch analysts expect Asian suppliers to ship 100 million iPhone 8s when the phone is released later this year.
Netflix Proves It Was Just a House of Cards Vs. Idexx
If you had been reading TheStreet you would have been aware of some of the near-term issues facing Netflix (NFLX) - Get Report not to mention the positive catalysts at the back of its second round competitor Idexx Labs (IDXX) - Get Report . TheStreet's Richard Suttmeier wrote March 23 that "the weekly chart for Netflix is positive but overbought with the stock above its key weekly moving average of $140.47. Weekly momentum is projected to slip to 84.09 this week, still above the overbought threshold of $80.00." The FANG stocks, in general took a hit in round 2 as Amazon (AMZN) - Get Report  also fell.
Other News and Notes (and Puns) From Around the Challenge:
Skyworks (SWKS) - Get Report Slays Buffy's Berkshire (BRK.B) - Get Report
Philip Morris (PM) - Get Report : Micron (MU) - Get Report  Got 'Em and Smoked 'Em 
Beware the I's of March! Iger, Illumina (ILMN) - Get Report  and Idexx All Advance
Big Blue (IBM) - Get Report Sputters as BorgWarner (BWA) - Get Report Revs
No Fake News Here: Facebook (FB) - Get Report  Blows by Comcast (CMCSA) - Get Report
AT&T (T) - Get Report Just Didn't Do it Against Nike (NKE) - Get Report
Click bracket to view full size
As denoted in the introduction, TheStreet has ranked some of the best-performing and most widely held stocks in the S&P 500, based both on their appreciation over the past four months and their prospects for the coming weeks.
DISCLAIMER: This challenge is for entertainment purposes only. There is not a prize associated with this challenge. All trademarks are the property of their owners. This challenge is not sponsored, endorsed or administered by any such trademark owner. Question can be sent to bracketchallenge@thestreet.com.