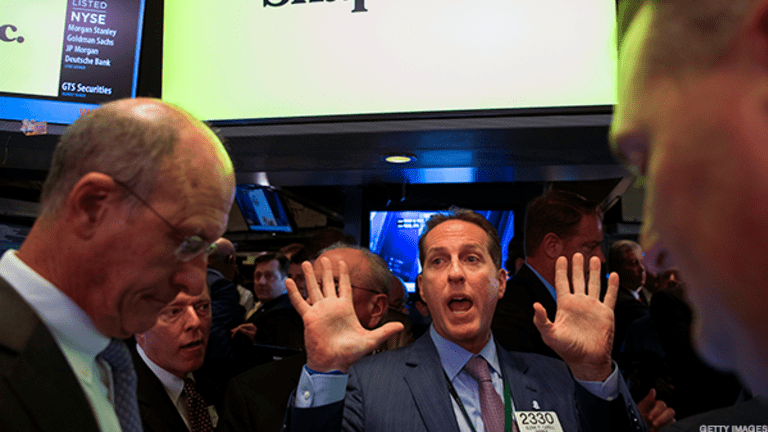 Publish date:
Snap Pulls Off Miracle, Can the Good Times Continue? An Update From the Challenge
It has been a wild ride thus far, and we've only completed one round of action.
It has been a wild ride thus far, and we've only completed one round of action.
For those of you lucky enough to enter TheStreet's Market Bracket Challenge, the results from the first round have landed, and boy, was it a doozy.
Dotted with a series of upsets and blowout defeats, not to mention an especially poor showing from one of the strongest sectors heading into the tournament, the first round featured some serious battles of heavyweights.
Sure, it might be silly. Sure, it might be petty. Sure, the name of the tournament itself isn't the greatest. But hey, it's pretty entertaining to watch the shear randomness of how a group of stocks does over a short, arbitrary period of time and see if you can guess the lone survivor.
With that said, let's take a look at the tumultuous start of the Challenge, the first round, where only a nine of the stocks posted gains:
Snap, NRG Energy Battle Tooth and Nail
It was one of the tightest battles of the first round. After a rare buy rating was initiated for Snap (SNAP) - Get Report on Monday, the self-described camera company fell back down to earth slightly early on Tuesday only to regain its lead toward the second half of the day. The lowest-ranked stock in TheStreet's bracket, Snap managed to pull off the upset against NRG Energy (NRG) - Get Report , the top ranked stock over the last four months according to TheStreet's rankings -- and the fourth-best performer of the opening round. Sometimes your opponent has the even hotter hand.
CSX title hopes derailed by Coke
Despite installing a new CEO at the behest of an activist investor railroad operator, CSX (CSX) - Get Report failed to score when it counted and fell to blue chip Coca-Cola (KO) - Get Report , one of the few consumer stocks to crack the field. Following the KO of CSX, Coke looks forward to a matchup with Deere & Co. (DE) - Get Report in the second round, after the John Deere tractor maker ran over Goldman in its first-round matchup.
Nothing RIG'd About This Routing
Not affected by the pressures of the tournament, Transocean (RIG) - Get Report managed to squeak by General Motors (GM) - Get Report , only falling about 2.1% over the first two days, compared with GM's 4.9% decline. According to TheStreet's Paul Whitfield, despite an initial selloff following the March 20 sale of its entire jack-up fleet for $1.35 billion, Transocean actually could be on the upswing again. As for GM, though the automaker has been driven from our tournament, the stock could still have catalysts that make it a decent investment. 
Financials Struggle to Sink Shots
Expected to be a stellar performer during the tournament following news of an impending rate hike, the financials (sans Berkshire (BRK.B) - Get Report , if you can call it a financial) took a walloping in the first round with Wells Fargo (WFC) - Get Report , Bank of America (BAC) - Get Report , JPMorgan (JPM) - Get Report ,  Goldman Sachs (GS) - Get Report , Citizens Financial (CFG) - Get Report and Comerica (CMA) - Get Report all being eliminated. Is it safe to call the financials the ACC of TheStreet's 2017 bracket? Maybe. BofA, the ninth-ranked stock in TheStreet's initial rankings, went up in smoke, losing about 7.4% over the past two days for the worst performance of any entrant. Meanwhile, its competition, Comcast (CMCSA) - Get Report , an Action Alerts PLUS holding, managed to stave off the financial powerhouse only ticking down 1%. 
Illumina Outshines Apple Supplier Qorvo
It wasn't much of a battle as Illumina (ILMN) - Get Report , a provider of sequencing- and array-based solutions for genetic analysis, took it to Qorvo (QRVO) - Get Report  , an Apple (AAPL) - Get Report supplier. Illumina shares gained 1.9% over the past two days, while Qorvo dipped about 2.8%. An announcement from Apple that it would release special-edition red iPhone 7s and iPads did little to move Qorvo's stock. Illumina on the other hand, may just be getting started. TheStreet noted in late February that the company has plenty of room to run.
Other news and notes (and puns) from around the Challenge:
Selection Committee Gets Heat after 13 of Top 16 Seeds Fall
Seagate Technologies (STX) - Get Report and Western Digital (WDC) - Get Report Crash out of Contention
Alphabet (GOOGL) - Get Report Can't Spell WIN Against Idexx (IDXX) - Get Report
Apple and Costco (COST) - Get Report Battle to Bitter End, Apple Falls into Second Round
CBS (CBS) - Get Report Eyes McDonald's (MCD) - Get Report After Big Mac Attack Downs Alaska Air
Micron (MU) - Get ReportPops 2% Monday After Upgrade, Hangs on Versus General Electric (GE) - Get Report
Netflix (NFLX) - Get Report Looks to Screen Sequel to First Round Win
Clorox (CLX) - Get Report Cleans Court With NetApp (NTAP) - Get Report
Click bracket to view full size
As denoted in the introduction, TheStreet has ranked some of the best-performing and most widely held stocks in the S&P 500, based both on their appreciation over the past four months and their prospects for the coming weeks.
DISCLAIMER: This challenge is for entertainment purposes only. There is not a prize associated with this challenge. All trademarks are the property of their owners. This challenge is not sponsored, endorsed or administered by any such trademark owner. Question can be sent to bracketchallenge@thestreet.com.