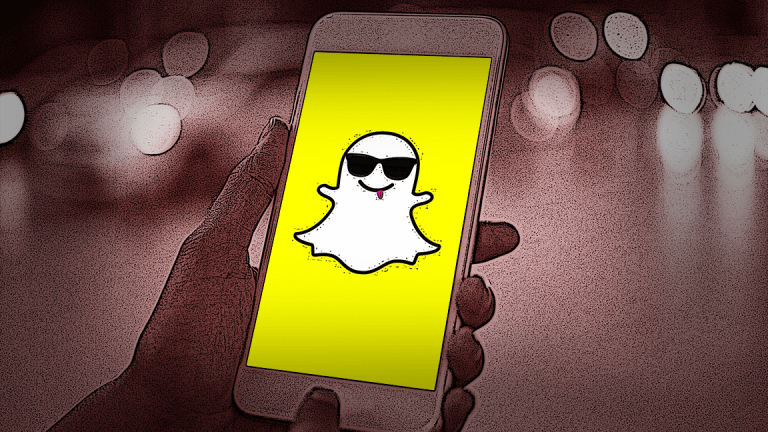 Snap, Like Twitter, Is Learning Just How Hard It Is to Compete With Facebook
Facebook's superior scale and user data are making life tough for Snap, whose ad prices are dropping sharply. It also doesn't help that Instagram Stories continues to pressure Snap's user growth.
When it comes to social media ad sales, it's Facebook Inc.'s (FB) - Get Facebook, Inc. Class A Report world; Snap Inc. (SNAP) - Get Snap, Inc. Class A Report , Twitter Inc.  (TWTR) - Get Twitter, Inc. Report and everyone else is just living in it.
Snap's disappointing third-quarter results drive this home. And along with the company's just-announced plans for a major app redesign, they show the challenges of growing the appeal of a social platform taking on Facebook's services beyond a relatively narrow niche.
Snap reported Q3 revenue of $207.9 million (up 62% annually) and GAAP EPS of negative $0.37, missing consensus analyst estimates of $236 million and negative $0.33. And the company's closely-watch daily active user (DAU) count came in at 178 million -- up 3% sequentially and 17% annually, but below a consensus of 182 million.
Shares fell 17% after-hours on Tuesday to $12.53, hitting their lowest levels since early August, when Snap tumbled thanks to a Q2 miss. On Wednesday morning, shares were trading down 12% to $13.29.
Annual revenue growth slowed sharply from Q2's 153%. In addition, Snap's Q3 sequential revenue growth (14%) was just slightly faster than Facebook's (11%) -- even though Snap's average revenue per DAU ($1.17) remains less than one-sixth that of Facebook's and -- due to a greater mix of young consumers in developed markets -- its average user more valuable to advertisers than the average Facebook user. And judging by how things are trending, Snap's Q4 sequential growth could be slower than Facebook's.
Jim Cramer and the AAP team hold a position in Facebook for their Action Alerts PLUS Charitable Trust Portfolio. Want to be alerted before Cramer buys or sells FB? Learn more now.
On the earnings call, CEO Evan Spiegel blamed the Q3 revenue shortfall on a 60%-plus drop in average ad prices (CPMs) for his firm's mainstay Snap Ads -- video ads that run against Snapchat Stories videos. The decline, which partly offset a 400%-plus increase in Snap Ad impressions, was blamed on a shift in ad purchases from deals with sales reps to programmatic (automated) buys made with self-serve tools, with inventory bid on via auctions. 80% of Q3 ad impressions were programmatic, up from 60% in Q2 and none a year ago.
Snap expects similar price and impression trends in seasonally big Q4. The company defends itself by noting the shift to self-serve ads is upping the number of advertisers on its platform -- especially small and mid-sized businesses (SMBs) and direct response advertisers looking to drive actions such as app installs or e-commerce transactions. It also points out the number of ad auctions featuring multiple bidders is growing, and that these auctions feature higher average prices than uncontested auctions.
But it's worth noting that Facebook has relied heavily on auction-based self-serve ads for a long time. And -- with the qualifier that Snap's ad business is still young, and that the arrival of more advertisers could change things some -- if an auction-based system featuring many advertisers yields low prices, it's to a large extent a reflection of what advertisers are willing to pay.
Here, the shortcomings of Snap's ad platform relative to Facebook -- particularly in terms of scale, user data and targeting/measurement tools -- loom large. As does the fact that -- as noted recently in an analysis by Seeking Alpha contributor Vimal Selvaraju -- Snap Ad CPMs for non-auction campaigns have been relatively high.
In Q3, Facebook saw its ad revenue rise 49% annually to $9.16 billion (44 times Snap's total revenue). Growth was partly driven by a 10% increase in ad impressions, but moreso by a 35% increase in price per ad, as Facebook's non-stop targeting and measurement improvements both make advertisers willing to bid more for ads and lead to greater conversion rates for direct response campaigns. And management signaled on the earnings call that it still has a lot of room to improve targeting.
Rising Facebook ad prices could in time make Snapchat -- and for that matter Twitter, whose Q3 ad sales fell 8% -- a more appealing venue for social advertisers. But this is very much a wait-and-see story, given Facebook's targeting advantages and the fact that (on the whole) its ad prices have been reasonable to date due to the huge amounts of inventory it can provide.
Facebook, of course, is also proving a major headwind to Snap's DAU growth, as two of its Snapchat Stories clones -- Instagram Stories and WhatsApp Status -- surge past 300 million DAUs. Instagram Stories is easily the larger concern: It has a ton of user overlap with Snapchat, has become popular with the types of brands and "influencers" that have embraced Snapchat Stories and is being monetized via video ads similar to Snap Ads.
On the call, Spiegel indicated Snap will create "more distribution and monetization opportunities" for top Snapchat Stories creators next year, and will use machine learning to show recommended Stories. Notably, he added a major redesign of the Snapchat app is underway, one that carries the risk of being "disruptive to our business" in the short-term but is promised to make Snapchat (sometimes criticized for having a confusing interface) easier to use, as well as open up new revenue options.
Intriguingly, Spiegel later suggested the app revamp would feature a feed that would be personalized based on what users are watching and would sidestep what he considers a main weakness of Facebook's news feed: The fact that users increasingly censor themselves as they add more "friends." However, he was unwilling to call what Snapchat has planned a news feed.
On the product side, Snap's execution has mostly been solid, and thus Spiegel & Co. arguably deserve a measure of trust that they can make the app overhaul pay off. And without too badly disrupting Snapchat's core ephemeral messaging services, which (unlike Snapchat Stories) Facebook hasn't created a successful clone of. But the fact that Snapchat is looking to make such changes speaks volumes about how challenging it has been for it to expand beyond its core based of younger U.S. and European consumers. Particularly with Instagram breathing down its neck.
And by keeping DAUs from rising to, say, 250 million or 300 million, these growth challenges also prevent Snapchat from obtaining a degree of scale that could turn into a larger social advertising priority for big-name marketers. Together with all of the advantages Facebook's ad business has in other respects, this leaves Snap facing an uphill battle for now as it tries to convince major advertisers to spend significantly more on its platform in 2018.
More of What's Trending on TheStreet: