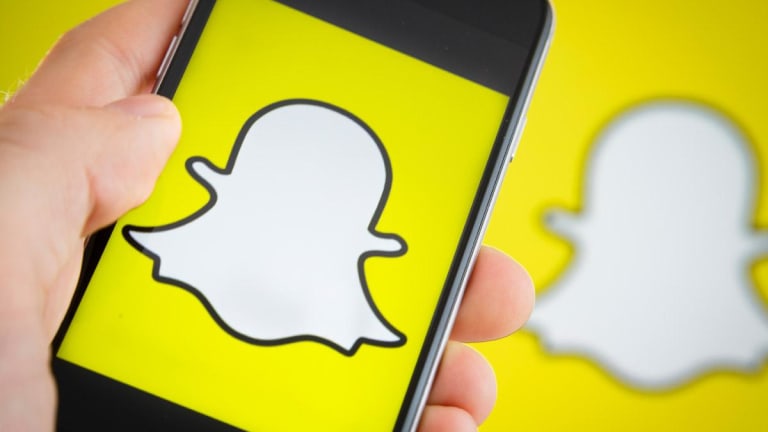 Snap Execs Attribute User Growth to 'Gender Swap' And Other Viral Filters
Snap's blowout quarter included an addition of 13 million new users, and a beat on both the top and bottom lines.
Everything's coming up Snap (SNAP) . 
Shares of Snap surged 9% after hours on Tuesday after it topped expectations on the top and bottom lines. For the quarter, Snap posted revenue of $388 million with a net loss of 6 cents per share, beating analyst expectations of $360 million on a net loss of 10 cents per share.
Snap's user base is also expanding again, after showing signs of plateauing earlier this year. It added 13 million daily active users last quarter, bringing its total DAU count to 203 million -- ahead of the 192 million expected by Wall Street. That positive news was bolstered by signs of increasing success with advertisers, both on the average spend per advertiser and the total number of advertisers using the platform. 
Some of Snap's user growth was likely driven by a re-released Android app in late April. While Snap executives didn't quantify how much of the new user count was from Android app installs, CEO Evan Spiegel told investors that since the rollout of the new app, Snap has seen 10% greater retention among people who open the app for the first time and 7% more Snaps sent by Android users, compared to the prior Android app. 
On a call with investors, Snap executives described its user growth -- an important focal point for investors since it saw a decline in users last year -- as broad-based across regions and platforms. But they also attributed between 7 million to 9 million of the new users to a spike in engagement from new augmented reality lenses. Two of those lenses, Snap's baby face and gender swap filters, went viral in recent months.
Spiegel added that it's aiming to build up an "ecosystem" around AR content through its lens studio feature, among other investments. 
"We really believe we're barely scratching the surface...this is a 3, 5, 10-year journey for us," he said. 
On the call, one analyst inquired whether the viral nature of the baby and gender filters suggest that the growth is not sustainable. Executives responded by noting that the AR tools had led to an increase in engagement as well as new users, and that investments in technology had enhanced the benefits of the AR tools to its overall business. 
Industry observers confirmed that they've seen improving advertiser interest in buying ads on Snap. 
"Snap's strong Q2 performance is evidence of continued advertiser confidence in the platform. At 4C, we've seen a steady acceleration in advertising budgets allocated to Snap from a wide range of brands," said Aaron Goldman of 4C Insights, a marketing technology firm. "The platform continues to drive engagement with an elusive demographic and, as that base grows older, Snap will only increase in value to brands."
One area that Snap executives were mum about, however: a timeline for free cash flow generation, or a profit. 
"You've seen pretty consistently progress quarter to quarter," said Snap CFO Derek Andersen. "We're just trying to be super disciplined in the improvements we've made. Not going to give you a timeline; looking forward to getting to that specific milestone."