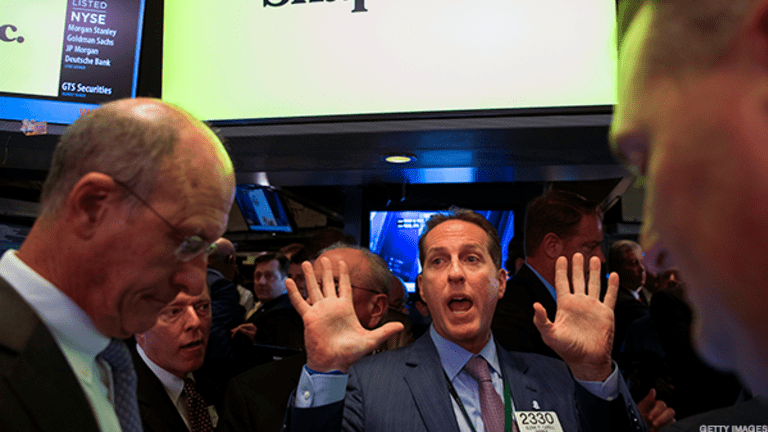 Snap Continues to Prove Committee Wrong; Apple Hangs on in Duel With Micron -- Bracket Update
Here's your update through three rounds of action in TheStreet's Market Bracket Challenge.
The field is narrowing in TheStreet's Market Bracket Challenge as the Round of 16 now turns to the Round of 8. 
It wasn't all gloom and doom for our 16 stocks that made it thus far, though only six of the 16 companies finished the two-day round with positive gains. Apple (AAPL) - Get Report , Skyworks (SWKS) - Get Report and Home Depot (HD) - Get Report all managed to win their respective matchups by losing less than their competition.
Let's take a look at the big story lines from the Round of 16:
Snap's Full-Court Coverage Key to Victory
The Cinderella story continues. A stampede of Wall Street bulls came out in defense of Snap (SNAP) - Get Report  on Monday, as close to a dozen firms initiated coverage of the stock with a buy rating. Until Monday, Snap and the 26 banks that were underwriters of its initial public offering were in a 25-day quiet period enforced by the Securities and Exchange Commission, preventing them from publishing research, as well as company employees from talking about the stock.  Morgan Stanley and Goldman Sachs both gave the stock an overweight rating Monday morning, while underwriting firms Credit Suisse, Jefferies and six other banks also handed Snap the equivalent of a buy rating. That means Snap now has 12 buy ratings, nine neutral ratings and six sell ratings from Wall Street. Snap's stock got off to a rocky start following its highly anticipated public debut earlier this month, with shares plunging from a high of $29.44 to $18.90. Snap has gotten hot at the right time, however, with the stock soaring nearly 22% during tournament play. Bullish and bearish analysts have disagreed on whether Snap will be able to fend off competition from Facebook (FB) - Get Report , which also remains in our bracket, and achieve profitability.
Home Depot Runs Over John Deere
After trouncing retail giant Amazon (AMZN) - Get Report in the Round of 32, Home Depot managed to run over John Deere tractor maker Deere & Co. (DE) - Get Report after posting a slight loss during the Round of 16. There just weren't many catalysts behind Deere or Home Depot, but the Atlanta home improvement retailer managed to stave off defeat. Readers of TheStreet, however, should have been aware of Home Depot's prowess in the home improvement segment. This year "is panning out to be a strong year for shares of [the] home improvement retailer," chartist Jonas Elmerraji wrote in a March 20 post. "The good news for investors is that Home Depot's price momentum isn't showing any signs of slowing here." Arthur Blank's company now can look ahead to a battle with the mighty social media powerhouse run by Mark Zuckerberg, Facebook, in the quarterfinals.
Micron Can't Fabricate a W
Micron (MU) - Get Report fought tooth and nail, but it couldn't score a win over the world's largest company by market cap. Apple moves on to take on CBS (CBS) - Get Report in the regional finals. Micron, the last remaining No. 1 seed in TheStreet's Market Bracket Challenge, had been on an epic run-up until the seeding of the tournament. The run, which helped it secure the third overall seed in TheStreet's bracket, proved unsustainable. "After Micron's previous earnings report, back on Dec. 22, the stock consolidated after the 12.65% gain for three weeks," TheStreet's Gary Morrow said in a March 27 post. "At Friday's peak Micron had stretched its gain since the December 22 report to 40%. Another post-earnings pullback similar the last one now looks very likely."
Other News and Notes (and Puns) From Around the Challenge:
Skyworks Proves to Be Major Pain, Knocks off Chevron (CVX) - Get Report
Illumina (ILMN) - Get Report Crashes House of Mouse (DIS) - Get Report
Can Home Depot Stay on the Sunny Side of the Court?
Nike (NKE) - Get Report Sidesteps Exelon (EXC) - Get Report
Facebook Proves It's No Harvard; Advances to Round of 8
Click bracket to view full size
As denoted in the introduction, TheStreet has ranked some of the best-performing and most widely held stocks in the S&P 500, based both on their appreciation over the past four months and their prospects for the coming weeks. 
DISCLAIMER: This challenge is for entertainment purposes only. There is not a prize associated with this challenge. All trademarks are the property of their owners. This challenge is not sponsored, endorsed or administered by any such trademark owner. Questions can be sent to bracketchallenge@thestreet.com.
Related Content:
Snap's Cinderella Story Continues to Unfold as Nike Squeaks By AT&T
Snap Pulls Off Miracle, Can the Good Times Continue? An Update From the Challenge
The Inside Scoop on TheStreet's Market Bracket Challenge
Editor's note: This story was originally published at 5:30 pm ET on March 27