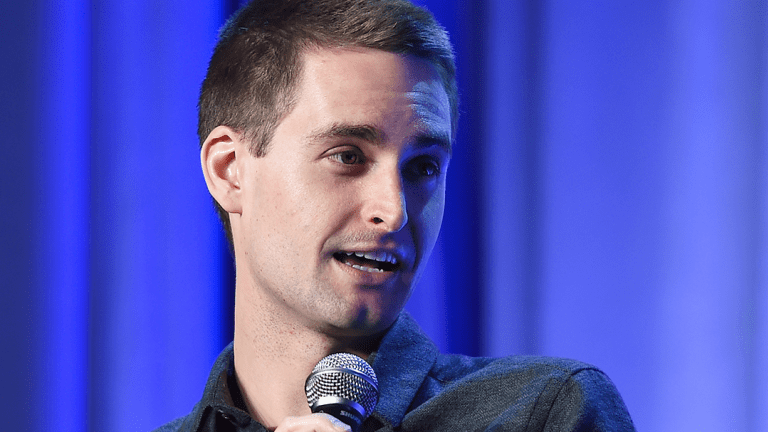 Snap CEO Evan Spiegel: My One Big Regret About Our IPO
The beleaguered CEO explained what he thinks Wall Street doesn't get about his company, and what he wishes he'd done differently.
Wall Street has been a tough critic of Snap Inc. (SNAP) - Get Snap, Inc. Class A Report ever since it went public in March, but CEO Evan Spiegel believes some of it may have been unwarranted. 
Snap's stock has lost almost half of its value since the IPO and has been trading below its $17 IPO price for months, as investors' concerns continued to snowball over the company's ability to effectively monetize the Snapchat app and fight off competition from rival Facebook Inc. (FB) - Get Meta Platforms Inc. Class A Report , while growing its user base and revenue at pre-IPO levels. 
Spiegel said Snap's stock performance is a symptom of young tech companies and is part of the "natural transition process." 
"If you look at the data for venture capital-backed tech IPOs, on average, they're down 30% into the lockup period," Spiegel said on Tuesday as part of an interview with former CNN CEO Walter Isaacson at Vanity Fair's New Establishment Summit in Los Angeles. "We were down 25%, so we felt that what we were experiencing is normal. It's part of the getting-to-know-you process with Wall Street." 
Shares of Snap slid 1.6% to $14.64 on Tuesday and are down more than 40% so far this year. 
When asked what Wall Street got wrong about Snap's IPO, Spiegel said investors may have reacted out of fear. Snap attracted a $20 billion valuation at the time of its IPO largely because it had been demonstrating triple-digit growth;  Snapchat was being billed as a social media network unlike any other. That was the story that excited Wall Street investors -- at least, until Snap went public and proceeded to miss expectations in both of its quarterly earnings reports, and Facebook copied nearly all of Snap's most successful products. Since then, more and more investors have grown tired of waiting for Snap to turn things around, despite it only having gone public eight months ago. 
"I think investors are fearful and fear is a powerful motivator," Spiegel explained. "They're fearful we'll never be profitable or that competition will kill us. Those are normal fears for any company and successful companies grow through that. We just try to stay focused and execute and deliver our results." 
Facebook is a holding in Jim Cramer'sAction Alerts PLUS Charitable Trust Portfolio. Want to be alerted before Cramer buys or sells FB? Learn more now.
More of What's Trending on TheStreet:
Blankfein on Bitcoin: 'Folks Were Skeptical When Paper Money Displaced Gold'
Snap critics have also argued that perhaps the company, founded in 2010, went public too soon. Again, Spiegel said those people had gotten it wrong. Going public this year was the right thing to do, Spiegel said, because it provided the liquidity necessary to keep the company growing quickly. 
Snap went public as a seven-year-old company, which is in line with the IPO timeline of its peers. Facebook IPO'ed eight years after it was founded in 2004, while Twitter Inc. (TWTR) - Get Twitter, Inc. Report went public at seven years old. 
"Going public was really the right thing to do for the company and certainly the right thing at the time," Spiegel said. "We saw a tremendous benefit from transitioning to long term investors from short term [venture capital] investors." 
There is one thing Spiegel wishes he could've done differently, however. He said he underestimated how important communication becomes during the IPO process and, subsequently, when a company goes public.
All of a sudden, Spiegel explained, Snap had a "huge new investor base" that grew from just 10 investors to 10,000 or so. That comes with a new set of challenges, including understanding "what you can and can't say" and, at times, figuring out the best way to sell your company to investors. 
Some analysts who have defended Snap contend that many investors just misunderstand Spiegel's vision for Snap. Indeed, when Snap started calling itself a camera company, it became even more unclear what its future would look like and how people would use the app. 
Spiegel said if he had communicated better, investors might have a better idea of what Snap is trying to do. Spiegel said he believes social media will eventually transition away from text-based communication to visual communication via images and video. Snap is meant to be the vehicle for that, he said.
"You have to build a new system that empowers people to create for themselves, free of judgment," Spiegel said. "And I think for us, we need to do a better job explaining what happens when people start creating and how that can impact and grow our business."