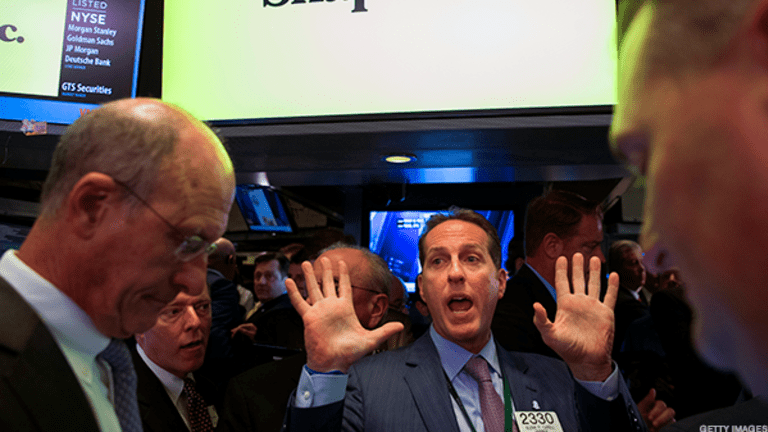 A stampede of Wall Street bulls came out in defense of Snap (SNAP) - Get Snap, Inc. Class A Report on Monday, as close to a dozen firms initiated coverage of the stock with a Buy rating. 
The moves sent Snap shares up 4.6% to $23.78 on Monday early afternoon.
Until today, Snap and the 26 banks who were underwriters of its initial public offering were in a 25-day quiet period enforced by the Securities and Exchange Commission, preventing them from publishing research, as well as company employees from talking about the stock. Underwriting banks typically take a neutral or bullish stance in their analysts reports, partly because they've usually had more face time with the company's management team than the banks and investment firms that weren't underwriters.  
So far, more than half of the 26 underwriting banks have made public research on Snap.
Morgan Stanley (MS) - Get Morgan Stanley (MS) Report and Goldman Sachs (GS) - Get Goldman Sachs Group, Inc. (GS) Report were the lead underwriters and both gave the stock an Overweight rating this morning, while underwriting firms Credit Suisse, Jefferies and six other banks also handed Snap the equivalent of a Buy rating. That means Snap currently has 12 Buy ratings, nine Neutral ratings and six Sell ratings from Wall Street. 
JPMorgan initiated coverage of the stock with a Neutral rating, saying that it will "take more time" for Snap to prove that it has "real staying power," as well as to justify its hefty $20 billion-plus valuation.
Snap's stock has been off to a rocky start since its highly-anticipated public debut earlier this month, with shares falling more than 7% since its first day of trading on March 3. Bullish and bearish analysts have disagreed on whether or not Snap will be able to fend off competition from Facebook (FB) - Get Facebook, Inc. Class A Report , achieve profitability and continue to attract advertisers. 
That still seemed to be the case on Monday, as analysts weighed whether Snap's camera company mentality positions it to "crackle up," or perhaps fizzle out instead. 
Heath Terry, Goldman Sachs (Initiated with a Buy rating, $27 Price Target) 
"Snap is a venture stage investment in the public markets, something unseen in recent years where nearly all internet companies waited until later stages of growth and profitability to go public. While this clearly carries a higher risk profile, we believe it also comes with higher reward potential."
Brian Nowak, Morgan Stanley (Initiated with an Overweight rating, $28 PT)
"We are bullish on Snap's ability to monetize its highly engaged daily active user (DAU) base (~160mn DAUs spending an average of 25-30 mins/day). First, we believe Snap's engaged and millennial audience (86% of N. American DAUs aged 13-34) and unique online video ad inventory are in-demand by advertisers, and that Snap's growing direct ad sales efforts, recently-opened advertising API (with 15 ad selling partners), and continued ad unit innovation will lead to ad budget gains."
Doug Anmuth, JPMorgan (Initiated with a Neutral rating, $24 PT) 
"While we are more confident in Snap's revenue growth potential, our Neutral rating is driven by: 1) An increasingly competitive social media landscape which includes Facebook and others implementing successful Snap features across a broader user base, potentially weighing on user growth; 2) Lack of profit until early 2019 as costs are tied more to engagement than revenue and it will take time for Snap to scale; and 3)Our view that...valuation is already at a healthy premium-12x 2018E revenue of $2.6B."
Mark Mahaney, RBC Capital Markets (Initiated with an Outperform rating, $31 PT) 
"Snap Crackle Up: Snap has become an innovation leader -- for both consumers and advertisers -- in arguably the single fastest advertising medium today -- Mobile. It has also emerged as one of the leading Media Platforms for Millenials. We believe that if it sustains its current level of innovation, it can sustain premium growth for a long time and scale to profitability."
Jason Helfstein, Oppenheimer (Initiated with a Perform rating)
"We are initiating coverage of Snap Inc. with a Perform rating, based on valuation...We believe Snapchat has a unique position within the social media industry; the platform's focus is on few-to-few communication, unlike rivals Facebook, Twitter (TWTR) - Get Twitter, Inc. Report , which focus on network memories and real-time follow, respectively."
Stephen Ju, Credit Suisse (Initiated with an Outperform rating, $30 PT)
"With this in mind, it is an investment we enthusiastically underwrite given the following key points: (1) we believe SNAP shares at current levels are exhibiting attractive risk/reward to the upside, with downside risk of ~21% in our Grey Sky scenario and upside potential of ~32% to our target, (2) it is a scarce asset that offers advertisers access to a coveted younger demographic; and (3) Snap is a margin expansion story with revenue compound annual growth rate exceeding cost of sales CAGR."
Brian Fitzgerald, Jefferies (Initiated with a Buy rating, $30 PT) 
"Snap looks well positioned for growth as advertisers clamor to serve ads to its large audience of deeplyengaged users, many of whom are in the attractive millennial demographic and are located in high-value ad markets."
Ronald Josey, JMP Securities (Initiated with a Market Outperform rating, $28 PT) 
"With an at scale, highly engaged, and growing audience, we believe Snap's product is differentiated and its Delete by Default approach is increasingly attracting a wider audience. This as monetization ramps and despite being just six quarters in from beginning to sell ads, 60% of the Kantar top 200 brands are advertising on its platform."
John Blackledge, Cowen (Initiated with an Outperform rating, $26 PT)
"We expect Daily Active Users to grow 14% annually '17-'22 coupled with rising advertising monetization of the platform to drive revenue growth and higher incremental margins over time. We estimate SNAP's share of global Mobile advertising (x-China) rises from 1% in '17 to ~5% by '22."
Eric Sheridan, UBS (Initiated with a Neutral rating, $24 PT)
"We believe Snap's stock reflects a roughly equal risk/reward from current levels as investors try to balance the open questions on multi-year performance: extension of Snap beyond its core demos, the monetization ramp and how the P&L scales to profitability."
Scott Devitt, Stifel (Initiated with a Hold rating, $24 PT)
"Our long-term forecasts project Snap to grow revenue at +99% over the next three years to reach over $3 billion in revenue in 2019, driven by increased monetization through Snap ad products, high user engagement, and a broadening user base."
Brian White, Drexel Hamilton (Initiated with a Buy rating, $30 PT)
"Snap is a very unique tech company that should not be pigeonholed in a particular industry, or investors risk missing the forest for the trees. Snap views itself as "a camera company" and we believe this fosters a mindset for innovation to transcend the boundaries of its competitors."