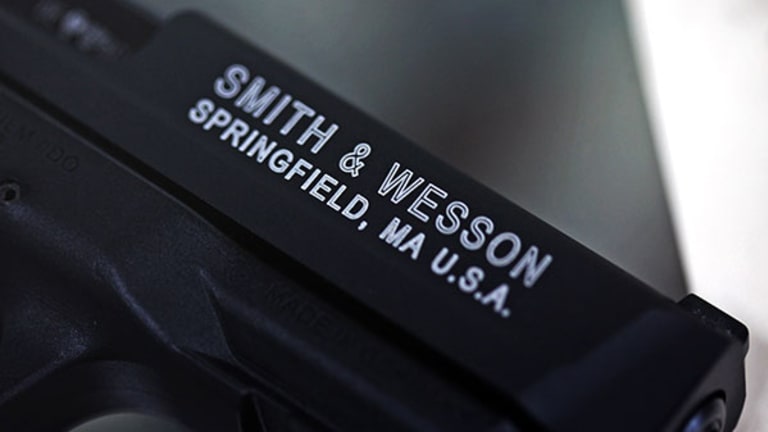 Smith & Wesson 2Q EPS, Sales Exceed Forecasts
Handgun maker's results don't give insight into the impact a Trump presidency has on appetite for gun purchases.
Smith & Wesson Holding (SWHC) recorded fiscal second quarter results that handily beat Wall Street's forecasts, as weapons sales showed big gains over a year ago, and topped forecasts.
However, the earnings report won't do much to inform investors of the biggest overhang the company and its stock faces: whether the successful presidential campaign of Donald Trump will affect weapons sales.
The stock fell 7% in after hours trading Thursday following the release of the quarterly results, slipping to $22.31. 
Gun sales have risen sharply over the last several years, as purchasers worried that the Obama Administration would pursue some initiatives to curb product purchases. That fear proved manifest in the lead up to the election, as the candidacy of Hillary Clinton worked to exacerbate those concerns, despite the candidate's own insistence that she had no intention of weakening the Second Amendment.
Some forecasters had predicted that September's sales figures represented a peak in sales, an argument that suggested that everybody concerned about limits on guns had acted on their impulse. Instead, measures of gun sales, especially FBI background check data, showed that applications for gun permits spiked again in October.
However, there isn't any industry certainty about what a Trump presidency would do to consumer demand for new guns. Trump would presumably be less interested in pursuing limits on gun ownership, suggesting that the urgency to buy new weapons would moderate.
Smith & Wesson's second quarter results may augur well for gun sales. The gun maker posted adjusted earnings per share of 68 cents, well ahead of Wall Street's estimates of 57 cents. The company recorded sales of $233 million, a 63% bulge over last year's comparable period, and ahead of the $227 million that analysts had projected.
But the results measure a period that ended Oct. 31, meaning it doesn't capture any of the sales trends that would have accompanied the post-election period. For that data, at least from the perspective of Smith & Wesson, investors will have to wait until they see the totals for February ending quarter, when the company said it expected to record 52 to 57 cents a share in earnings, and revenue of $230 million to $240 million.