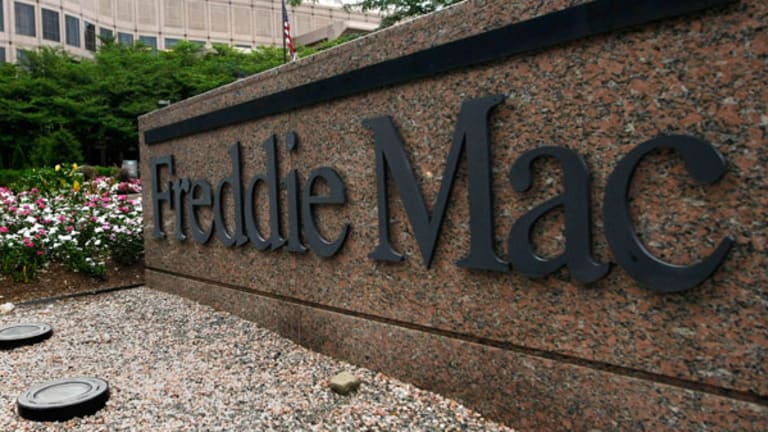 Fannie and Freddie: Smart Money Sticks to GSE Preferred Shares
Politics, not profitability, will determine the outcome for investors in Fannie Mae and Freddie Mac.
NEW YORK (
) -- The more than 200% rise in common shares of
Fannie Mae
(FNMA)
and
Freddie Mac
(FMCC)
in the past four trading days is "just insane," according to a hedge fund investor who bought the preferred shares of both companies just a few months after they were taken over by the government, and has hung on ever since.
That investor would be John Hempton, an Australian hedge fund manager and blogger, and one of a small number of savvy investors who have gone public in discussing their investments in preferred shares of the government-sponsored enterprises (GSEs).
If you don't know what preferred stock is, and you have either been buying or considering buying common stock of Fannie and Freddie, you really need to keep reading.
In my
on the preferred shares of Fannie and Freddie over the past two-plus years, I have interviewed
four different hedge fund investors
and one analyst, as far as I can recall. None of them appeared to have any interest in the common shares, though I'm not sure I asked all of them.
I didn't ask them in part because the preferred shares are already a long shot offering a huge potential reward if they pay off. Talking about an even longer shot, then, seems silly, especially when the reward is about the same.
Bear with me while I explain the difference between common and preferred stock. Common stock is what most people think of when they think of stock. It is a stake in a company. Preferred stock, on the other hand, is a misnomer, since it actually has much more in common with debt.
Common stockholders of Fannie and Freddie aren't entitled to a penny of the companies' profits until the preferred shareholders (i.e., the lenders) are paid in full, and that looks to be a long way from happening.
While it is true that you can double your money if you buy Fannie Mae common shares at $1 today and sell them at $2 tomorrow, it is also true that that rally would be based on pure speculation: the idea that one day the preferred shareholders will be paid in full and there will be profits left over for common shareholders. The foundation on which that idea is based could crumble very quickly, and you're back at 30 cents a share.
Even if the common shares return to their pre-crisis levels of roughly $50 (or $10 in today's terms, since Treasury now owns 80% of the common shares) that would be a roughly nine-fold gain based on Wednesday's closing price of $1.08 for both Fannie and Freddie common shares. The preferred, meanwhile, would offer roughly the same return if it recaptured its original valuation of roughly $37 billion.
What's more, the main event that has investors piling into the common shares is the increasing profitability of Fannie and Freddie, which to Hempton and the other hedge fund managers isn't especially surprising.
The bigger wager they are making is a political one: that the government will stop seizing all the profits of Fannie and Freddie and show some willingness to make payments to preferred shareholders.
"There is absolute political consensus that these things are dead and that they should be buried and that the equity and preferred holders should be wiped out," Hempton said of the GSEs.
Indeed, Hayman Advisors' Kyle Bass told
TheStreet
via email Aug. 17 that he sold his GSE preferred shares early in 2012
"when we determined that both sides of the aisle wanted them dead."
In a follow-up email exchange on Tuesday, Bass wrote, "We have no position. Period. I won't comment on anything else."
It was on Aug. 17 that the Treasury announced
it would claim all the profits of Fannie and Freddie
instead of the 10% annual dividend it had been receiving as compensation for backstopping the housing lenders. Freddie Mac "Z" preferred shares (FMCKJ) lost more than 60% of their value following the Treasury's announcement.
The result of that Aug. 17 Treasury decision, Hempton pointed out, is that "Fannie and Freddie could make $500 billion tomorrow and my preferreds would still be worthless."
Except that such a windfall, he believes, would attract an "enterprising lawyer who would take the case all the way to the Supreme Court and win."
On the other hand, "as long as they're only making $5 or $10 or $15 billion the Treasury's going to steal it all," Hempton argued.
Hempton believes the Aug. 17 move violated the Fifth Amendment, which requires that "just compensation" be given if the government seizes private property for public use.
Hempton said he would sell his entire investment in GSE preferred shares if he didn't believe there was "a fifth amendment problem."
Another hedge fund manager, Michael Kao of Akanthos Capital Management, has a different reason for hanging on to his investment in the preferred shares, however.
Kao argued the government needs Fannie and Freddie to sustain the housing market and the economy, and won't want to take the lenders onto its balance sheet, as it would increase the deficit by some $5 trillion. The least objectionable of several bad options, he argued, would be for the government to sell its stake back to the public markets. In such an event, the preferred shares would recover all of their original value, he reckoned.
Kao is also encouraged by proposed bipartisan legislation offered by Senators Mark Warner, (D-Va.,) David Vitter, (R-La.), Elizabeth Warren (D., Mass.) and Bob Corker (R., Tenn.) that would prevent Fannie and Freddie from raising the fees they change for backstopping mortgages.
While the proposed bill "may not necessarily be in support of value restoration to the old preferred it is a recognition that the funds ought to stay within the family, if you will, and not just go to anybody's pet pork project," Kao said.
On the other hand, the legislation would prevent the Treasury from selling its own stake in the GSEs, which is also in the form of preferred shares.
"If Treasury were to decide to sell its preferred share investment without Congress having first reformed our housing sector, we would just be returning to a time where gains are for private shareholders and losses are for taxpayers," reads a statement from Corker, which would seem to run contrary to Kao's thesis.
But for those investors who can understand the motivations of these elected officials and their likelihood of success in getting whatever it is they want out of the GSEs, the payoff could be huge.
--
Written by Dan Freed in New York
.
Disclosure: TheStreet's editorial policy prohibits staff editors, reporters and analysts from holding positions in any individual stocks.