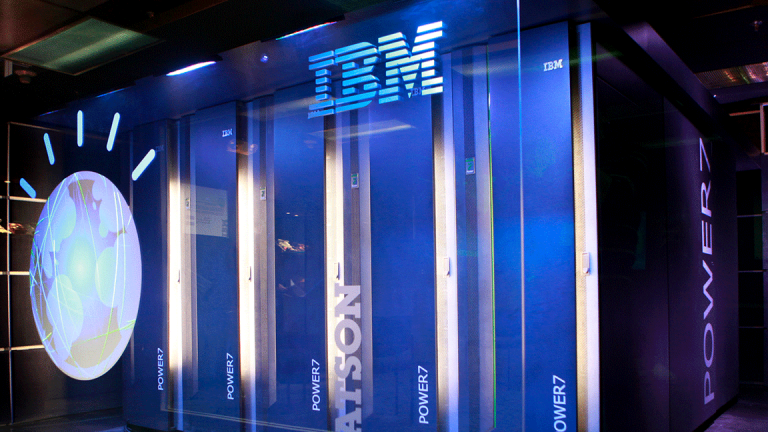 A Small Move at IBM Has Big Implications
Martin Schroeter will step down as CFO and begin serving as senior vice president of global markets. However, that could lead to an eventual CEO gig.
One might not be able to tell by the stock's price action Friday, but there was a notable shakeup at International Business Machines Corp.  (IBM) - Get Report on Thursday after the close of trading.
Shares are down about 0.25% Friday following the announcement that CFO Martin Schroeter will step down from his position and begin serving as senior vice president of global markets. James Kavanaugh, the company's vice president of finance and operations, will take over as CFO.
Despite IBM's best efforts, many are looking at the move as a demotion for Schroeter. That is absolutely not the case, according to TheStreet's Jim Cramer.
On CNBC's "Mad Dash" segment, he pointed out that CEO Ginni Rometty used a similar job to what Schroeter just accepted to propel herself to the CEO role. If that's the case for Schroeter -- which isn't a guarantee by any means -- it could eventually set up for a very smooth CEO transition down the road.
In other words, this should be thought of as a promotion, not a demotion, he argued.
This way Schroeter will have a very strong grasp on the company's financial situation as well as experience in global operations and sales. All of that will be key for a potential CEO candidate, reasoned Cramer, who also manages the Action Alerts PLUS charitable trust portfolio.
Looking beyond Schroeter, Cramer said he expects IBM to have a good quarter. The stock has been hot in 2018, already up about 7% so far this year. Cramer said he feels good about the management shuffle and believes the mainframe cycle is kicking in, which should be good for IBM's business.
IBM stock closed at $163.14 Friday, down 0.66%. 
Watch all of Jim Cramer's full NYSE live shows right here:
More of What's Trending on TheStreet:
At the time of publication, Cramer's Action Alerts PLUS had no position in any security mentioned.