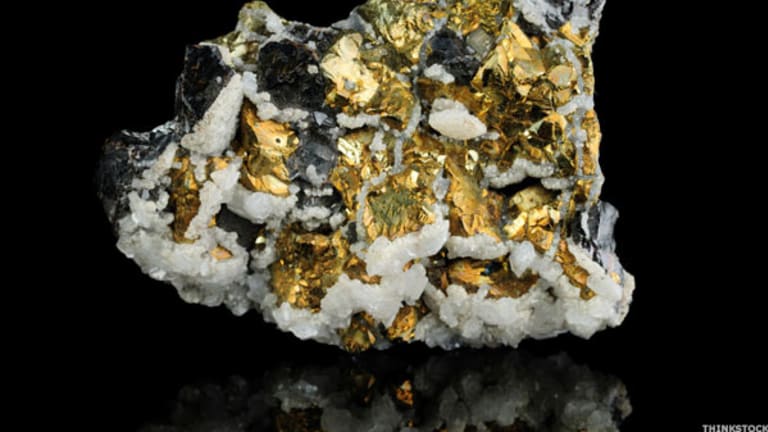 Small Gold Explorer Has Big Dreams
Rob McEwen, CEO of U.S. Gold, reveals why he won't sell his company despite record high gold prices and a rising stock price.
NEW YORK (
) --
U.S. Gold
(UXG)
is growing at breakneck speed along with
and CEO Rob McEwen has no plans to jam on the brakes anytime soon.
The gold explorer, with properties in Mexico and Nevada, year to date has grown its market cap from $300 million to over $629 million. The stock has risen 117% to $5.27.
When I last spoke to McEwen, who owns 21% of the company, in February
, he told me his primary goal was creating value for shareholders and that the stock price would have to rise substantially for him to consider a buyout.
In contrast, other companies have been taking advantage of record high gold prices to sell themselves at a premium.
Andean Resources
and
Red Back
were both recently bought by
Goldcorp
(GG)
and
Kinross Gold
(KGC) - Get Kinross Gold Corporation Report
, respectively. The larger companies were so desperate for properties that they paid 35% and 21% premiums for them.
With gold prices hitting new records almost daily and McEwen's stock doubling in value, I wanted to find out if he would capitalize on this trend or continue his go-it-alone-strategy.
You told me last time we spoke that you were looking for rapid share price appreciation in order for you to sell your company. Are are you looking to do that right now
?
McEwen
: We'll sell it to investors ...
but no we're not in a rush. We've got a really good discovery in Mexico, a silver discovery with multiple other targets that look promising. Nevada is coming along. We're in the early stages of a gold market.
So what is your exit strategy then? Is it going to be partnering with other larger companies, is it going to be about being bought out
?
Our goal today is to qualify for the
S&P 500
in 2015. In order to do that we need a substantially higher market cap, $3.5 billion, and we need four consecutive quarters of earnings. We have two projects that we think we'll bring into production by late 2013 and then we have to go beyond that and probably look for some M&A.
So when do you think that U.S. Gold will become profitable
?
It won't be before we go into production ... 2013, 2014 ... I think that's a good estimate.
Now how are you planning to grow? Is it going to be just organically or are there any partnerships on the horizon that you're going to be taking a look at
?
There could be partnerships, but they have to be opportunities. You have to buy something that's valued at 10 cents but you think you can take it to $1. You don't want to pay $1 for an asset or $1.10 for an asset that's only worth $1. It's all about recognizing value before other people see it, building the value and then taking it beyond that.
Are you seeing any value in the market right now
?
Yes. As metal prices have gone up, there have been a flood of new entries and it's creating confusion in the marketplace because investors are going 'what do I buy? There are just too many names I don't understand.' And that in of itself creates an opportunity because you can see people who are doing good work, but they're not getting the following. And those are the types of companies we'd like to talk to and embrace.
Any names
?
Not right now.
Now why do you think your share price doubled in less than a year? What do you think investors noticed about your company that they didn't know before
?
They saw what we were doing in Mexico. We're very aggressively exploring and they're seeing that there's a regular flow of news probably every two weeks. Every three weeks there's a press release on exploration drilling; we came out with a resource estimate, the initial one for Mexico, in July. We will have another one out in October. We'll have a prefeasibility study in December
and we'll have a prefeasibility study in Q3 of next year for Mexico and then we'll start building.
In Nevada, which has been a little disappointing for me, we've added ounces. It's grown, but we're starting to see some extensions. We did a ... prefeasibility study or a preliminary economic assessment ... in Nevada and there's some production coming there as well. People are looking at it and saying they're doing something, they're spending money the way we hoped they would and that's on exploration and they're getting results.
How are your exploration costs? Are they rising
?
The amount that we're spending on exploration has increased. In terms of exploration costs, we've done a pretty good job. I think for the industry the costs are probably coming down a bit right now. In '08, everything stopped. The drilling companies, the assay labs, the people who provided capital equipment and consumables
just stopped and now it's starting again.
But in Mexico
to save money we were using drills that had been used for mining to do our initial prospecting, we developed an assay lab there that allows us to give 24-hour turnaround for internal purposes and allows us to go drilling to see if we're in the money or out of the money and then we negotiate subcontracts for core drilling.
It's interesting you reference 2008, because in a lot of the quarters in the companies I have been looking at, in general they said that exploration costs were so high that they couldn't make money. They sold a lot but they still couldn't report a gain. As a trend in the industry are you noticing a big turnaround there
?
I'd say '06-'07, the metal markets started moving. The investment community and investors said we want exposure to the sector and there was an abundance of money going into the mining sector. That was countered by ... a shortage of qualified geologists, mining engineers, capital equipment, consumables and drilling equipment and that caused the cost to go way off the map and now its slowed down and we think we've contained it. We have a whole bunch of prospectors out in the field and they're identifying targets. We've incentivized them but it hasn't been that expensive. So we've been able to contain our costs.
As the metal prices keep moving up they'll be more entrance in there. There'll be more demand on all the services of the industry and a scarcity until the suppliers can reach an equilibrium costs will go up again.
Now you'll be producing in three or four years, so what happens if the gold price falls $200, $300? Would that hurt your profitability? What would that do to your company
?
Well, it won't hurt our profitability because we're not selling any gold. But in our treasury right now we have about $29 million and a fifth of it is in gold bullion and the balance is split between Canadian and American dollars.
How long will that cash last you with your two big operations
?
We're spending about $25 million and it will take us to the end of the second quarter of next year.
Then what
?
Then we go back to the market ... I participated in the last two share offerings and have been the largest buyers of that and I'd be doing the same in the next one.
Where do you think silver is going to go
?
Silver is interesting. It'll follow gold ... but currently there's about 60 ounces of silver for every ounce of gold. When gold and silver were at their highs back in 1980
the ratio was about 17:1. So on that basis if it went back to that
using my $5,000 gold price target... that would put
silver at $320.
If you look at the past gold cycle from 1970-1980, gold went from $40 to a little over $800, half of that move occurred in the last four months in 1979 when it went from $400 to $800 ... so your curve is like any other area of the market that suddenly people wake up to and say I have to have it and it goes parabolic ... at some point up there gold is going to achieve a point where its relative purchasing power relative to other assets is going to be at its zenith and that's when you want to start thinking about trading out and going in to probably the debt market or the equity market and diversifying some of your investments.
--
Written by Alix Steel in New York.
Disclosure: TheStreet's editorial policy prohibits staff editors and reporters from holding positions in any individual stocks.