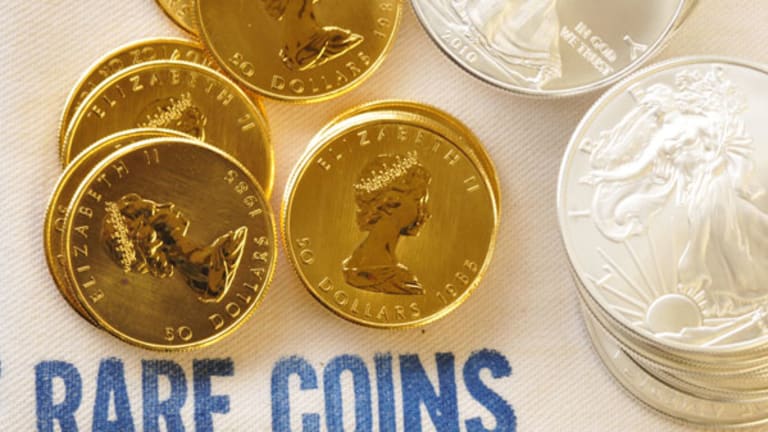 Small Cap Stocks to Watch: Lions Gate, Alpha Natural
Sam Dedio, manager of the Morningstar five-star rated Artio U.S. Smallcap Fund, is well aware of the risks of small cap stocks -- but says the rewards for the following stocks are great.
Sam Dedio, manager of the Morningstar five-star rated Artio U.S. Smallcap Fund, is well aware of the risks of small cap stocks -- but says the rewards for the following stocks are great.
NEW YORK (TheStreet) -- Sam Dedio, manager of the Morningstar five-star rated Artio U.S. Smallcap Fund, is well aware of the risks of small cap stocks -- the momentum swings, the outsize beta, the heightened threat of insolvency. Still, choose your small caps wisely, and the rewards are often disproportionately greater.
The Artio U.S. Smallcap Fund has received a five-star rating from Morningstar and has outperformed its benchmark Russell 2000 Index over the past one and three years, and since its inception. Thus, we asked Dedio to glean his top small-cap picks, the results of which follow....
TheStreet: Alpha Natural Resources (ANR) is one of your biggest energy holdings. Is coal your favorite energy play?
Dedio: We try to maintain diversification. So we have natural gas; we try to have some oil; we try to have some service; we also try to have other forms of energy, such as coal. Alpha Natural we like for a couple of reasons; one -- we think that typically heading in from spring into summer, at some point you get concerns about production of electricity.
And it just so happened that in the last couple of weeks ... the stock's done a bit better because power plants are running full up to try to produce the power for peak demand, which is occurring with this heat wave. You also have the metallurgical side of coal, which is obviously good for steel; and while there are concerns about China's demand for coal and their uptake in the global consumption of met coal, the growth rate -- it's still going to be up into the right. The question is what is the growth rate? We think longer term, they're well-positioned to take advantage of that. And lastly, which is really unfortunate, but some of the incidents that have occurred in the industry has put Alpha in a better position to gain market share.
TheStreet: Has the company been benefiting from the recent mine closures in Russia?
Dedio: It's a marginal decrease in supply good for the price. Same thing with
Massey
(MEE)
. It's a marginal decrease in supply and good for price stability. It allows them to gain market share.
TheStreet: Lions Gate Entertainment (LGF) is also one of your major holdings. But its income and cash flow have been down over the last few quarters.
Dedio: We think over the last few years they've done a pretty decent job of amassing some pretty good intellectual property. I think they're good risk managers in terms of creating movies with upside potential, given low costs. They don't spend a lot of money on the movies. And typically they end up making money in the full cycle of the movie revenue. Full cycle for revenues of a motion picture, which is more than the box office, is the DVD market, the pay-per-view market and ultimately broadcast television.
I think they've also done a very good job, and I don't think they get enough credit for this, with their TV programming. They have a show called
Weeds
, they also have a show called
Mad Men
, which has been critically acclaimed, so they'll be able to sell that into syndication. That's when they really make some margin. So this is an earlier cycle investment for them.
The truth is, the leverage in the syndication model really occurs after a show is put into syndication. I do like the pictures they've created. They have pretty good diversity; they have horror films, too. They also bought this TV Guide channel and they're about to take this TV Guide channel and start to populate with better programming; and with better programming, they'll get better economics in terms of the amount they can charge ... for advertising, so that will be a big benefit as well.
Obviously,
has been trying to amass a stake in the company because he sees value...
But he can't have it both ways.
He can't say that the management strategies have been foolish and foolhardy -- and he's disagreed with the strategy of what they've done -- and then be buying the stock because you find value.
Cause what are you buying with this company? You're buying their intellectual property which this company. The management team as a group collectively decided to do the things they did. He's amassing the stock. So it's not as if what the management team has done has no value. Otherwise, why would he own the stock? It's not
Coca-Cola
(KO) - Get Report
, where the brand could sell other things. Lions Gate is not a brand that can sell other things. It has to be the assets that he's attracted to so the letters that are going back and forth between Carl Icahn and the board of directors; I think they're a little gratuitous.
TheStreet: Which Lions Gate intellectual property are you keeping an eye on right now?
Dedio: They're amassing a film library, so the film library would be important. TV shows add content because each season has multiple episodes. The TV Guide channel has the most upside because the ability to carry programming on it will increase the revenues per CPM -- the amount they can charge per thousand viewers of the show. So, to me, if I had to rank them, I would say that the whole TV Guide channel is to me probably the most exciting aspect because there are two things: they're going to increase the CPMs and they're going to get more carriage -- they're going to get other cable operators to carry the channel. It's not different from
Macy's
(M) - Get Report
carrying a new line of
Coach
(COH)
bags. They carry it and a lot more people by it.
If
Comcast
(CMCSA) - Get Report
or
DirecTV
(DTV)
carries the TV Guide channel then more people can see it; they get more programming out -- you get more advertising dollar for it. So it can be lucrative. It's sunk cost, they paid for it already. That to me is interesting.
And they have a pretty good franchise with the
Saw
movies and they don't cost a lot of money to make; and they get a lot of money through DVD sales still.
I expect to see more digital downloads, and that's a lower-cost way to distribute your product than having to create fancy packaging for Blu-ray disks and what not. There's a couple different things at work, but at the same time, they have to continue to make good movies. If they don't continue to make good movies, the valuation will weigh on the stock. They have to create the buying scripts that end up being good movies. It's what it comes down to.
TheStreet: What does Carl Icahn's increasing control of Lions Gate mean for the stock?
Dedio: It's a distraction for the management team. It'll be a distraction for the management team and what they're trying to do. At the same time, I think all the attention that he's created around the stock has probably resulted in other potential buyers looking at the company to see what the value is of their intellectual property. So I think at the same time, as much as it may be distracting, it may be creating a window of opportunity where the investors look at Lions Gate to see if there's value, and you can have a potentially higher bidder or white knight come in and take over the company. So it creates an opportunity, too. It's a two-edged sword.
TheStreet: Can you reiterate why the focus should be on a smaller media stock like Lions Gate instead of a say, a large conglomerate like Disney (DIS) - Get Report?
Dedio: For a small-cap manager, there's just not any other company like Lions Gate in the small cap investment arena that has this kind of intellectual property. Now, there's no other alternative so if you want to play motion pictures as a small cap investor and you want to play that kind of media and growth and alternative media outlets and motion pictures and television; a new channel ... it's a very unique asset. So sometimes you have to be patient for these things to work out because the assets are valuable and there's a finite number of buyers that would find them to be attractive. Sometimes in that industry, you make all your money with a strategic purchase.
TheStreet: Can you tell me more about your fund and your strategy?
Dedio: It's a bottom-up strategy, so it's predicated on good stock selection and an analyst team that supports the product. I also serve as an analyst, so there are five of us analyzing companies for the fund. We typically hold between 40 and 70 securities -- very diversified in multiple sectors and each of the analysts are sector specialists. So that's how we would divide and conquer the world as we're all responsible for sectors and the underlying stocks that are within those sectors. It's our responsibility to analyze and choose from the best and create a portfolio that outperforms the market.
TheStreet: Why do you focus on small-cap stocks?
Dedio: If you go back to look at the market over many years, there's data -- the CRSP (The Center for Research in Security Prices), which segments the market into sizes, small cap and large cap -- if you look at the performance, you'll see that small caps outperform large caps by about 200 basis points a year, by about two percentage points a year. The caveat is that their returns are more volatile. So the standard deviations of return for small cap stocks according this data is about 26% vs. 18% for large caps.
So the tradeoff is you have to be willing to take the risk to reap the reward of the greater returns. And you have to be willing to also maintain the investment in the asset class. The problem a lot of people have is they're willing to give it a try, but when the stocks don't work out and the small caps underperform, they give up, and then they lose performance; so they underperform, and then they get risk-averse to the asset class -- which means 'I don't ever want to invest in small caps again.'
Small caps are especially underperforming ... that typically happens when there's a recessionary environment.
Coming out of a recession -- small cap stocks, they lead. If you look back for the five last recessions -- if you look at when government called the bottom of the recession -- look out one year, look out two years, look out three years, you'll find that 80% of the time small caps have outperformed large caps.
So there are two messages that come away with all this commentary. One is you should have some form of allocation in small caps and be willing to be risk tolerant through the good and the bad. It pays to have some small cap exposure because you get better return if you can handle the risk. The second takeaway is when markets are not doing well and small caps are really underperforming, instead of being afraid to invest in the asset class you actually should be investing in the asset class. Especially if it's around a recessionary time, cause chances are -- and empirical data tells us this -- small caps will outperform.
When the economy recovers, they're very sensitive to revenue increases, and the operating leverage and business model -- then they have earnings surprises, and with earnings surprises people get excited and start bidding up stocks and the volatility plays out on the other side.
TheStreet: So the key is to hold onto the stock even through bad times?
Dedio: Some stocks we do hold onto. Sometimes we'll buy more of a company. A good example is during the downturn in '08 to '09 and also coming out of it. We kept repositioning our portfolios to find only the best rewards to risks. So we thought we had a great company, then three months later a company fell even more than the rest of the market, underperformed and now it became much more compelling. Well that name would get included at the expense of maybe a marginal name.
I think your turnover tends to be more pronounced when your stock markets are finding the bottom of the economic recovery. Cause the stock markets are usually the leading economic indicator.
-- Reported by Andrea Tse in New York
RELATED STORIES:
Get more stock ideas and investing advice on our sister site,
Follow Andrea Tse on
and become a fan on
Copyright 2010 TheStreet.com Inc. All rights reserved. This material may not be published, broadcast, rewritten, or redistributed.