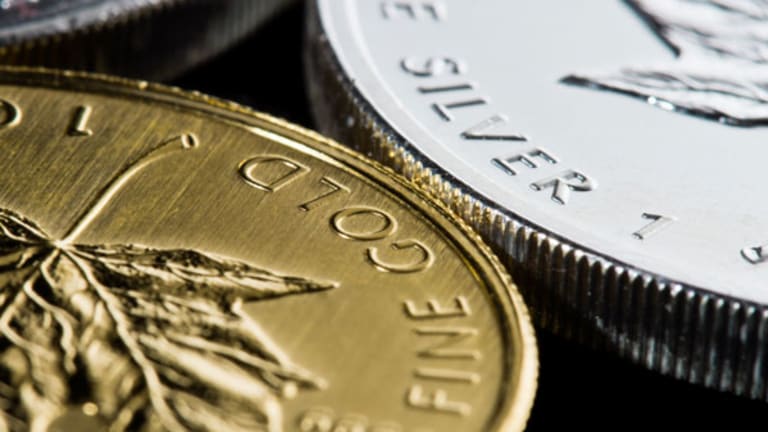 Small-Cap Gold Miners Offer Upside
Small-Cap gold miner analyst Adam Graf of Dahlman Rose & Co. talks about the advantages and disadvantages of the sector in a Q&A with TheStreet.
NEW YORK (
) -- Small-cap miners are risky and speculative, but can make great investment with rising
, says analyst Adam Graf.
Mining stocks typically offer a 3 to 1 leverage to gold's spot price. The popular physically backed gold ETF,
SPDR Gold Shares
(GLD) - Get Free Report
, is averaging a year-to-date return of 27.12% while the
Market Vectors Gold Miners ETF
(GDX) - Get Free Report
, a basket of large-cap miners, has a year-to-date return of 37.28%.
Small-cap stocks are loosely defined as those companies with less than $2.3 billion in market capitalization. Small-cap miners are usually in the developmental or exploration phase of mining, which comes with certain risks: financing, viability and reserves per share. It can often take a mine 10 years to come into production, during which the companies might have to do multiple share offerings, sell off assets or stop production altogether to preserve capital.
With gold prices holding firmly above the $1,000 level and with many analysts anticipating even higher prices, I asked Graf, director of emerging miners for Dahlman Rose & Co., for his favorite small-cap miners.
TheStreet: Why do you think small-cap miners make good investments right now
?
Graf: Well, I think that in general, small-cap miners can give ... similar leverage to the gold price that the large-cap miners do. ...But I think junior minors give something else, what I call indirect leverage ... when gold is going up more ... there's interest in gold and interest in gold miners and the capital markets open up for these names and so they're able to get capital, which is to a large extent their life blood, and able to advance their projects. So not only do their projects gain value with higher prices, but also their ability to bring those projects forward and eventually bring them to construction advances with higher prices. ...So that's what I call indirect leverage. ... You can measure it historically in a stock price performance but you can't measure it going forward.
So what happens if a small-cap miner has to dilute shares? Say the gold price is going down and it can't get that kind of funding?
Well, that's the other side of leverage. So when prices are going up and ... their multiples improve they can get less dilutive financing. ...And in a declining market they can't get any capital at all or the capital is extremely dilutive. ...It's indirect leverage, which cuts in both directions.
How do you know if a company's reserves per share are good
?
So a lot of people look at this resource per share, reserves per share as a measure of leverage. And so I think your question is: How do you know the quality of those reserves or resources. I think that's a very fair question. I would say that every company's reserves or resources are different and there are different underlying factors that go into those projects: cap ex, operation costs, risks, etc. Those factors can only really be taken into account ... by fully modeling those companies and those assets and determining the full discounted cash flows for each project. By using back of the envelope calculations like resources per share or enterprise value or market cap per resource ounce, it's a quick and dirty way that completely ignores the difference in quality and characteristics of resources from asset to asset and company to company. So while that is a metric that a lot of people use, I don't like it. I don't think it's a good way to measure, so I don't use it, and while everybody asks me about it, I have to explain why I don't think it's a terribly useful measurement.
If I have two companies that each have 10 million ounces of resources, one might
spend $600 an ounce to take it out of the ground
while the other might
spend $300 to take it out of the ground. One might have a $500 million upfront cap ex
while the other might have a billion upfront cap ex. And without taking those into consideration,
by just comparing those resources and the market cap per resource ounce, you can see how it's a very unfair way of looking at these companies.
So do you tend to recommend small-cap miners
?
I cover the whole range. I have 21 companies currently under coverage, including the six large-cap North American miners, five sort of junior North American producers, and 10 ... development stories or emerging miners which run anywhere from assets in construction all the way to exploration stories.
Who are your favorite small-cap miners and emerging miners
?
So in the emerging space, I like
Seabridge Gold
(SA) - Get Free Report
. ...They've got the largest undeveloped gold asset known held by a junior. They're trading on my metrics very inexpensively and give you high leverage to the price of gold. They are also pretty liquid and trade both in the U.S. and Canada.
Another junior I like who is in production is
Great Basin Gold
undefined
. They've got one mine in production in Nevada and they've got another mine that they expect to bring on in South Africa by the end of the year. And I think assuming that they are able to execute as expected and as forecasted on that mine in South Africa, in other words if they actually bring it into production on time and on budget, I think it's a very attractive asset. I mean the combination is very attractive and Great Basin is trading relatively cheap vs. its producing comps.
Is there a small-cap or emerging miner that is scary
?
Not really that I have under coverage. I think there are some that have various difficulties or various challenges going forward. But I don't have anybody under coverage that is what I would call too scary. You know there a lot of guys out there on the exploration side or even guys that have projects and resources that can't get any financing. Depending on their cash balance, they could run out of money and have to sell their assets or
sell certainly at an extremely discounted price. Now I don't cover too many of those, but there were over 2,000 listed mining companies in the world. Of those 2,000, maybe 100 have market caps of over $500 million the rest are junior smaller plays. A big portion of those guys are in danger if they can't get financing.
I would say that some of the names I do cover that have challenges include
Midway Gold
undefined
.
This is a name with very attractive ... modest-size Nevada assets that is basically starving for cash. And I don't think they are in danger of going bankrupt, but I think they are going to have difficulty advancing their assets without a significant equity raise.
Another company, which is actually much talked about in the U.S., is
NovaGold Resources
(NG) - Get Free Report
. I have a hold rating on it.
The company was in danger perhaps of going into bankruptcy and then did a very dilutive equity raise about a year ago. While I think they're ok in the near term, I think going forward they're going to have to find more financing in order to continue to advance their projects. And they have some very large projects which require a lot of cap ex and financing could be potentially quite dilutive.
I recently talked to the CEOs of U.S. Gold( UXG), NovaGold and Seabridge and what I found so interesting is that they each had very different long-term company strategies. What do you think about the consolidation that we're seeing in the space where companies want to sell off their properties or partner or get bought out by a major
?
Well it's certainly a valid strategy and the danger is that ... there are only a limited number of majors that can buy these assets and the number of majors has actually decreased over the last decade, as some of these guys bought each other. And so ... even when there is a flurry of buying there's only a certain amount of companies that will be purchased because it's unlikely that a company will buy multiple junior producers with large assets. The danger is that you're the guy that's out in the cold after the flurry is over. It's certainly a valid strategy to develop an asset especially if that asset is the biggest and the best and you feel like you're at the top of the heap and you're going to get taken out. But if you're not, if you're left out in the cold you're only choice is to hold out for the next wave of M&A or to try and develop the asset yourself.
What do you think about the Market Vectors Gold Miners (GDXJ) - Get Free Report?
I think it's a great vehicle for people looking to get exposure to the junior space. It's really kind of mid-tier if anything. I don't know where that break is between major and junior, major and mid-tier. ...A lot of money is funneling into there, which is a good way to quickly generate a basket of stocks in the space where any individual stock could be quite volatile and expose
you to individual project risk. So I think it's great and I think ... if you look at the performance of the junior space from 2003 to 2007 it outperformed the majors basically during the bull run. ...
If you want to get exposure to this direct leverage and indirect leverage, as I like to say, it's a very easy liquid way to do it, while at the same time hedging individual company risk by holding a big basket that is easily tradable.
What is your long-term outlook for gold prices
?
I would say I am bullish on gold. ...I think that gold will approach the $1,700 per ounce level, but I only use the forward curves in my valuation work, so I don't let my personal view of gold enter into my valuation whether positive or negative or otherwise. In that way I am price agnostic.
Dahlman Rose & Co. does not make a market in SA, NG, MDW, UXG and GBG and Adam Graf does not own and has never personally received any compensation from these companies and do not own their securities. In the past 12 months, Dahlman Rose has provided investment banking services to GBG and was a joint bookrunner for a secondary offering of US Gold equity in May 2009.
Alix joined TheStreet.com TV in February 2007. Previously, she held positions in film and theater production, management, and legal administration. Alix has a degree in communications and theater from Northwestern University.