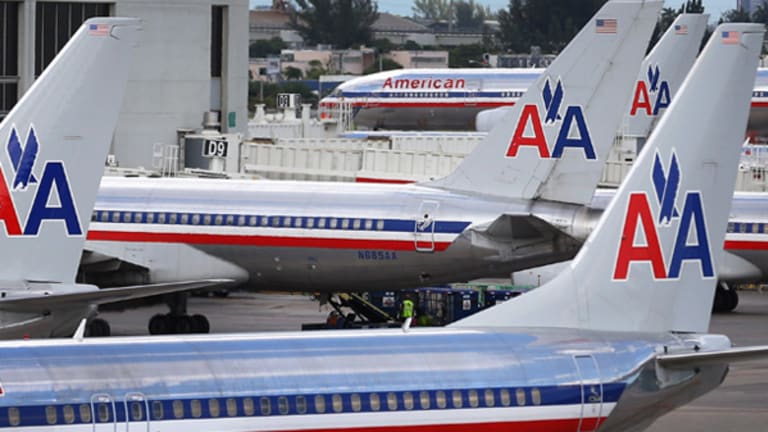 Small AMR Pilot Group Opposes Merger
A group of about 50 AMR pilots says seniority could be threatened in a merger with US Airways.
DALLAS (
) -- An increasingly vocal but so far small group of
American
(AAMRQ.PK)
pilots is opposing a merger with
US Airways.
(LCC)
, saying its seniority could be threatened.
Chris Manno, a Dallas-based 737 captain with 27 years at the airline, is co-organizer of a pilot group opposed to the merger. The recently formed group so far has about 50 members. Its
went online Tuesday morning. "Fifty is the tip of the iceberg," Manno said. "A lot of guys are calling, saying 'we have no place to register opposition.'"
Manno said the group's primary interest is to protect pilot seniority. He said there is no assurance that will occur in a merger. Leaders of the Allied Pilots Association, which represents American pilots, and the U.S. Airline Pilots Association, which represents US Airways pilots, have said that once a joint contract is negotiated, seniority integration could be referred to binding arbitration and that "fences" would protect flying at existing bases, so that pilots would not lose flying they currently have. Also, US Airways management has said that no existing hubs would be closed.
But Manno said nothing is guaranteed. "If it ever comes to arbitration, fences won't matter," he said. "Bases won't matter. If your base is closed, you will have to bump into some other base. A lot of people will get displaced.
"It is too risky," he said. "It is not cut and dried. We are not willing to go into this and risk our seniority with no assurances and way too much uncertainty."
APA spokesman Tom Hoban said that only a tiny number of APA's 8,000 members oppose a merger. "We've seen no groundswell in support of Tom Horton and a standalone operation," he said. "It's been just the opposite." He said the APA board voted 18-0 in support of a merger in April, and that 95% of its members voted "no confidence" in the current management team and the standalone plan.
Without a merger, he said, American will remain far smaller than its key competitors and "there won't be any change in the toxic culture we've got." He called Manno's efforts part of an orchestrated management campaign.
As for seniority, Hoban said the solution under the McCaskill-Bond model will most likely include establishing a ratio integration for seniority among pilot groups and then protecting pilots in certain categories with fences. The same solution worked in the
Delta
(DAL) - Get Report
merger and seems likely to work in the
United
(UAL) - Get Report
merger as well, he said.
As the American/US Airways merger appears to gather momentum, the support of pilots is being viewed as increasingly important. In a memo to its managers last week, American said that it, in collaboration with its bankruptcy creditors committee, is "determined that union involvement in the discussions is an important step to appropriately evaluate the impact of a merger on labor costs, integration and seniority." As a result, both APA and USAPA have been involved in the discussions.
-- Written by Ted Reed in Charlotte, N.C.
>To contact the writer of this article, click here:
Ted Reed