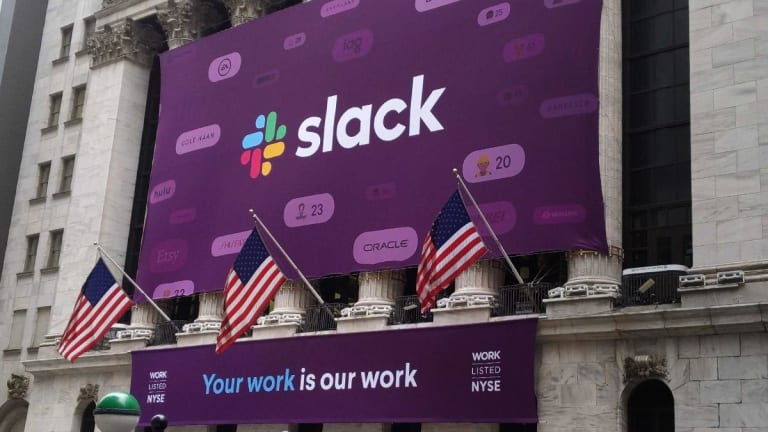 Slack Shares Pop in NYSE Trading Debut, Close the Day Up Nearly 50%
The digital-messaging service debuts on the New York Stock Exchange.
Work-software giant Slack Technologies  (WORK) - Get Report debuted on the New York Stock Exchange on Thursday with a $38.50 opening trade -- a nearly 50% upside over its suggested price of $26 a share. 
Slack closed trading at $38.62, up 48.5%.
Slack chose a direct listing instead of an initial public offering to mark its debut. A direct listing allows the company to bypass the cumbersome underwriting and listing fees that are common to traditional IPOs. A reference price set by the NYSE was originally $26, but moved up to between $36 to $37 before the security began trading. 
The debut gives slack a market cap of more than $23 billion. 
Slack began trading shortly after 12 p.m. ET and saw its price quickly pop to as high as $42 a share. The gains came even though a company filing in April revealed that WORK had a $139 million net loss for the year ending Jan. 31 on $401 million of revenues. That compares to a $140 million net loss on $221 million of revenues a year earlier. 
In listing on the NYSE, Slack joins a recent slew of so-called of Silicon Valley "unicorns" to publicly debut in 2019. Uber (UBER) - Get Report , Lyft (LYFT) - Get Report fell sharply in their debuts last month.