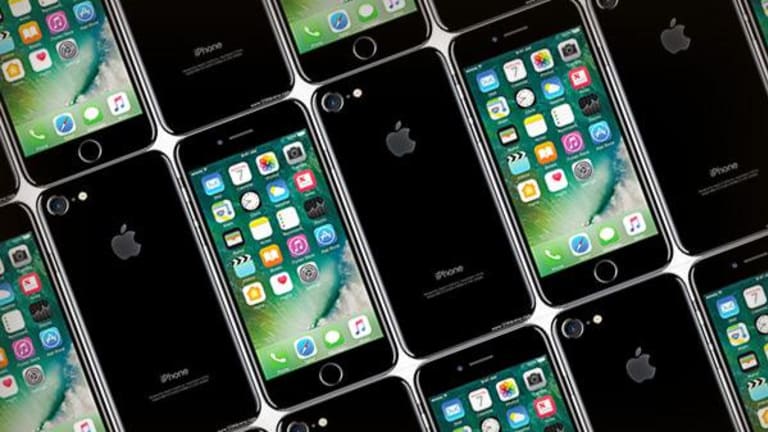 Skyworks' Earnings Are a Breath of Fresh Air for Mobile Chipmakers
Strong demand from Samsung and China is giving the RF chip giant a boost. Given recent industry news, investors in mobile chip peers have to be pleased.
Investors in mobile chipmakers have had their share of reasons to be nervous in recent months. Smartphone shipment growth slowed dramatically in 2016, the industry's sales mix has been shifting somewhat towards cheaper devices, Apple's (AAPL) - Get Free ReportiPhone 7's momentum appears to have slowed following a healthy debut and Samsung is still undoing the damage caused by the Note 7.
Against this backdrop, the strong results and guidance just delivered by top RF chipmaker Skyworks (SWKS) - Get Free Report are very welcome news. But the numbers may be more of a positive for RF firms and other select chip suppliers than the industry as a whole.
Apple is a holding in Jim Cramer's Action Alerts PLUS Charitable Trust Portfolio. Want to be alerted before Cramer buys or sells AAPL? Learn more now.
Skyworks reported December quarter revenue of $914.3 million (down 1% annually) and adjusted EPS of $1.61, topping consensus analyst estimates of $902.7 million and $1.59. The company also guided for March quarter revenue of $840 million (up 8% annually) and adjusted EPS of $1.40, above pre-earnings consensus estimates of $818 million and $1.39. And it launched a new $500 million stock buyback; it replaces a prior $400 million authorization, of which all but $95 million had been used.
Shares are up nearly 12% on the news, and have made fresh 52-week highs. Rivals Qorvo (QRVO) - Get Free Report and Broadcom (AVGO) - Get Free Report are also higher, as are other mobile chipmakers suppliers such as Cirrus Logic (CRUS) - Get Free Report, Synaptics (SYNA) - Get Free Report, Knowles (KN) - Get Free Report and Micron (MU) - Get Free Report. For now at least, worries that Skyworks is about to bleed share to Qorvo and Broadcom look misplaced.
China appears to have much to do with Skyworks' performance: On its earnings call, the company mentioned it's "starting to see some great penetration" with Chinese smartphone makers, while specifically citing design wins with Huawei, Xiaomi, Oppo, Meizu and Vivo. China accounted for 25% of Skyworks' total sales (mobile or otherwise). Huawei, said to be adopting newer Skyworks solutions such as its SkyBlue amplifier technology and SkyOne front-end modules, was the company's second-biggest client last quarter (presumably behind Apple).
And though Samsung made up less than 10% of December quarter sales thanks to the Note 7 mess, Skyworks indicated demand from the Korean phone giant is due to grow strongly ahead of the Galaxy S8 launch. B. Riley analyst Craig Ellis believes Skyworks' dollar content in the S8 will be above that for the S7, thanks to the inclusion of new high-ASP chips.
But while specific design wins are helping Skyworks, it's also hard to overlook how secular trends are lifting RF chipmakers in general. Growing 4G phone penetration rates in developing markets, along with support for more frequency bands within high-volume phones and the adoption of advanced 4G technologies such as carrier aggregation, is boosting the amount of RF content going into the average phone.
Broadcom, owing to its dominant position in the market for the FBAR filters used in large quantities by 4G phones, has been perhaps the largest beneficiary of this trend. But Skyworks and Qorvo haven't been left out either.
Beyond that, RF opportunities continue to grow as 4G, Wi-Fi, Bluetooth and/or ZigBee radios proliferate in cars, smart home devices, industrial and medical equipment and various other IoT-type markets. Individually, none of this markets can still compare with mobile phones, but they're collectively meaningful. Skyworks reported seeing multiple broadband gateway and drone design wins last quarter, as well as a "strategic" win with a top U.S. electric car maker, possibly Tesla Motors (TSLA) - Get Free Report .
Over the long term (think 4-5 years from now), 5G will also be a key growth driver. Both due to its expected use by many IoT devices, and due to the bandwidth, power efficiency and latency requirements of 5G radios. Skyworks suggested on its call the modulation schemes that will be used by 5G networks operating in high-frequency bands leave it well-positioned to gain share.
These secular trends, of course, don't necessarily benefit non-RF mobile chipmakers. And it's also worth keeping in mind that not all mobile chip suppliers have the kind of Chinese exposure Skyworks does. Cirrus and Broadcom, for example, are more dependent on Apple and Samsung for their mobile sales.
And it's also worth noting that there are a couple of blemishes in Skyworks' report. Gross margin fell fractionally on an annual basis to 51.2% last quarter, and analysts think the company's EPS guidance suggests GM will drop to around 50% this quarter. Also: Though Skyworks' inventory balance declined slightly on a sequential basis, it was still up 53% on an annual basis.
But given recent pessimism, Skyworks' numbers and its China/Samsung commentary can't help but be well-received by mobile chip investors. Though growth rates are still generally subdued and some companies are set to fare better than others, there are reasons to think demand won't be that bad in the months leading up to this fall's expected iPhone 8 launch.