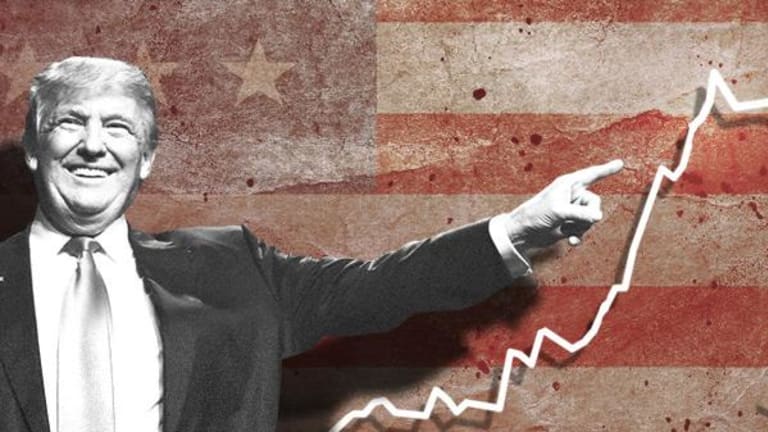 Six Thoughts on President Trump and the Durability of the Biotech Stock Rally
Investors have convinced themselves that President Donald Trump is going to make drug stocks great again. Will it last?
Editors' pick: Originally published Nov. 9.
Investors have convinced themselves, at least temporarily, that President Donald Trump is going to make drug stocks great again.
Two widely owned exchange-traded funds, iShares Nasdaq Biotechnology (IBB) - Get Free Report and the SPDR S&P Biotech ETF (XBI) - Get Free Report , closed Wednesday up 8.9% and 10.4%, respectively, their largest one-day gains since October 13, 2008.
Shares of Pfizer (PFE) - Get Free Report , the stodgiest pharma company in the world, rose 10% at one point during the day before closing up 7%. Regeneron Pharma (REGN) - Get Free Report , Incyte (INCY) - Get Free Report , Vertex Pharma (VRTX) - Get Free Report , Biomarin (BMRN) - Get Free Report , Shire (SHPG) - Get Free Report and Celgene (CELG) - Get Free Report all notched 10% or greater gains Wednesday.
Does the rally in drug stocks have legs? Here are some things to think about, in no particular order:
1. $98 billion. That's the amount of cash U.S.-based pharma companies have parked overseas, according to the investment bank Jefferies. The majority of that cash could be repatriated in 2017 and used for acquisitions, if Trump follows through on a campaign promise. Giddiness over the prospect of a biotech M&A resurgence is the truer reason for Tuesday's stock rally, more so than drug pricing. If we start to see actual deals announced, this year's heavy underperformance in the biotech sector could be a fleeting memory rather quickly.
2. Obamacare sucks, so good riddance. OK, but the millions of people insured under Obamacare also provide a nice revenue bump for biotech and pharma companies. (More patients, more drugs prescribed.) The replacement plan pushed through by Trump and the Republican Congress might leave the drug industry gains intact, or it might not. It's hard to predict since we don't know the specifics of the Obamacare replacement plan. Investors do not like uncertainty.
3. I want to see Acorda Therapeutics (ACOR) - Get Free Report CEO Ron Cohen, in his role as the biotech industry's most vocal defender, explain to the unemployed West Virginia coal miner why raising the price of his wife's multiple sclerosis medicine four times per year is a good thing.
Economic populism elected Trump president and may have alleviated worries about drug pricing for now, but don't think for a second that biotech and pharma companies can return to their old, always-be-raising ways. That West Virginia coal miner is watching.
4. There was no nationwide ballot initiative barring rebates and formulary exclusions. Insurers and pharmacy benefit managers will still be taking advantage of increased competition to squeeze drug prices lower. Ask Amgen (AMGN) - Get Free Report how that works.
5. Unless Trump University is handing out Ph.D.s in biology, his presidency isn't altering the fundamental driver of the biotech sector -- developing innovative drugs to treat serious and often-life threatening diseases. You want the industry to prosper and stock prices to inflate? Make sure those clinical trials succeed with data so convincing that the FDA has to approve (and insurance companies must reimburse.)
6. Who will Trump pick to run the U.S. Department of Health and Human Services? Will Robert Califf stay on as FDA commissioner or will Trump want to name a replacement? The people who run these agencies -- and the policies they implement -- matter a great deal to the drug industry, and therefore, to health care investors.
The Prescription Drug User Fee Act -- the law that allows the FDA to collect fees from the drug industry to fund the drug approval process -- is up for reauthorization in 2017. Under Republican control, PDUFA negotiations with the drug industry could be anything but confrontational. Will the FDA become even more "drug approval friendly" than it already is today?
Adam Feuerstein writes regularly for TheStreet. In keeping with company editorial policy, he doesn't own or short individual stocks, although he owns stock in TheStreet. He also doesn't invest in hedge funds or other private investment partnerships. Feuerstein appreciates your feedback; click here to send him an email.